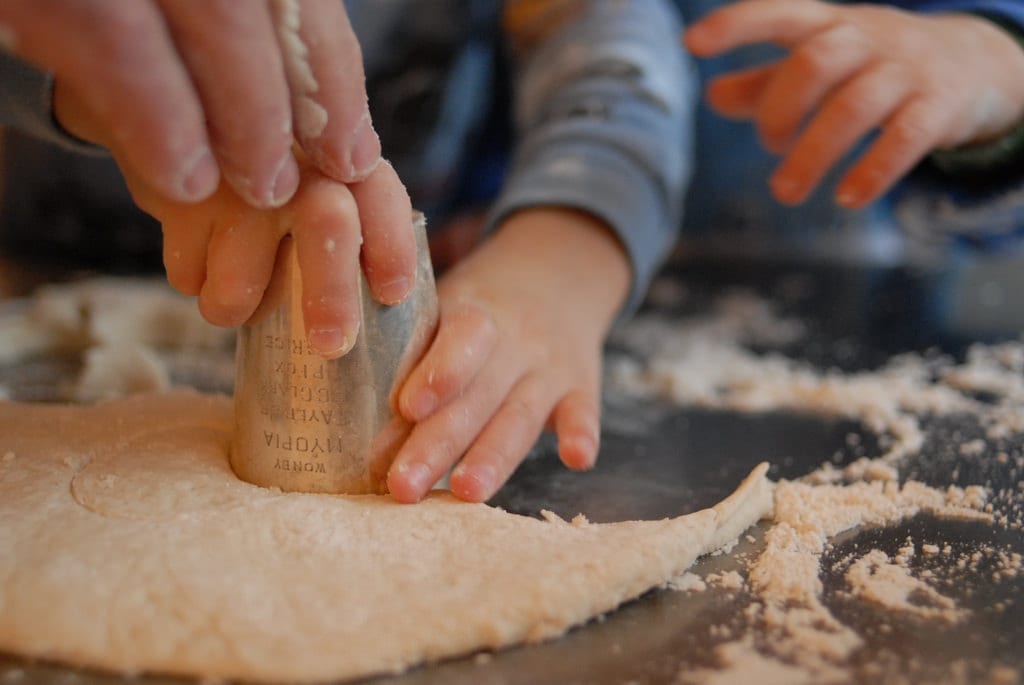 Teaching kids how to cook is an essential part of parenting. It is an exciting activity that can distract them from their iPads and tablets. Easy to make dog treats are an excellent way to let your kids help with cooking. Before getting started, let kiddos know to stay away from the oven at all times, as even the door may get hot. Also, cool all the treats before sharing with your pup and always place them in air-tight containers.
Ready? Here are ten dog treat recipes that are super quick and simple:
Peanut Butter Cookies
Add ¾ cup peanut butter, ¼ cup water, and a pinch of cinnamon in a bowl and mix well.
Gradually combine 1 1/3 cup of rolled oats into the mixture while stirring
Mix all the ingredients and let your assistant help you make small balls out of it. Refrigerate for 2 hours and now feed your pooch.
Banana Pumpkin Cookies
Preheat the oven to 350°F
Mix 1 mashed banana, ¼ cup pumpkin puree, and ½ cup coconut flour in a bowl.
Make a ball of dough and roll it out.
Cut out cookies using a cutter; you can find these in lots of shapes that will fascinate the kids. Place them on a tray lined with parchment paper.
Bake the cookies for 25 minutes.
Apple Crunch Cupcakes:
Preheat oven to 350°F
In a bowl add 2 cups water, ¼ cup applesauce, and one egg. Whisk the ingredients together and then add one crushed apple (your kids can help)
Add 4 cups whole-wheat flour and a teaspoon baking powder to the wet mix.
Grease a cupcake tray and pour the mixture. Bake for 35 minutes and you have the perfect cupcakes ready for a birthday surprise.
Oat Cookies
Preheat oven to 325°F
Mix 2 ½ cups of rolled oats, and ½ cup chicken stock in a bowl
Knead a ball of dough and let it rest for 3 minutes.
Flatten it out and let your children cut cookies of different shapes using the cookie cutter
Prepare a baking tray, line it with parchment paper, and bake the biscuits for 25 minutes.
Pumpkin Apple Treats
So the first step is-you guessed it right, preheat the oven! Set the temperature at 350°
Combine 2 ½ cup of whole wheat flour, one apple (diced), ½ cup pumpkin (pureed), one egg, and ½ cup water.
Make a ball of dough, and roll it out to cut biscuits.
Bake them for about 30 minutes.
Peanut Butter Yogurt Treats
In a blender, add 4 cups non-fat yogurt, ½ cup peanut butter (it is better if you can make it at home) and one ripe banana.
Mix the ingredients until it has a smooth consistency.
Now let your kiddos pour the mixture into ice-cube trays and freeze them for some time. Your dog can enjoy the frozen treat, but make sure he doesn't choke on it.
Bacon Treats
Like all other baking recipes, this one also requires you to preheat the oven to 350° Dice 2 slices of bacon, lightly fry for 5 minutes and reserve the excess fat.
In another bowl mix 1 cup pumpkin puree, two eggs, and the reserved fat whisk the ingredients together with your kid's help.
Now comes the critical part, gradually add 1 cup rolled oats to the mixture and keep folding simultaneously (your assistant chefs will help you out at this stage.)
Continue adding till the mixture becomes non-sticky. Now add the bacon and beat a little until it is incorporated. Make dough and roll it out to make cookies.
Cut out the biscuits and bake for about 20 minutes.
Almond and Oat Treats
Preheat oven to 350°
In a bowl mix 1 cup rice flour, ½ cup oatmeal, two eggs, and ½ cup almond butter. Add sufficient water so you can knead it into a ball of dough.
Roll it out to a thickness of ¼ inch.
Cut out desired shapes using the cutter. And now you know the final step! Prepare the baking tray and bake the biscuits for about 10 minutes.
Mint and Oat Cookies
Preheat the oven to 325°
Combine ½ cup fresh parsley, ½ cup mint, one egg, ¼ cup water, and three tablespoons extra-virgin coconut oil.
Now add 2 ½ cups whole wheat flour and combine it to make a ball of dough.
Roll the dough and flatten it to a thickness of 1/8 inch. Cut out the cookies using various cutters; the bone shaped ones are my personal favorite.
Bake them, for about 35 minutes and let them cool before serving to your pup.
Fusion Treats
You can fix your pup some delicious treats by using nutritious canned food for your pooch.
Preheat the oven to 350° Mix a can of your pup's favorite brand with 2 cups whole wheat flour, one egg, and 1 cup pureed sweet potatoes.
Scoop out the mixture to form balls (the junior chefs will love this part!)
Place the balls on the baking tray and press them to make a shape like cookies.
Bake in the oven for about 4.5 hours. Once they are done, let the biscuits sit in the oven overnight. Remove them, and you can store for up to a week in an air-tight jar.
~~~~~~~~~~~~~~~~~~~~~~~~~~~
AUTHOR BIO:
Jenny Perkins is an Animal Behavior Specialist and a passionate writer. She loves to write about the nutrition, health, and care of dogs. She aims at providing tips to dog owners that can help them become better pet parents. She writes for the blog Here Pup.