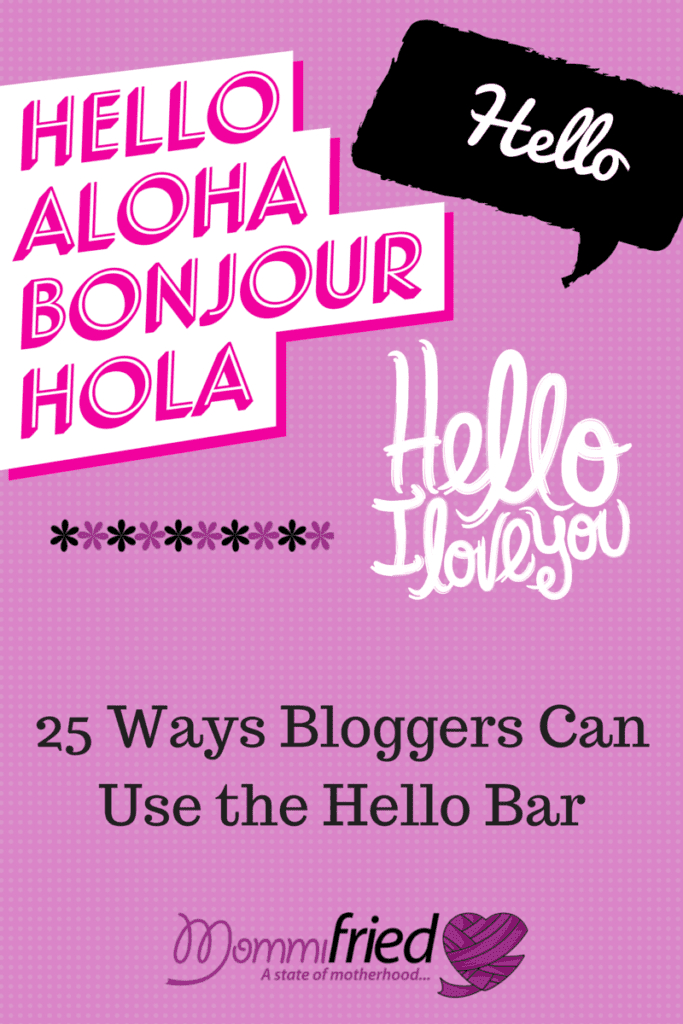 Have you been introduced to the Hello Bar? If not, let me give you a quick overview of quite possibly the most glorious tool available to bloggers. By adding a simple snippet of code to your blog, you can have a nice little banner advertising just about whatever you want in a few minutes. Hello?!? It's the Hello Bar!  Look at the top of my blog…Go ahead it won't hurt. See where I'm advertising Buy My Books with a link to my Amazon author page? That right there is the Hello Bar in action. It's a simple notification bar that draws your blog visitors to an important call to action.
The Hello Bar is used by some of the greatest bloggers on the planet including bestselling authors Tim Ferriss of 4-Hour Workweek and Jen Mann of People I Want to Punch in the Throat.
The Hello Bar is a great way to grab your reader's attention. However, once you grab it, the text you put in the Hello Bar should encourage your visitors to click the link. The bar itself is completely customizable, giving you direct control over content, design elements, and completion events.
Here are 25 ways bloggers can use the Hello Bar:
Collect email addresses and build your subscriber list (THIS IS THE MOST UNIVERSAL USE AND HIGHLY EFFECTIVE!)
Encourage visitors to subscribe to your RSS feed
Drive visitors to a specific page on your blog (i.e. Welcome or About)
Announce a contest or giveaway and encourage more entries
Share news and special events
Encourage downloads of a free eBook, recipe, or other document
Promote new blog posts
Drive traffic to seasonal posts
Share a special offer, coupon, or promo code
Market an affiliate program
Encourage follows on social media
Drive visitors to a post your have featured on another blog or website
Drive visitors to your Amazon author page or where to buy your books
Announce a new feature, series, or category
Promote your freelance services or products
Drive people to your Etsy site
Promote a GoFundMe, Kickstarter, or other campaign
Link to a specific video on YouTube
Encourage signups for your newsletter
Share an important message with your audience (e.g. vacation/time away)
Drive visitors to a survey or form
Ask for feedback on a new design or topic area
Announce upcoming webinars, Hangouts, or Twitter chats
Earn money on featured sponsors or advertisers
Highlight new partnerships with brands (ambassador) and the media
Do you use the Hello Bar? If so, in what ways have you used it?