Creating the perfect holiday also creates stress. Stress about holiday calories, finances, gifts, and social event schedules starts to add up, especially if you're trying to maintain your regular routine of work and family obligations.
In 2015, Entrepreneur reported on a Healthline survey that found that generation Xers felt the most stress (65 percent), followed by baby boomers (62 percent) and millennials (61 percent).
As the season approaches, know that there are ways to minimize your stress. This year you can focus on celebrating the holidays with joy and gratitude instead of worrying about your stress levels.
Don't Make Excuses
Exercise is one of the most effective and healthiest stress busters. It boosts those feel-good endorphins and relieves your mind from stress buildup. When the holidays roll around, more daily tasks and social obligations can knock out exercise from your weekly routine.
But don't make excuses for ditching the one activity that increases your energy, steadies your stress, and improves your sleep. Keep your workouts going through the New Year and prioritize at least 30 minutes per day to physical activity.
Maximize your time by working out at home and following an online program. If you're traveling, get a membership at a gym with nationwide locations and use exercise as a way to bond with your friends and family.
Refresh Before Sunrise
Hitting the snooze button causes you to physically get up at the last possible minute. Then you have to rush through your morning and panic over being late to drop the kids off for school and get yourself to work. Sound familiar?
Waking up early is an opportunity for alone time. Sip on a cup of coffee and prepare for the day ahead. Do something you enjoy like reading, being creative, or working out.
Avoid tapping your phone straight to social media since it has the potential to damper your mood. Approach early mornings as your time to breathe and enjoy the silence before the chaos begins.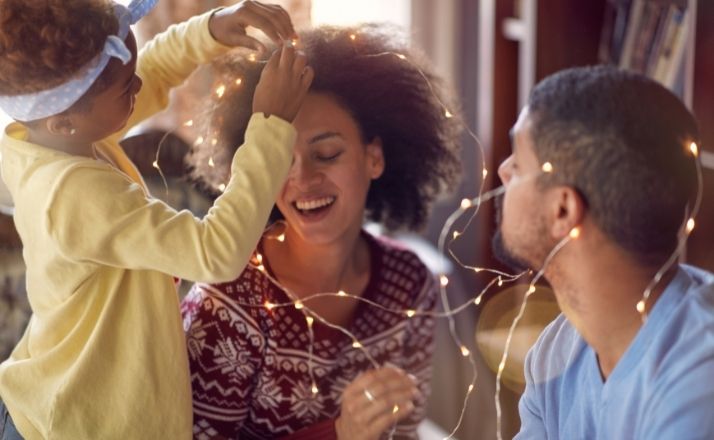 See The Magic Of The Season
Among the extensive shopping lists, holiday parties, school programs, and out-of-town-guests, it's easy to let the holiday season pass by with the eyes of a Grinch.
Reflect on the holidays you had as a child if mounting stress starts to overwhelm you. See the magic of the season through the eyes of your children (or nephews and nieces).
It can take extra energy to step back and remember why you're hosting a Hanukkah dinner or wrapping a mountain of gifts. But time travels fast.
As a parent, cherish this special time of year before your kids grow up. If you're not a parent yet, make the effort to celebrate the season with homemade hot apple cider or fun home decorations, and get excited for a new year of fresh starts.
Focus On The Moment
You're on top of everything with an up-to-date Google calendar and alerts. You've delegated tasks to family members. And even though you have the week planned down to the hour, you still feel stressed about the errands you have to run or the thing you have to do next.
Anxiety can settle in if your mind starts to wander over what-if scenarios, such as falling behind your detailed schedule.
Diminish your stress by focusing on the moment and not the future. And, although creating a schedule during the holidays is helpful, leave room for flexibility to prevent breaking down during an unexpected event or interruption.
Avoid The Stress Of Crowds
All the elements of holiday shopping (zero available parking spots, long lines, store crowds, and traffic) can actually trigger a "fight or flight" response, according to David Lewis, founder of research consultancy Mindlab International. The Daily Mail emphasizes how the holiday shopping experience can lead to such aggression that people go into survival mode.
Online shopping is a good alternative that eliminates the risk of feeling rage from interacting with holiday crowds. Take your tablet to a cafe where you can shop with a simple click and scroll while sipping a latte.
If navigating the malls is a holiday tradition, shop online for what you can and then look for a few items with your friends and family. If you don't have a list of mandatory stores to hit, you will enjoy the festive atmosphere much more.