For pumpkin pie fans, Thanksgiving is like a personal holy grail. The king of Thanksgiving dessert recipes if you will. And while pumpkin pie is certainly fine and dandy, it also has a bit of a been there, done that element to it.
So when you are diving into your Thanksgiving turkey and mashed potatoes, remember there always needs to be room for dessert.
If you are ready to take your Thanksgiving dessert options to the next level, try one of these three recipes:
Snickerdoodle Bundt Cake
For people who are not crazy about the taste of pumpkin, the Snickerdoodle Bundt Cake from Food.com is a terrific option. Rich in cinnamon flavor, this moist cake will top off any delicious meal of turkey and ham.
To make the cake:
Mix 1 cup of sugar and 2 teaspoons of cinnamon in a small bowl and set it aside.
In another bowl, mix together 2 ½ cups of flour, 1 teaspoon baking powder, ½ teaspoon baking soda and ½ teaspoon salt, and then set it aside as well.
In a third bowl, beat 1 cup of butter for one minute, and then add 1 cup of sugar. Beat for three more minutes until it's light and fluffy looking.
Next, beat in 1 cup of brown sugar, and mix for two more minutes.
Add 3 eggs and 2 teaspoons vanilla, and beat the mixture until it's well-combined.
Then, add the flour mixture as well as 1 cup plain Greek yogurt, and beat until everything is combined.
Spray a 9-inch Bundt pan with cooking spray, and dust the pan with 1/3 cup of the sugar-cinnamon mixture.
Pour in half of the batter and sprinkle 1/3 cup of the cinnamon-sugar onto the mixture.
Add the remaining batter on top, and sprinkle with the remaining 1/3 cup of sugar-cinnamon mix. Bake the cake for 55 to 65 minutes in a 325 degree oven, or until an inserted knife comes out clean.
Allow the cake to cool for 10 minutes before removing it from the pan.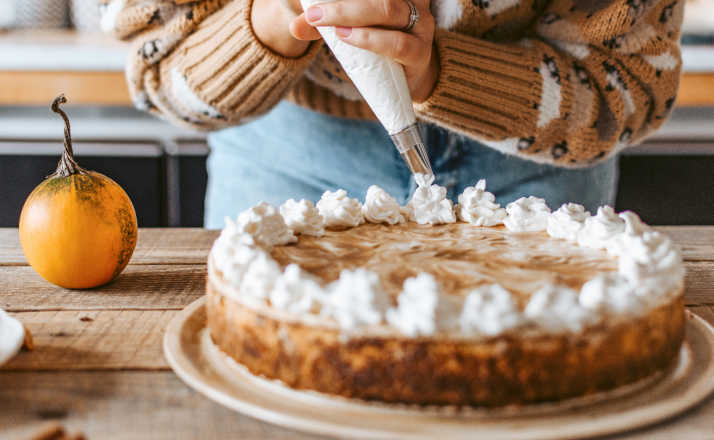 Pumpkin Cheesecake Thanksgiving Dessert
If you are a cheesecake fan, the pumpkin cheesecake recipe from Kraft is delicious and easy to make. To make this amazing dessert:
Beat 2 packages of softened cream cheese with ½ cup of sugar, ½ cup canned pumpkin, ½ teaspoon of vanilla, ½ teaspoon of ground cinnamon and a dash each of cloves and nutmeg.
Once everything is nicely blended, beat in 2 eggs.
Pour the mixture into a ready-to-use graham cracker crumb crust, and bake the cheesecake in a 350 degree oven for 40 minutes.
Once the cheesecake cools off, place it into the fridge for 3 hours to chill.
Serve with whipped cream as a topping.
Thanksgiving Turkeys
This dessert recipe is super-cute and kid friendly. As a bonus, this Food Network recipe can be put together in half an hour.
Start by melting 1 cup of semisweet chocolate chips in a double boiler or the microwave, and then set it aside to cool.
Next, take 5 candy corns, and push them into the cream filling of a chocolate sandwich cookie to make feathers for the turkey.
Dip the larger side of a peanut butter cup in the melted chocolate, and stick it onto one side of the cookie.
Then, dip a malted milk ball into the melted chocolate, and stick it on top of the peanut butter cup—this will be the turkey's head.
Use the white tip of another piece of candy corn, and stick it to the front of the malt ball—this will be the beak.
Refrigerate your birds until the candy hardens, and then use red frosting to add the turkey's wattle.
To stand the finished turkeys up, pull apart some sandwich cookies, and push the turkeys into the cream filling.