Are you looking for a super simple smoothie recipe that takes minimal time and effort? We hear that and have your back! This Cocoa Butter Smoothie is legit good and the perfect way to start the day.
Not only does this Cocoa Butter Smoothie set the perfect stage to start the day but it's also made with delicious cocoa butter as well!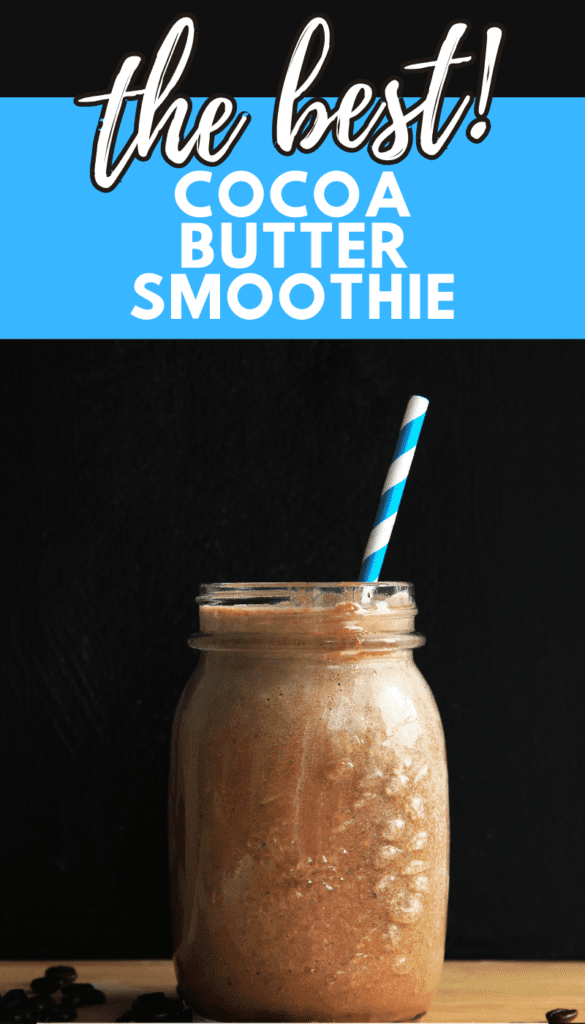 I bought a new blender the other day and since then, I've gone a little crazy. Insane, actually. I've been blending the holy hell out of everything!
A few years back, I had the most amazing cocoa butter latte at a little cafe in Boston. So I thought I'd put a spin on this drink and create a Cocoa Butter Smoothie version because… blender!
Now before you turn your nose up at supposedly eating body cream, nooooo. Cocoa butter or cacao butter is actually derived from the cocoa plant. And, baby, that's where chocolate comes from!
The great part about this simple smoothie recipe is that everyone in the family is going to enjoy it. It's loaded with healthy ingredients and big on flavor, too. The kids will think that they're getting a "treat" and you'll love knowing that they're fueling their bodies with goodness.
Ingredients needed to make Cocoa Butter Smoothie
cacoa butter (or cocoa butter)
coconut oil
rolled oats
vanilla Greek yogurt
water of 1% milk
cocoa powder
frozen bananas
ice cubes
cinnamon
honey
I'm a big fan of Wendy's Frosty treat, so I like to add ice to my smoothies. When you add ice, you can create an almost ice cream-like thickness, which I lurve. The thickness adds to the indulgence which can be topped off with cinnamon, grated chocolate, or sprinkles. Sweeten with just a touch of honey for added deliciousness! This Cocoa Butter Smoothie is healthy, easy to make, and definitely, one you should pin. Like now. ENJOY!
Yield: 2 servings
Cocoa Butter Smoothie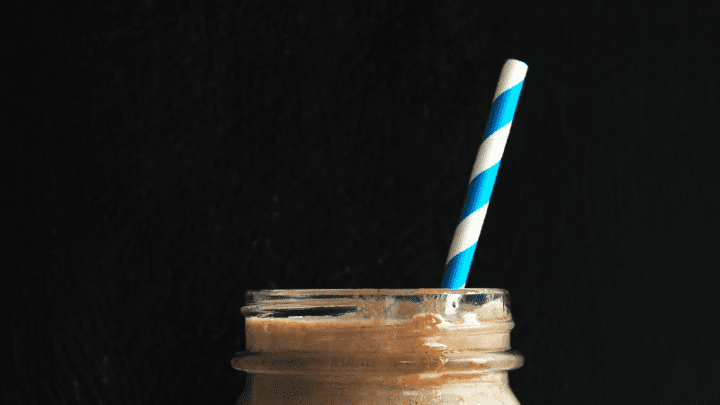 This breakfast smoothie is the perfect way to start the day.
Ingredients
1/4 cup cacao butter/cocoa butter
2 teaspoons coconut oil
1/3 cup rolled oats
1/3 cup greek Vanilla yogurt
1/2 cup water of 1% milk
3 tablespoons of cocoa powder
1 small frozen banana
12 ice cubes
1 pinch cinnamon
1 teaspoon honey
Instructions
Add all ingredients to your blender except ice, cinnamon, and honey. Add about half the ice that you will be using. Blend on high until combined completely.
Add remaining ice. Blend until just combined so you still have an icy treat.
Garnish with cinnamon and/or sweeten with honey (optional).
More Easy Recipes