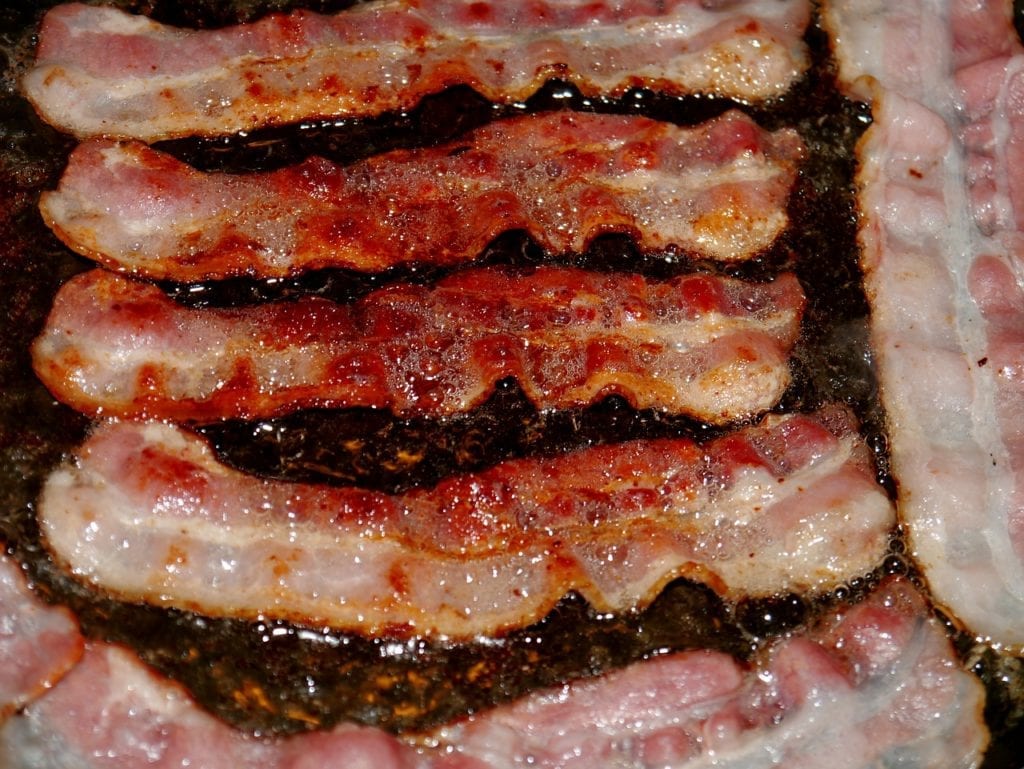 Bacon. Just hearing the word makes my heart sing. Smelling it cooking in the air? I'm like a kid in a bouncy house! I'm crazy for bacon, y'all! And nowadays it seems the passion for bacon has spread to just about every dish and recipe on the planet. You'll find it flavoring up Uncle Jimmy's bourbon, giving cousin Wilma's jam a kick, and even tenderly hugging Grandma's fresh asparagus in neat little wraps. EVERYWHERE. That's where bacon can be found.
It's also made its way into these crazy recipes including my very own Bacon Fudge. Enjoy!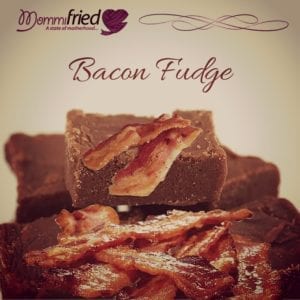 Bacon Fudge (So Easy!)
Ingredients
1 container milk chocolate ready-made frosting
1 12 ounce bag of milk chocolate chips
1 tablespoon vanilla (or maple) extract
5 slices thick cut bacon, cooked and crumbled
Instructions
Line an 8″x8″ baking pan with foil, leaving a half inch or so hanging over the edge. Set aside.
Place milk chocolate chips in a heat resistant bowl and set aside. Place the container of frosting in the microwave and heat for 20 to 30 seconds (until it is hot and completely melted). Pour the melted frosting over the chocolate. Allow chocolate to melt. Stir until all chocolate is melted and smooth. Stir in extract and bacon. Pour into foil lined pan.
Place in the refrigerator to set and then cut into one-inch squares.
Makes about 55 pieces of very awesome fudge!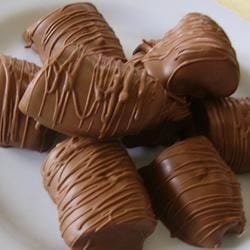 Circus Freaks
A crazy combination of banana, peanut butter, bacon, and chocolate…all whipped up into a heavenly truffle-looking bite of YUM! Get the recipe over at AllRecipes courtesy of baker J.S. (Image owned by Christina – member of AllRecipes.com)
Five Crazy Bacon Recipes!
Remember that bourbon I was talking about? Well you can find a recipe for that and more here. We're talking Bacon Chard Quesadillas, Vegan B.L.A.T. Sandwiches, Jalapeno Bacon Mac-n-Cheese, Bacon Brownies, and that slicker liquor! Check it out!
Bacon-Fried Oreos
Say what? Oh, you heard right. Keeping with all things sweet is a recipe for Bacon-Fried Oreos. Super easy to make and even easier to eat, you'll love these mouth watering gems from baker extraordinaire Oh, Bite It!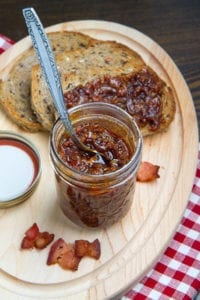 Maple Bourbon Bacon Jam
Cousin Wilma caught wind of that slicker liquor and sneaked it into this jam! Okay, maybe it wasn't Wilma, but Closet Cooking is bringing you an amazing recipe for Maple Bourbon Bacon Jam. I've made this. I love this. I recommend THIS recipe. (The image is property of Kevin of Closet Cooking. Make sure to reference that and link back if you use it. And follow him on Pinterest!)
Crock Pot Bacon Wrapped Smokies
It's crock pot season! So break out that counter top life saver and get yourself some bacon. The gals over at The Frugal Gals have a delicious recipe for Crock Pot Bacon Wrapped Smokies.
What's your go-to crazy bacon recipe? Share in the comments!