Since Nick started back to work full-time, I've had to resume preparing and cooking dinner 5 nights out of the week. Thankfully, the crock pot and I are reacquainted and officially best buds again. Last night, I made an old favorite – crock pot BBQ pulled pork on flavorful bulkie rolls. It's an easy recipe and a busy day win! Score the recipe here!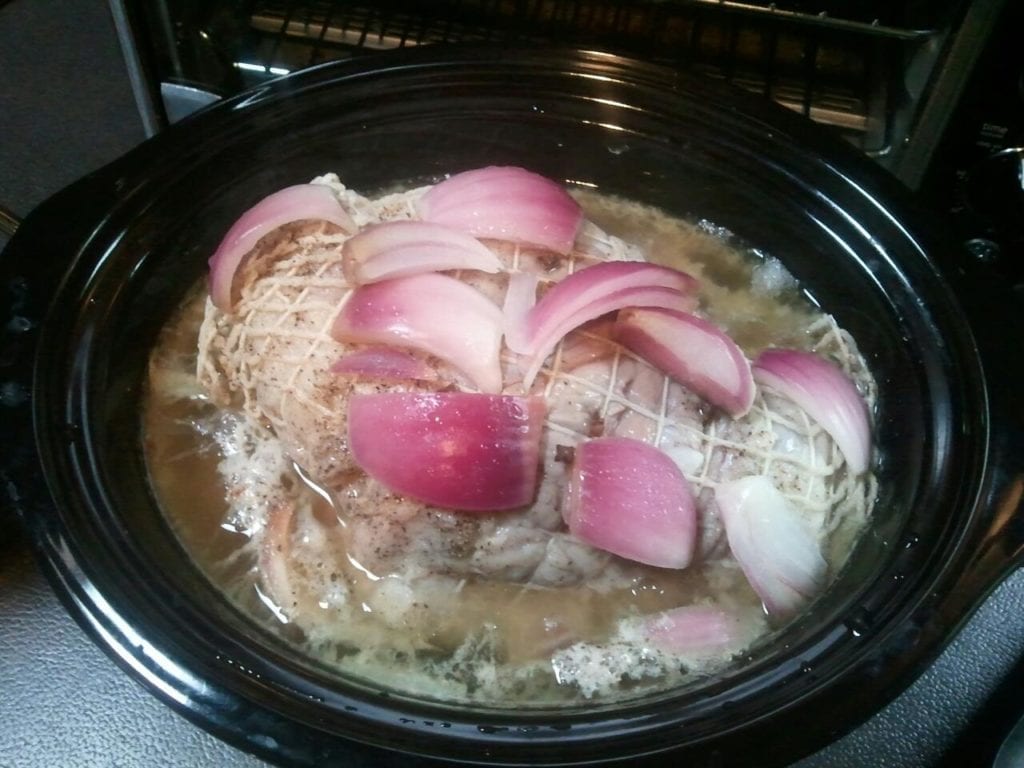 Crock Pot BBQ Pulled Pork
Recipe Source: None – Moi
Preparation Time: Approximately 15 minutes
Cook Time: 8 to 10 hours on low heat; another hour to simmer in barbecue sauce
Ingredients:
4-5 pound pork roast
2 large Vidalia onions, sliced
2, 16 oz. bottles of barbecue sauce
Whole cloves
Salt and pepper
Water (varies depending on size of crock pot)
Directions:
Place one and a half sliced onions in the bottom of the crock pot.
Insert cloves into pork roast, seasoned to preference. Sprinkle with salt and pepper.
Place roast on top of onions in crock pot.
Cover roast with the remaining onions.
Fill crock pot about two-thirds of the way with water.
Cover and cook on low 8 to 10 hours.
Remove the roast from the crock pot. Using a slotted spoon, remove and place onions in a bowl. Remove and discard cloves, water, fat, bones and any grease remaining in the crock pot. Allow roast to cool enough to handle.
Use a fork or your fingers to pull apart the pork. Discard any additional fat or tough meat. Return the shredded pork to the crock pot.
Chop the cooked onions and return to crock pot. Mix in the barbecue sauce and cover.
Simmer on low approximately one hour.
Serve on large, crusty bulkie rolls. Garnish as desired.