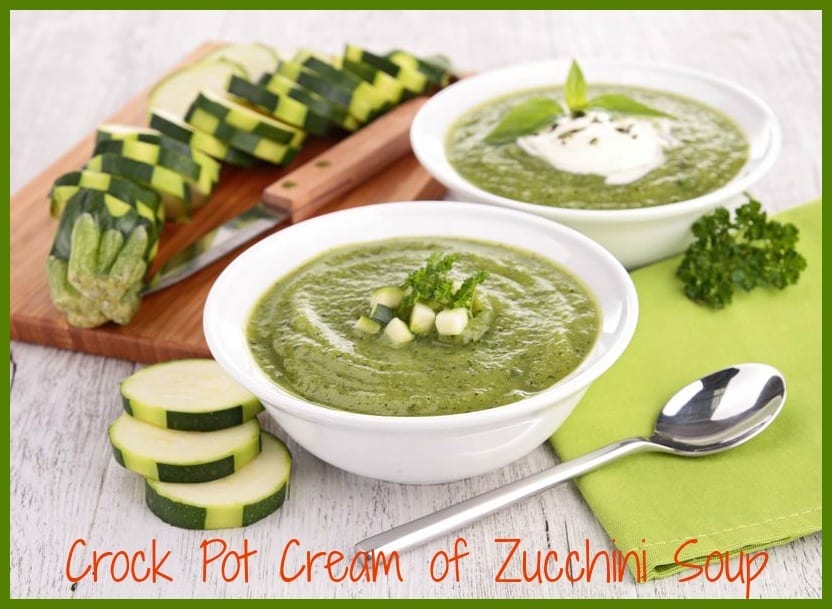 It's that time of year! Gardens are overflowing with delicious fruits and vegetables. One that has a tendency to overflow more than others: zucchini. This little plant can turn into a beast overnight, yielding a high volume of squash. If you've found yourself buried in green gold, consider making a batch of Crock Pot Cream of Zucchini Soup. Make it on a day that is rainy or overcast. We have plenty of those during the summer months!
Or consider making multiple batches and saving for later. I'm not sure who started the rumor that you can't freeze cream-based soups. You absolutely can, but there are a few secrets. Soups with a milk or cream base will separate during the freezing process, but you can whisk them back to perfection with a small amount of fresh cream. So, go ahead and make (and freeze) this in-season Crock Pot Cream of Zucchini Soup and savor some for later.
To bring this cream-based soup back to life if it has separated, first thaw the soup in your refrigerator overnight. Since it's pureed, blend it again using a traditional blender or stick type. Transfer the soup to a heavy pot and heat gently on the stove top. Add a small amount of fresh cream and whisk together. It's that simple!
If soup isn't your think, check out this Zucchini Bread recipe from my friend Angela over at Writer Mom's Blog!
Ingredients
2 cups of chicken or beef broth
4 cups of green zucchini (chopped with peels left on)
1/2 cup yellow onion chopped
1 tablespoon of salted butter
1/2 teaspoon salt
1/4 teaspoon black pepper
1 tablespoon whipping cream
Directions
Mix all ingredients in a four to six quart crock pot (except whipping cream).
Cook on 5 hours on the Low heat setting or until zucchini is soft and tender.
Puree the soup in a blender. An immersion or stick blender is ideal for this job.
Stir in the whipping cream and serve!
Notes
This recipes yields four cups and is rather easy on the diet. So enjoy!