Craving a hearty soup with a bit of the coast? Fill up with a bowl with this delicious crock pot creamy lobster bisque! It's such a rich flavor and so fast and easy to make!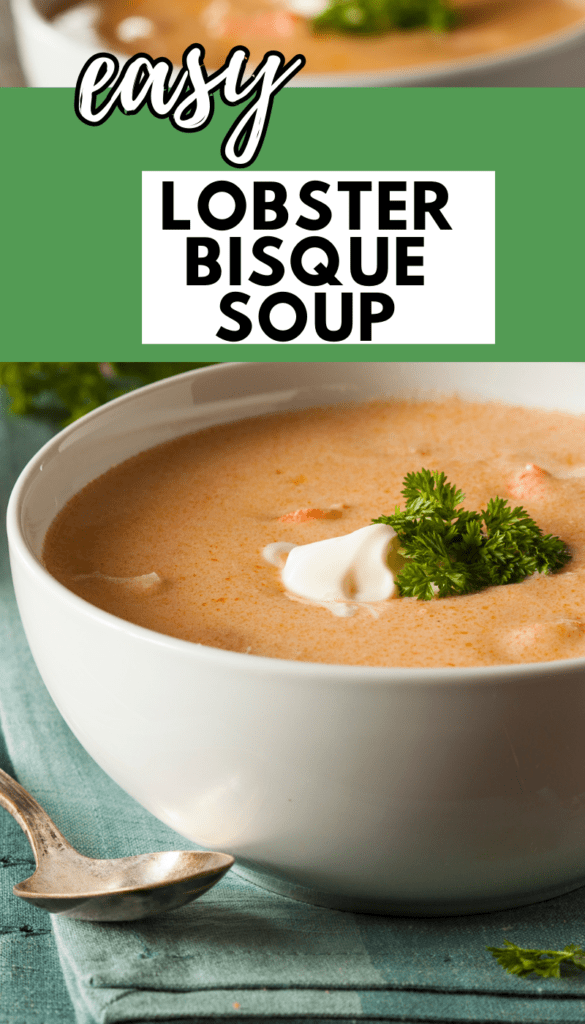 We rarely find ourselves having lobster for dinner…It's unfortunate because my family loves it! I, on the other hand, detest seafood. Other than tuna fish from a can, if it once swam, sat, or played in the water, it's not going near my mouth.
This week, however, I sucked it up and made a quick and easy Crock Pot Creamy Lobster Bisque with sherry. The house dwellers LOVED it! In fact, they want to do seafood more often. (and as long as it tastes like this, this is one recipe that I can actually get behind)
Ingredients needed to make Creamy Lobster Bisque Soup
butter
onion
flour
fresh parsley
salt
pepper
Old Bay Seasoning
sherry
chicken broth
heavy cream
lobster
For this recipe, I used thawed frozen lobster. I also left out veggies like diced tomatoes. Feel free to add those or use fresh lobster if you choose. If your family has a favorite fish other than the lobster, you can use that, too. Halibut and haddock make good substitutes.
You can also make this bisque extra special by decorating the top with green onion wisps and a carrot slice cut into a decorative shape. I don't have the time to get fancy, but my grandmother used to serve her soups with a little extra TLC.
I find that everyone time I make this simple lobster bisque recipe, it's truly a hit for the kids. If you're looking for a simple lobster recipe, you're going to love this great choice. Enjoy!
Yield: 4 servings
Crock Pot Creamy Lobster Bisque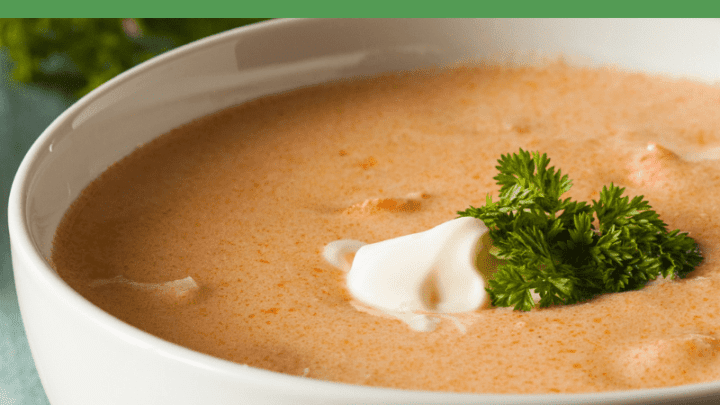 This bisque soup is easy to make in the crockpot!
Total Time
7 hours
15 minutes
Ingredients
3 T butter or margarine
1 small chopped onion
3 T flour
1 T fresh parsley
1 t salt
1/2 t black pepper
1 T Old Bay Seasoning
1/4 cup of sherry
1 32 ounce carton of chicken broth
1-pint heavy cream
1 3/4 cups lobster (fresh or frozen)
Instructions
Melt butter in a 3-quart saucepan over low heat. Cook onion in butter, stirring occasionally, until tender. Stir in flour, parsley, salt, and pepper. Cook, stirring constantly until mixture is bubbly; remove from heat. Transfer to 4 to 5-quart crock pot.
Add chicken broth, sherry, Old Bay Seasoning, and 1/4 cup of lobster.
Stir, cover, and cook on low for 6 hours or 3 hours on high.
Remove lobster pieces from crock pot. Discard.
Add remaining lobster, cover, and cook 45 minutes on low or until lobster meat is cooked.
Add the cream and stir.
Cook on low for another 10 or 15 minutes. Garnish with croutons and herbs. Serve immediately!
More Easy Recipes