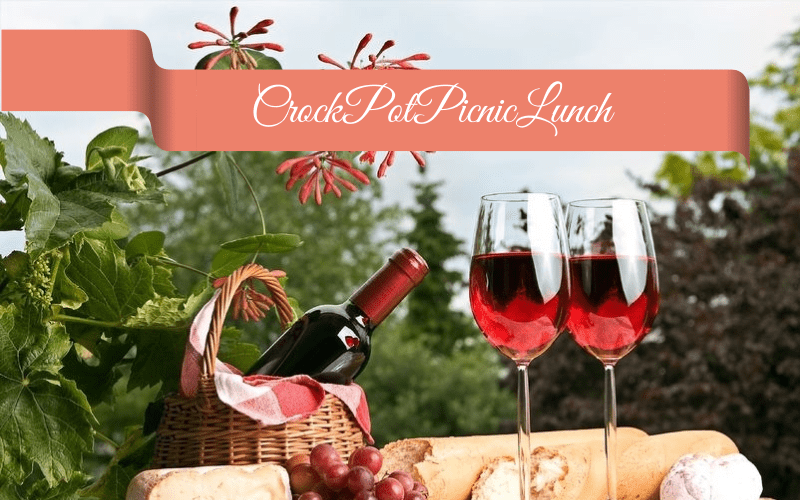 Okay. So you can't pack a crock pot in your picnic basket. That doesn't mean you can't whip up some heavenly perfect-for-the-outdoors eats before heading out for a special feast. Outdoor dining doesn't mean you have to settle for drab dishes! Here are 10 highly recommended recipes for the perfect crock pot picnic lunch. Several are from my Gram's Recipe Tin:
Crock Pot Garlic Dill Pickles
This one doesn't even require that you turn on the crock pot! But it does take 144 hours for them to "cook." Check out these divine Crock Pot Garlic Dill Pickles!
Crock Pot Turkey and Dressing Sandwiches
Savor a little Thanksgiving while dining outdoors! These Crock Pot Turkey and Dressing Sandwiches can be made ahead of time on crispy rolls or packed in a warming dish before heading out the door.
Crock Pot Chipotle Pork with Pineapple Coleslaw
This dish can be eaten hot or cold. The pineapple coleslaw takes no time to whip together (especially if you can find a pre-shredded coleslaw package).
Pesto Chicken Crock Pot Pitas
You can't go wrong with these Pesto Chicken Crock Pot Pitas! Cook the pesto chicken in the crock pot the day before, refrigerate, and toss it into your picnic basket along with some deli pitas (or your choice of bread).
Crock Pot Bacon Ranch Potato Salad
Although the recipe suggests serving hot, I've tried this one cooled and it's awesome! 
Crock Pot Baked Potatoes
This is an easy way to make baked potatoes. Plus, they're already wrapped in tin foil and good to go when you want to head out the door!
Easy Peasy Crock Pot Dinner Rolls
This recipe for Easy Peasy Crock Pot Dinner Rolls takes minutes to prepare and produces the most mouthwatering rolls ever!
Strawberry Crock Pot Scoop Cake
Combine strawberry pie filling and cake mix in a slow cooker, cover, and cook for a simple cake that practically cooks itself!
Crock Pot Triple Chocolate Brownies
Uncover the sweet side of your crock pot with these mouth-pleasing triple chocolate brownies. They make the perfect dessert for a picnic!
Crock Pot Dark Chocolate Pudding
This is a heavy, cream-infused treat that will leave you full, but longing for more. It's been kid tested and husband approved, so grab your crock pot and get busy!