Looking for an easy pork dish that the whole family will enjoy? Look no further! This recipe for Crock Pot Thai Peanut Pork is tasty and easy to make. The kids will be asking for seconds – guaranteed! It's just the right combination of hot, sweet, and smooth!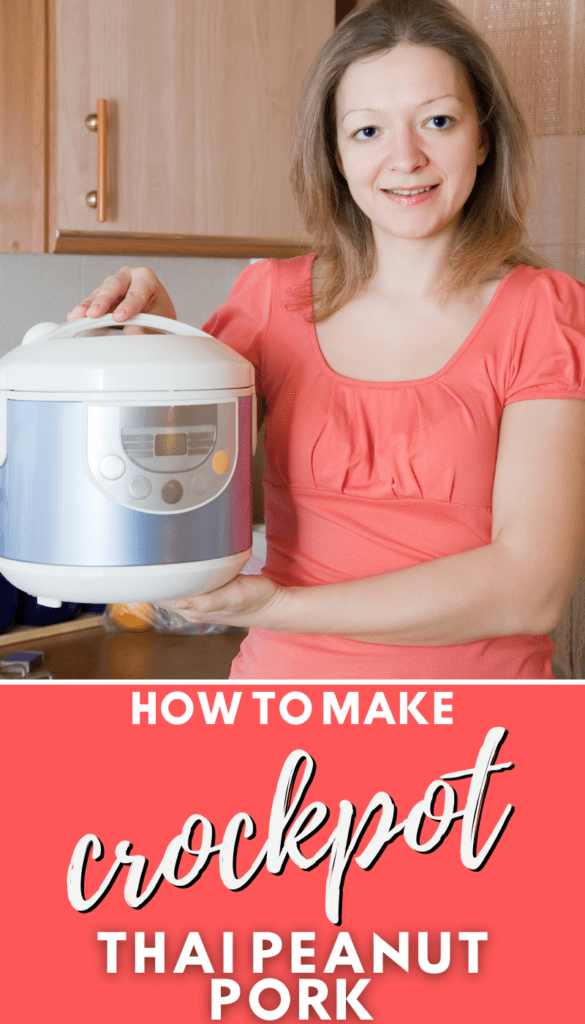 We love eating Thai food but haven't had the chance to order it as much as we'd like. This might because this simple Thai recipe is just too good to miss. There's just something so amazing and exciting about being able to cook up a meal that will have everyone loving every bite.
I'm also pretty much obsessed with letting the crock pot take over and do all the hard work and this is a simple way to have a hot and tasty meal on the table fast.
Ingredients needed for Crock Pot Thai Peanut Pork
peppers
boneless pork cutlets or chops
teriyaki sauce or marinade
creamy peanut butter
rice vinegar
red pepper flakes
garlic cloves
onion
Chicken can be substituted for pork if desired. You can also use a mixture of Worcestershire sauce, honey, and fresh ginger in place of the teriyaki sauce or marinade.
For a truly authentic Thai experience, consider serving with coconut rice! There really is a ton of ways that you can make this simple crockpot Thai recipe unique so don't forget to come back and share them with me so I can try them, too.
I'm always on the lookout for tasty recipes that have an amazing flavor and are fast. Because when the kids are harping for dinner, I need to have a few ideas and recipes on reserve!
Yield: 6 servings
Crock Pot Thai Peanut Pork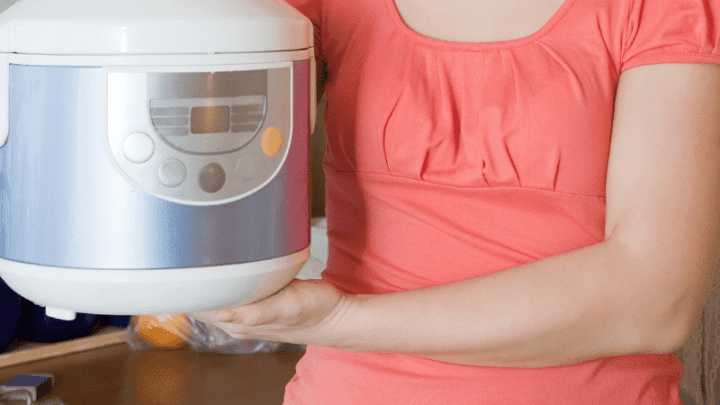 Looking for a tasty Thai dish? You're going to love this easy pork recipe!
Total Time
8 hours
15 minutes
Ingredients
2 medium finely chopped peppers
4 boneless pork cutlets or chops
3/4 cup teriyaki sauce or marinade
1/2 cup of creamy peanut butter
2 T rice vinegar
1 t red pepper flakes
2 minced garlic cloves
1/2 cup of finely chopped onion
Instructions
Spray a crock pot with cooking spray. Place the pepper and pork cutlets/chops into the crock pot. Pour the teriyaki sauce/marinade, vinegar, red pepper flakes, and garlic over the pork.
Cover and cook on Low until the pork is very tender, 6 to 8 hours. Once tender, remove the pork from the crock pot, and whisk in the peanut butter until smooth. Return the pork to the crock pot, and cook 10 minutes more.
Pour into a serving dish and sprinkle garnish with sesame seeds or chopped peanuts. Serve with stir fried veggies or rice.
More Easy Recipes