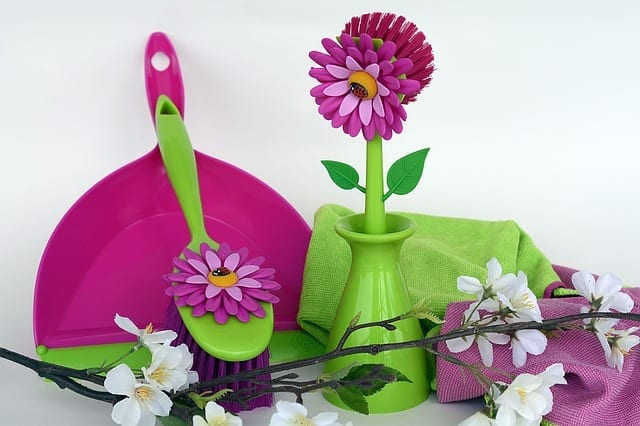 We are well into spring now, and the sunshine has our spirits up and our bodies outside soaking up the good weather. It's easy to forget about the inside of your house that is probably a little messy after months of being cooped up this past winter. But with spring comes new life outside, and a like-new look inside with some deep cleaning and rearranging. That's right, folks, it's officially time to get your spring cleaning started!
Looking at your entire house, it's easy to get overwhelmed and not know where to start. Fret not! By breaking it down and rallying the troops, you will get it all done in no time.
Bathroom
Primping, showering, and "other business" goes on daily in this room by everyone in the house, so there is a good chance it needs a good deep cleaning and reorganization more than any other room. Toiletries are more than likely filling up the entire counter, the towel closet is disorganized and stuffed to the max, and the shower and tub could use an extra long scrub.
Make yourself a bathroom checklist to ensure you get every possible spot in the bathroom. Wipe down and disinfect every surface: counters, sink, toilet, floors, trash can, and the tub and shower. Check the cabinets for outdated products to throw out and take any items that don't belong there and put them in their rightful place. You can also use this deep clean as an opportunity to redecorate by buying a new shower curtain and a floor mat to match.
Kitchen
The kitchen is where all your food prep takes place, so you want to make sure it's sparkling clean! Especially in the spring and summer when salads and other uncooked dishes become more common due to rising temperatures, the importance of clean surfaces is vital to keeping food safe to eat. While deep cleaning your entire kitchen, take the opportunity to dispose of old spices and ingredients you never use and are past their due date. You can also go through your cupboards and take out boxed and canned foods that you don't see yourself using (but are still before their "use by date") and donate them to a local food bank. Don't forget about cleaning out and wiping down the inside of your refrigerator. That tupperware at the back of the fridge that's probably been hanging around since new years isn't going to throw itself away.
This is also a good time to take a good look at all of your kitchen items, including pots and pans, dishes, and appliances to see what is still in good condition and what needs to be replaced. If you have a dog that likes to explore the treasure chest that is your kitchen trash, you can take this time of reassessment to consider getting a pet-proof trash can. Getting a trash can that your dog can't rummage through and spill everywhere is going to save you a lot of time and cleaning in the future!
Living Room
Other than bedrooms, the living room – true to it's name – is the most lived in room of the house. This is especially true in the winter when the weather keeps you marooned indoors, and entertainment is primarily tv, reading, and video games. It's probably looking a little grimey and cluttered, so it's time for a some spring time TLC.
This will most likely be the most time consuming room in the house as it has the most decoration and highest amount of house traffic. Following an intense clean living room checklist will make cleaning this room efficient and thorough. Start from the top and work your way down – dusting pictures, shelving, and wall hangings; taking down and cleaning curtains and blinds, and wiping down walls. Then move onto the lower areas – wiping down coffee and side tables, vacuuming the couches and floor, and shampooing the carpet if it's looking grungy.
Bedrooms
Hopefully the kids have been helping you clean the whole house, but bedrooms are where you can have them take most of the responsibility. Give them some guidelines of what you expect, and let them go, checking in on their process every once in awhile. It's also the perfect time to get them to downsize their clothes and toys. Have them try on their clothes and get rid of anything that doesn't fit anymore (or store for hand-me-downs), throw out anything with tears or holes that can't be fixed, and anything they don't ever wear. Same goes for toys, have them donate any toys they don't play with anymore or have outgrown, and throw out any broken toys.
As for your bedroom, the same rules apply! Go through your clothes and throw out anything that's worn out or ripped, and donate anything that you don't wear or doesn't fit. Cleaning wise, clear out the abyss that is under your bed and in your closet. This is also a good time to wash or switch out your pillows, which should be done every six months.
While you may not enjoy cleaning, the feeling of a freshly deep cleaned house is always a good one. If the last thing you want to be doing on a sunny spring day is get your spring cleaning done, that's understandable, but don't put it off entirely. Though, waiting until a rainy day is a good option!
————————————-
Bio: Mila Sanchez is a writer with a BA in English Linguistics living in beautiful Boise, ID. Her ambitions include traveling the world, studying languages, and taking pictures of her dog, Baymax. Connect with her on twitter and instagram!