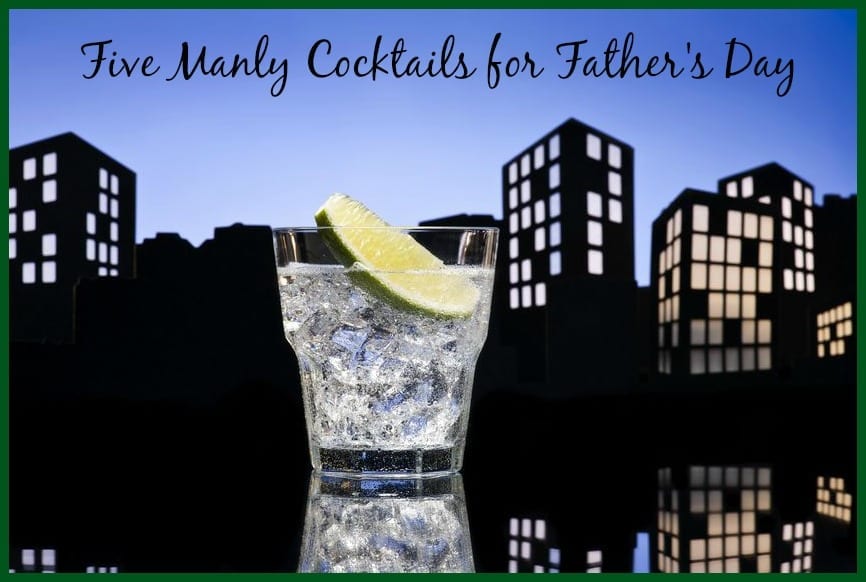 Although women are the primary consumers, men have been drinking cocktails for decades. If the drink makes the man, then cocktails make a man very sexy, suave, and adventurous! If you're on the fence about putting down the beer, PUT DOWN THE BEER! Expand your horizons. And indulge on your day.
Here are five very manly cocktails for Father's Day:
Tom Collins
The classic Tom Collins is a drink made from gin, lemon juice, sugar, and carbonated water. It's simple, refreshing, and perfect for a lazy Father's Day afternoon.
Ingredients:
1 1/2 ounces of gin

1 ounce of lemon juice

1/2 ounce of simple syrup (2 parts sugar to 1 part water)

Club soda
Shake gin, lemon juice, and simple syrup over ice. Fill a Collins glass with ice and strain drink into glass. Top with Club soda and gently stir. Garnish with lemon slice and maraschino cherry.
Tip: You can also use a soda maker machine to add sparkle to the drink if you don't have bottled Club soda.
Sidecar
This drink made a mad comeback a few years ago. Traditionally made with cognac, orange liqueur, and lemon juice.
Ingredients:
Juice from 1/4 lemon

1 ounce triple sec (Curacao, Grand Marnier, or Cointreau can be substituted)

1 ounce cognac or brandy
Stir with ice and strain into a cocktail glass.
Manhattan (Dry Version)
The drink preferred by Frank Sinatra and his comrades of the Rat Pack, the Manhattan is a classic blended whiskey treat. No neon pink umbrellas required.
Ingredients:
¾ ounce dry vermouth

1 ½ ounces blended whisky
Stir with ice and strain into a cocktail glass. Serve with an olive.
The Original Martini
The original Martini is THE drink that symbolizes cocktails! There are countless variations, but for the guys looking to keep things manly, consider it dry, maybe a little dirty…and for the love of all things dry Martini-worthy, no green apple liqueurs or lychees in this one! Stick with the four or five parts to one ratio to keep it dry!
Ingredients:
1 2/3 ounces gin

1/3 ounces dry vermouth
Pour all ingredients into mixing glass over ice and stir well. Strain into chilled cocktail glass. Serve with a twist of lemon peel or an olive.
Beer Buster
For those who simply cannot let go of the beer, this cocktail is for you! But let me warn you, this is the drink frat house memories are made of! Proceed with caution!
Ingredients:
1½ ounces 100-proof vodka

Cold beer or ale

2 dashes Tabasco sauce
Pour vodka into a highball glass and fill with beer or ale. Add Tabasco sauce and stir.