This post is sponsored by Universal Yums subscription snack box.
Summer is here, and the one things parents loathe hearing is, "I'm bored!" They also can't stand listening to, "She licked me!" Or, "Mommy watch this!" for the 18,000th time. So how do you keep kids busy when you forgot to sign up for camp? How can you keep your little angels out of trouble and from fighting 24/7?
Distractions and snacks. And of course a lot of summer fun!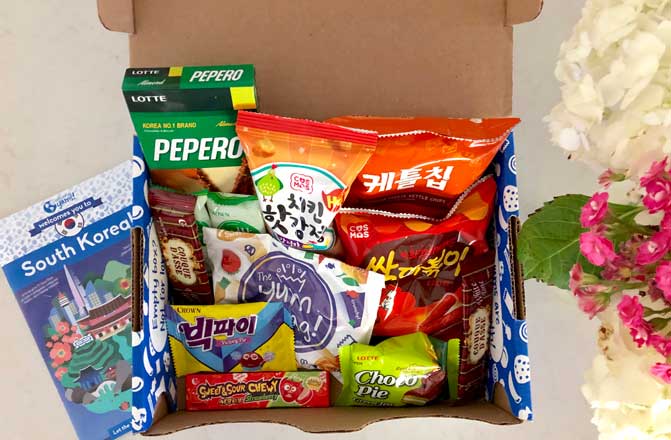 When kids come from a packed school week to the glorious nonthingness of summer it's hard for their little brains to unwind.
So here are five summer boredom busters to help you when they get tired of their tablets or too cool for the pool!
1.
Field Trip Fridays
Each Friday we pick a place in our town, or somewhere relatively close like 45 minutes to an hour away, that we haven't been to in a while. It could be a zoo, park, or museum, or could be something fun like a chocolate making class. We start by looking at coupons and Googling FREE activities in and around our area.
2.
Create Something Fun
Slime is always good too! (Although it's off limits in our house. #sorrynotsorry) As well as other fun science experiments or art projects. All you have to do is search Pinterest and you'll find a treasure trove of art projects and other fun ideas!
3.
Universal
Yums
It's fun to open with your family and rate each snack and read about each culture. Our girls love to bring out the Universal Yums snack box whenever they have their friends or cousins over. They think it's so cool to see the unique and yummy foods from different continents!
This box pictured is just $25, but they have a smaller one for just $15 and a big one for $39.
What a perfect summer activity or gift idea!
4.
Good Old-Fashioned Water Fight
Never underestimate the power of a cheap sprinkler or water balloon fights. Go to good old Target and pick up a cheap sprinkler and they'll run through it for hours. You can also do science experiments with water balloons! Will it sink or float? Which is easier to break, a full balloon or a smaller one?
Which hurts more when I throw it at your face? You get the picture.
5.
Boredom Jar
When things get rough, make a boredom jar. Mine is a mason jar with tasks written on folded post-it notes. Inside I've written things like, "read a book", "do I-ready on the computer", "one page of workbook", "ride your bike", "go roller skating", "use your swing set", "bounce it out on the trampoline", and "Legos".
I know sometimes during the summer it can feel hard to entertain our children, but it's also a great time to rest. Slow down as a family, play board games, soak up the sun and each other, and just unwind a little with your Universal Yums monthly subscription box. Hope you all have a wonderful summer of playtime and snacks!