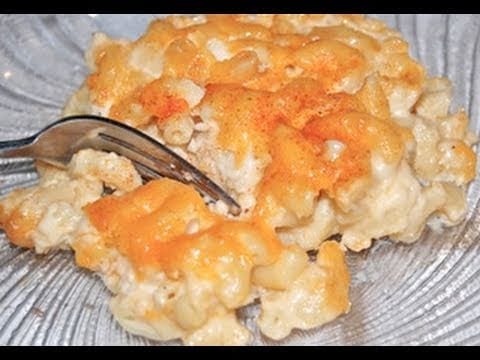 My mother makes the world's greatest baked macaroni and cheese. She's been making it since before I was born and there's not a person on the planet who hasn't raved about it after taking just one bite. I was excited when she agreed to share her recipe here on MommiFried. There's just one problem. The recipe, according to my mother, is all in her head and she does very little actual measuring. So together, we had to wing this one. If you're wondering what "Grambo" means, it's a nickname my nephew gave my mom years ago – a play on Gram and Rambo (because she can be both on some days – grrrrambo!).
Grambo's Baked Macaroni and Cheese
Total Time
1 hour
10 minutes
Ingredients
3 pound box of elbow macaroni
1 pound of white American cheese
1 pound of yellow American cheese
One block/square of Vermont cheddar cheese
Grated parmesan cheese
Paprika
Salt and pepper
ButterMilk (enough to fill a small to medium size saucepan up 3/4 of the way)
Instructions
Heat the oven to 350 degrees.
Bring macaroni to a boil in large pan.
In the meantime, chop up cheeses into cubes. Put them into a large bowl. Generously shake grated parmesan cheese over cheese cubes.
Fill a small/medium size saucepan 3/4 of the way with milk. Add a tablespoon of butter to milk then heat the milk and butter on high for about five minutes. When it gets warm (not hot), turn it down to medium. Let it come to almost a boil.
Take a large coffee cup and place three or four tablespoons of flour inside. Fill cup halfway with cold water and stir briskly with small whisk or fork. Then add hot water to cup. Mix well.
When milk is really hot, dump a cup of cheese into it and add flour mixture (no lumps). Mix with whisk continuously until thickened. Remove from stove. Set aside.
Drain macaroni. Butter a casserole dish.
Put a layer of macaroni, a layer of chopped cheese, repeat. Leave space at top.
Stir flour mixture and pour it over the top. Shake on paprika. Add salt and pepper where desired.
Bake on 350 until it boils and turns a little brown. About a 1/2 hour or so.