My parents did not spoil us, despite having the means to do so. I vividly remember, fueled by determination and spite, taking a margarine container lid, jump rope, and ball, and making my own Skip It, when my mother refused to buy me the new fad toy.
But then came Christmas. No one did Christmas like my mother.
I'm talking feeding carrots to the dog and leaving a note excusing Rudolf's mess on the carpet, hand-making our stockings with felt, doing an elaborate scavenger hunt from Santa for our final gift, absolute dedication to creating magic, Grinch after his heart grew three sizes level Christmas cheer.
There was the one year she wrapped the presents for our stocking in tin foil, which is either lazy or genius depending how you look at it, but mostly, Christmas was huge.
And then there was the tree.
Leading up to Christmas, there would be a few small presents lingering under our eclectic tree adorned with handmade kids' crafts and cheesy ornaments lovingly sent from my grandmother over the years.
It was just enough to pique our interest, get us excited, and satisfy our need to snoop. But Christmas morning was another story altogether. Permanently etched into my memory is the annual sight of walking down the stairs at hurt-your-eyes o'clock to see a Christmas tree absolutely overflowing with gifts that had appeared overnight.
It was something to behold.
We did not dive into opening them in a frenzy as you often see on TV. First, there was coffee to be made while my sister and I sat with saucer eyes staring at this marvel.
Then, one at a time, a gift was handed out and opened while the rest of the family watched. After the gift was opened, there was thanks given, and a moment to stop and examine the new treasure, really feeling the excitement, before moving on to the next one.
It took all morning to open. Though I remember so many of the gifts decades later, a testament to my mother's months of carefully choosing the perfect presents, it was the experience of spending those mornings with my family that I truly cherish.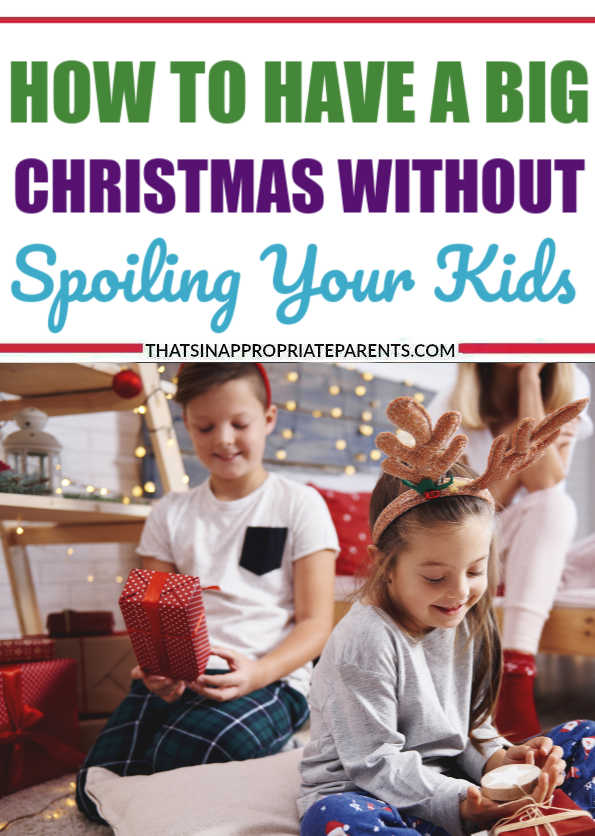 Like my parents, we don't buy a lot of toys for our kids during the year. But also like my mother, I go overboard at Christmas.
I want them to have that feeling of sheer excitement at the overflowing tree and to remember taking hours opening gifts on Christmas morning like I do.
But I do worry about commercializing Christmas for my kids. And not insignificantly, I don't have as much money as my parents did when I was a small child.
As it turns out, I needn't have worried. Despite the abundance of gifts, my children have proven year in and year out that they understand what Christmas is really about, and I am fully taking credit for it.
I seem to have found a way to go overboard on Christmas without creating entitled, gift-hungry children, or spending every cent we have, and I'm going to share with you my secrets.
Emphasize what is really important
When we talk about Christmas with our kids, we talk about the time we will spend together. When we discuss gifts, it centres around how exciting it is to find a perfect gift for someone and make them happy.
My kids get as excited picking out gifts for others as their do opening their own. We let them choose their own gifts, even if it means that one year my sister received a coffee mug that said, "Size matters." On many occasions, my oldest has said, "I'm excited for Christmas, even if I didn't get any presents."
Buy second hand items as much as possible
As high a percentage as I can make it of my kids' gifts each year I get from buy and sell groups, second hand stores, etc. Not only is this a cost-cutting measure, it teaches my children the value in repurposing and giving new life to old items.
It's good for the environment, it's humbling, and it's just good practice in general. We also use this as an opportunity to purge their toys and donate the ones they no longer use, so others can do the same for their own children. Plus, buying toys off someone else can helps them fund their holidays.
Give handmade gifts
Most of the things under the tree for my children are made with my own two hands. Some are bigger things, like the quilt I am making my youngest, or the Yahtzee game I am making using members of our family on the dice. Most, though, are smaller and easy to do.
I used a glue gun and some paint on a wooden dowel (a chopstick works too) to make a magic wand. Some magnets and a small tin created a travel Tic Tac Toe game.
A pair of dollar store gloves is made into a cute stuffed dog, a dish towel is easily made into an apron, a cheap wooden crate and some toilet paper rolls make a hot wheels garage, and a sock with some buttons makes a great puppet.
If you aren't especially crafty yourself, shop your local makers and support their businesses.

Make a donation to a charity as at least one of each child's gifts
I asked each of my children which organization they would give money to given the chance, and they each answered without hesitation. They have given it lots of thought because we discuss helping others year-round, and they have donated their own money in the past. I know they will be thrilled to see that donations were made to the Terry Fox Foundation and the Hospital for Sick Kids at their request.
Making opening gifts an event
Take your time. Watch each other open, and take the time to really appreciate each gift. Take lots of breaks and play with things as you open them. It's the memories that matter not the gift itself. This time together is what they will remember.
Wrap everything you can get your hands on
Once I accidentally left something at my grandmother's house, and she wrapped it up and put it under the tree. If you get a set of Hot Wheels, wrap them individually. Five-cent pack of stickers you found in the back of your junk drawer? Wrap that sucker up. This is especially helpful when you are making sure each kids has the same number of gifts. Not only does this stretch things out, it teaches kids to be appreciative of any gift, big or small.
Give the gift of time to your kids
Make sure some of the gifts are experiences you can do together. They don't need to be big experience gifts like cruise trips or event tickets. This year, I'm wrapping up a pack of popcorn and some snacks for a sleepover movie in my bedroom.
It is possible to go overboard on Christmas without spoiling your kids or succumbing to commercialism. This year, our tree will be overflowing, but my wallet will not be hurting, and my kids will treasure the experience as well as the gifts.