Moving to a new place, where your child will attend a new school, is a nerve-wracking experience. Both you and your child might have anxiety about the nuances of the school environment and the experiences they will encounter.
You can calm your fears with a little bit of research and planning. Turn that anxiety into excitement — find opportunities for optimism, instigate early introductions, identify school logistics, make searching for living arrangements a group effort, and explore possibilities for community relations.
Here are some tips on how you and your child can make a positive transition to a new school:
Opportunities for Optimism
Whenever your child has a bout of anxiety about their new school, remind them of what positive things await them. Even if you have doubts and fears, don't let your child detect or witness them. This may only dampen their spirit.
Talk with your child about the possibility for new friends and make sure you have a list of school-specific opportunities you can share with them.
It is good for them to have a moment to acknowledge their apprehension, though it becomes harmful if they dwell on it. Make a list together about what they are excited about in regards to the transition and move. Then post it in an area where they can be reminded of the good things to come.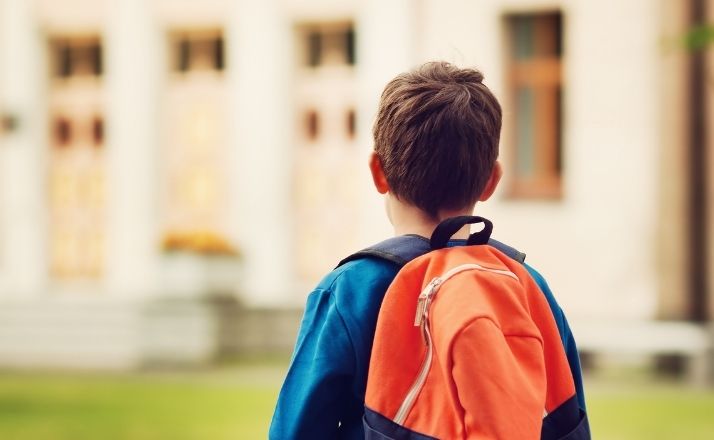 Early Introductions
Ease your child into their new environment. Make sure they have an early introduction with the school.
Visit the school grounds, so they have an opportunity to see the building's facilities and the other children who attend. Set up meetings with the principal, guidance counselor, and your child's teacher(s). The more acclimated they are, the less nerves they will have on their first day.
The two of you should write down questions you have for the school faculty, so you can get the information you both need to feel more comfortable with the new school.
New School Logistics
Get to know the functions and logistics of the school. Most school websites will list their school hours, daily lunch menu, teacher homework and other important information. Visit their site, so you can view what resources are available.
Make sure you know the bus schedule and routes if your child will rely on bus transportation to and from the new school. Do a practice round with your child. Try to be present for the arrivals and departures of their first bus rides.
Living Arrangements
Involve your child in your search for your house or apartment. If they are part of the process, they will feel like they have a little more control within the transition. If you are moving to a large city, like Los Angeles, try using For Rent to see the various units that are available.
Let your child scroll through the photos and look at a map to see what kinds of kid-friendly restaurants, cafes, and stores are in the area. The more comfortable they are in their new home, the more comfortable they will feel about the whole transition.
Community Relations
Take into consideration the community you're joining. Look up community parks and rec centers that your child will enjoy. Most neighborhoods will have a community YMCA or Boys and Girls Club that will offer a wide variety of sports and other recreational programs.
It is good if they have a space, outside of their new school, where they can engage in their favorite activities. They will also have an opportunity to make friends outside of school. This will be beneficial if they struggle to find new social connections within their classroom.
Your family's transition will be a positive one if you make decisions and explore new possibilities together.
You can ease your child's qualms about a new school if you utilize opportunities that will help both of you learn about their new social and learning environment.
With the right care and preparation, you can set your child up for success at their new school.