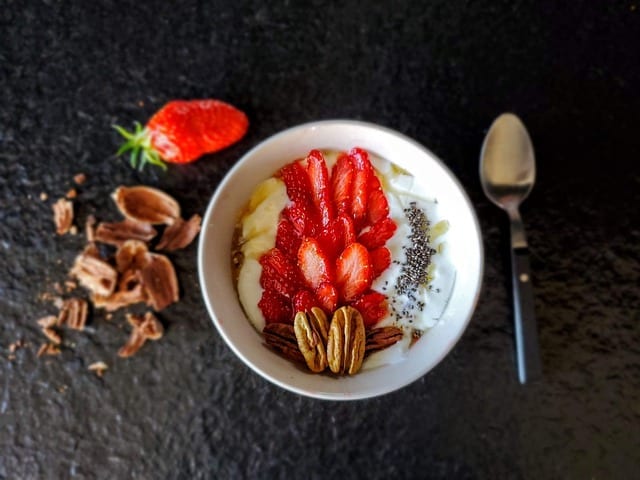 Do you feel like starting your day on a healthy tip? Why not go with an acai bowl for breakfast this morning? It's hard to believe this delicious treat is good for you – bursting with color, flavor, and nutrients for your body.
There are various recipes to try, and it only takes a few minutes to put together. Take it with you to work for a healthy snack or enjoy it at any time of the day when you feel like an energy boost and some extra calories.
What is an Acai Bowl?
The Acai berry is a member of the "superfood" family, along with other fruits and veggies like blueberries and spirulina. Superfoods come packed with antioxidants, vitamins, and minerals to nourish your body.
The acai berry is reddish-purple, and when used in an acai bowl, it gives the meal a purplish hue. Acai originates in Central and South America, and it's one of the region's biggest natural exports.
The acai berry has a sweet taste, making it a popular alternative to raspberries, strawberries, and even blueberries.
Over the last five years, health bars and organic restaurants started selling "acai bowls." As more people get health-conscious, they're exploring different meal alternatives. Acai offers an exotic change to your diet that tastes fantastic.
The acai bowl is a combination of acai berries, blended with ice, milk substitutes, yogurt, fruit, and other basic ingredients. The result is a creamy, purple mixture with the texture of frozen yogurt. You put this mixture on top of a granola bed and add any topics you like – from fresh fruit to whipped cream.
To get the best results from your acai bowl, remember to use fresh berries. They don't have a long shelf life, so make sure you're buying fresh acai at your health store.
What are the Health Benefits of Acai?
Acai is a superfood containing plenty of antioxidants and "polyphenols." Polyphenols have an interesting effect on our physiology, with many advantages for our body and immune system. Here are some of the benefits of including acai in your diet.
Balance Blood Sugar – Acai has a low glycemic score. As a result, it releases energy steadily throughout the day, avoiding the sugar crash you get with frozen yogurt or other sugary foods. It's a tasty treat suitable for people with diabetes and won't spike your insulin like a bowl of sugary cereal.
Enhances Immune Health – The polyphenol antioxidants in acai contain potent anti-inflammatory properties. Acai also comes packed with vitamins and minerals that improve immune health and bodily function.
Glowing Skin – The high levels of antioxidants in acai help to promote skin health. Polyphenols act as antioxidants, scavenging free radicals from your blood that cause the signs of aging, like wrinkles.
Increased Libido – Acai does not have an official classification as an aphrodisiac. However, it helps to improve circulation, increasing libido.
Increase Stamina and Energy Levels – Acai berry has a subtle stimulatory effect on the body. It increases energy levels, giving you a boost when you need it most. If you're feeling low on energy in the afternoon, an acai bowl can perk you up. Put down the energy drink and bring a nutritious treat to work with you.
Boost Brain Function – The polyphenol antioxidants in acai help to keep your brain healthy. Removing free radicals from your body helps to boost cognitive function and alertness. You'll find you think quicker, and you're more productive at work.
Do I Need Any Special Equipment to Make Acai Bowls?
A blender is the only kitchen appliance you need to make an acai bowl. The blender is instrumental in the process, or you won't get the blending of flavors, colors, and textures in your acai mixture. We recommend going with a semi-commercial model when selecting your blender.
Cheaper models don't have strong motors, and the seals fail after a year or so of use. With a decent blender, you get multi-speed functionality and pulsing to help you blend the ingredients.
A commercial or semi-commercial blender comes with durable seals and washers around the motor and blades, reducing the possibility of burnout with the machine. Chances are after having your first acai bowl; you're going to want one every day.
Purchasing a durable blender ensures you get plenty of delicious breakfasts and snacks out of the appliance. A commercial model might have a higher price tag, but it lasts ten times longer.
How to Make Your Own Acai Bowl?
Let's put it to the test and build you an acai bowl you won't forget. Follow these directions to make the tastiest treat you'll ever try.
Acai Bowl Ingredients
Acai Berries or Puree – Frozen or chilled.
Frozen Berries – add your favorites.
Banana – Frozen and sliced.
Milk Substitute – Almond milk helps the blender mix things up.
Yogurt – Use unflavored Greek yogurt or double cream.
Acai Bowl Toppings/Base
Granola or muesli
Seeds and Nuts
Fresh sliced fruit
Follow these directions to make your acai bowl in 5-minutes or less.
Freeze your fruit – Frozen fruit is essential for your acai bowl. Buy your fruit frozen or fresh and freeze it yourself. You can add any selection of berries, bananas, or fruit you enjoy.
Blend – Take your frozen fruit, and add a cup to your blender. Add some organic double-cream plain yogurt or your favorite milk substitute to the mixture and blend on high until you get a creamy consistency.
The trick is not to add too much liquid to make it runny. You want a texture like ice cream or frozen yogurt.
Assemble – Line your bowl with granola or muesli and add the mixture on top – grab a spoon and enjoy!
Wrapping Up
An acai bowl is a healthy and tasty treat at any time of day. Make one in the morning for breakfast or mix one up in the afternoon for a midday snack.
They're easy to put together, and you have a nutrient-dense meal that's tasty, healthy, and affordable.
Why spend money on expensive acai bowls at health food restaurants. With organic ingredients and a blender, you could be making sensational acai bowls at home.