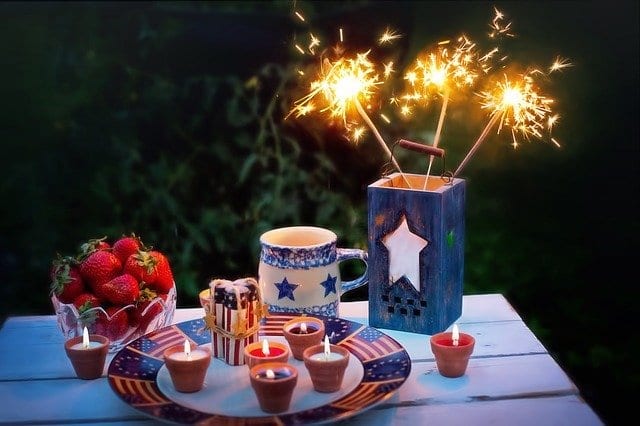 Now that summer is in full swing and the 4th of July is almost here, it's time to think about organizing a get-together with your friends and family to celebrate the holiday. It's no secret that party planning can be particularly time-consuming, especially during the summer months where time appears to be flying. If you find yourself in this boat, no need to panic. Here are our best tips and tricks to throw that perfect July 4th celebration even if you're pressed for time.
Stick to grilling
When planning a party, deciding a menu can be one of the bigger headaches. Whether it be due to diet restrictions among your guests or selecting a caterer that is both delicious and affordable, there are various factors that come into play when choosing the grub you'll serve at your event. For your 4th of July party this year, stick to the basics and opt for the grilling route. Hotdogs and hamburgers are a patriotic combination that you can't go wrong with. Letting your guests know this is what you'll be offering also gives them the option to bring something else should they wish to. Check out these tips too in order to have the food extra tasty.
Another great idea if you're running short on planning time is to make your party a potluck and invite your guests to bring a dish of their own! Even though you'll be supplying the main bulk of the food and snacks, there's absolutely nothing wrong with inviting your guests to bring their favorite treats if they wish. The more food the better and if your guests are willing to help, it's definitely a win-win!
Red, white, and booze
No 4th of July celebration is complete without refreshing drinks to cool down with, so be sure to consider what types of beverages you plan to supply for your guests. A great place to start is thinking about how elaborate you want to get with the variety of drinks you serve. Are you going to stick with beer and wine, or expand onward into cocktails and mixers? Whether you go with coolers of drinks or a full bar set up, these are all things to keep in mind during the planning stage.
Similar to food, think about where and how you're going to get your drinks because it can save you valuable time as you plan. For example, if your guests have special requests, let them know they're welcome to bring their favorite drinks along, or if you want to do it all yourself but can't get to a store in time, test out a convenient alcohol delivery app that can deliver right to your cookout. Keeping this in mind throughout the planning process will save you both time and energy!
Monitor the weather
Even the most unpredictable factors of your party should be kept in mind as you plan out your last-minute July 4th bash, and that includes planning around the weather. While you'll be hoping for bright sunny skies, it's almost essential to have a backup plan in case the weather doesn't cooperate. First, start by planning out a best-case scenario. Decide on what space in your home you'd want to entertain your guests in and prepare that area. Tidy up your backyard or sunroom to make sure there's room for people to move around and feel comfortable. Make sure you show as much TLC to the interior of your home as you do to your outdoors as well, by cleaning any of your furniture and carpets in case the party unexpectedly moves inside!
Decorate to perfection
To make the party more festive, be sure to add some creative touches to your party through decor. It's likely that you'll have some red, white, and blue around the house, but if you really want to go all out, head to the store to grab some flags, festive linens, and paper products. While there's no need to go overboard with the decor, especially if you're crunched for time, even the smallest patriotic touches here and there can make it feel a little more special than your average get-together. Or if you're feeling creative at home or even have children that want to help, look for some DIY 4th of July craft ideas to place around your home; the opportunities are endless!
With a few days left before the holiday weekend, there's still some time to get everything together for a good time. Now that you've got all the tips you need, it's time to start planning.