I just typed in a search term on Google that I never thought in a million years I would be looking up:
middle finger image public domain.
There's a valid reason for this. I received my first mean comment about my blog – errr about me – this afternoon. Someone wrote:
"Your blog is funny but you seem like just another boring suburban housewife. Just another mommy blogger and there are too many of you."
Excusez-moi?
As a long-time Community Manager for one of the world's largest sites, I deal with people day in and day out. People with all sorts of personalities and issues. Seriously, you have no idea. Think One Flew Over the Cuckoo's Nest meets Hannibal Lecter issues. Usually I don't overreact. I am able to remain level-headed and keep my cool in any circumstance. But that's my job. I'm obligated to be nice. Here… this is MY thing. So I will say what's on my mind. Right now that equates to (sorry ma!):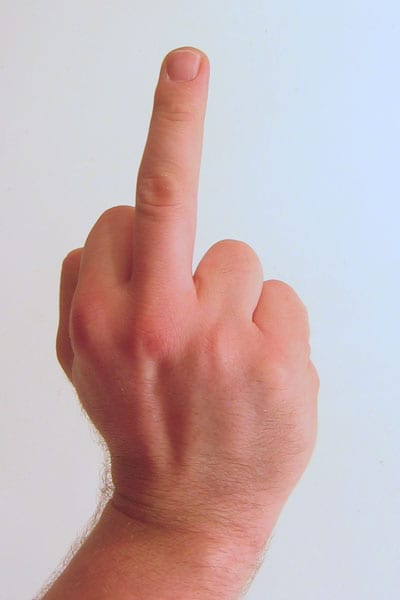 Just another mommy blogger? Too  many of us? There's power in numbers baby! We mommy bloggers are literally changing the world.
For the record, I'm far from boring darling. I don't live in the suburbs. And I'm certainly not just another housewife. I'm a working mom with four kids who will refrain from calling you an a**hole because I'm too classy.
Have a nice day!