Move over "Quarantini", there's a new drink in town. At least, it depends on which state you live in anyway. According to data pulled from Google search engines, each of our 50 states has seen a sharp rise in queries on how to make specific drinks thanks to stay-at-home-orders.
Everyone from the Golden Gates to the Brooklyn Bridge is turning into expert home bartenders. But what drinks are the most popular? Well, that depends entirely on your zip code.
We've ranked the data by popularity to show you exactly what kinds of boozology Americans are stirring, shaking, and keeping neat.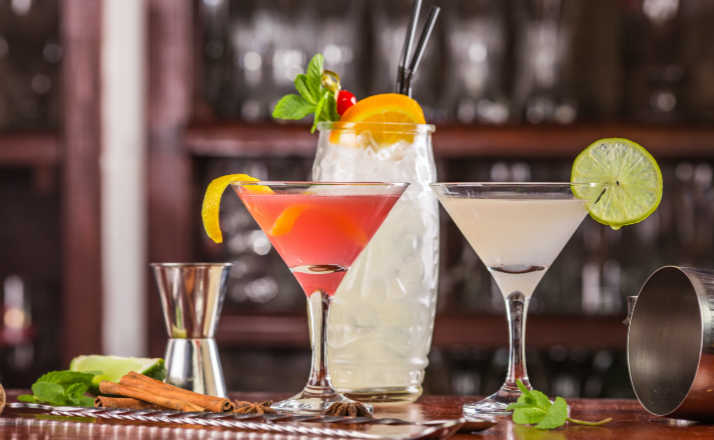 But before we reveal the list, it must be noted that most shockingly absent from this Google search list is Stanley Tucci's now-famous Negroni recipe, which, I have to tell you, I have no idea what the hell a Negroni is but after watching Tucci shake one up, it's definitely on my wish list.
But I digress. Here we go.
The Old Fashioned came in as the landslide winner with Washington, DC, Massachusetts, Nebraska, New Hampshire, New Mexico, Oregon, Virginia, and Washington all voting with their Google searches. According to the New York Times Cooking section, an Old Fashioned is a snazzy yet simple mix of a sugar cube, Angostura bitter, rye or bourbon, and an orange twist. It looks Mad Men as hell too. You can find the NYTimes recipe here.
The second most searched for drink recipe is the kind of violently named Kamikaze. People in Idaho, Iowa, Maryland, North Dakota, and West Virginia all had a craving for this drink that features vodka, lime, and triple sec. It takes less than three minutes to throw together and looks much classier than the name much suggests. We found this recipe on Spruce Eats.
Four different drinks tied for third place. We'll start with the Bushwacker, which is quite the sip in Louisiana, Tennessee, and North Carolina. What is the Bushwacker? According to Esquire, a Bushwacker is a chocolate milkshake looking boozy drink with dark rum, Kahlua, dark crème de cacao, milk, and topped with whipped cream and a cherry. You can check out the instructions on how to make one here.
If you live in Delaware, Kansas, or Dakota then chances are good you might have Googled how to make a Screwdriver, which turns out is pretty simple and very tasty. Epicurious notes that this classy looking drink needs only vodka, orange juice, ice, and Angostura bitters. You can make one just like this.
Perhaps not surprising, New Yorkers love Manhattans but so too do folks in New Jersey and Illinois. This elegant looking drink is concocted of bourbon or rye, sweet vermouth, Angostura bitters, orange bitters, and brandied cherry. Wow! You can make your own here.
Rounding out third place is the Paloma, which is the hottest cocktail in Arizona, Texas, and California. Bon Appetit recommends a fabulous recipe that calls for Kosher salt, grapefruit wedge, grapefruit juice, fresh lime juice, sugar, mescal or tequila, and club soda. Yum!
Negroni
This one did not rank at all but seriously, did you see how hot Stanley Tucci was when he mixed this badass cocktail up? No? Ok, hang on, I got you boo…
The remaining states had a variety of flavors in mind while looking up drink recipes in quarantine. Here are the remaining states and what cocktails people searched for according to Google:
Alabama – Hurricane
Colorado – Hurricane
Pennsylvania – Whiskey Sour
Alaska – Whiskey Sour
Arkansas – Frozen Daiquiri
Connecticut – Margarita
Maine – Margarita
Florida – Cuba Libre
Georgia – Sazerac
Hawaii – Lemon Drop Martini
Indiana – French 75
Kentucky – Lily
Michigan – Cosmo
Rhode Island – Cosmo
Vermont – Cosmopolitan
Minnesota – Oliveto
Mississippi – Painkiller
Missouri – Gin and Tonic
Montana – Blue Hawaiian
Nevada – Grasshopper
Wisconsin – Grasshopper
Ohio – Boulevardier
Oklahoma – Black Russian
South Carolina – Tequila Sunrise
Utah – Cape Cod
Wyoming – White Russian
Whatever your taste or drink persuasion remember to drink responsibly and practice social distancing.