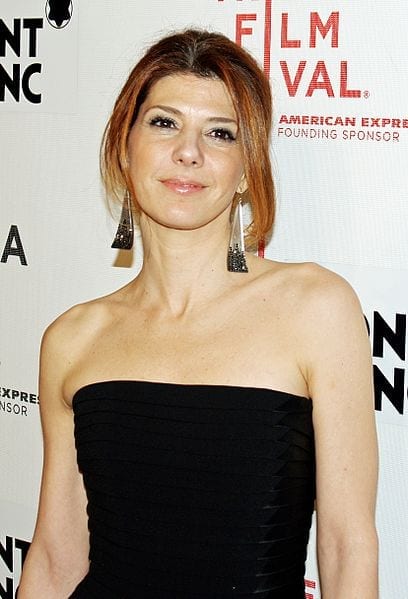 The other night we watched Before the Devil Knows You're Dead starring Philip Seymour Hoffman and Marisa Tomei. It was a good movie, but I really could have done without seeing Hoffman's ass – ever. I also never expected to see Marisa Tomei's perfectly sculpted, naked body over and over again. And again. It was turning from Before the Devil Knows You're Dead to Let's See How Many Times I Can Flash My Boobs Straight Ahead.
After the third or fourth time of having her non-cellulite, stretch mark free firm backend dangled in our faces like a piece of red velvet cake, I sort of lost my shit.
"There's no way that chick has had kids. None."
The truth is, I had no idea until this morning if she had given birth and was mothering 13 children. So I googled, "Does Marisa Tomei have kids?"
She doesn't – which is a damn good thing. If she had indeed given birth to one or more offspring, I was about to cry foul. Photoshopped thighs. Post-production magic eraser to sagging boobs. I was honestly relieved that she didn't have kids. I don't think I could have accepted a mom-body quite that perfect. That would just be a cruel anomaly.
I also can't help but think back to the scene in My Cousin Vinny when she's stamping her foot and screaming about her biological clock! Quite ironic.
So the next time you're watching a movie and Marisa Tomei graces the screen with her chiseled physique, have peace in knowing that she is childless. She has not gone through the body-altering process of having kids. Here are a few other childless actresses you don't need to envy:
Oprah (okay – you can envy her just a little)

Kate Walsh
Kim Cattrall
Cameron Diaz
Helen Mirren
* Image courtesy of David Shankbone – Marisa Tomei at the premiere of War, Inc. at the 2008 Tribeca Film Festival.