Out with the old, in with the new. This New Year's Champagne Crock Pot Chicken gives us all something to celebrate and look forward to.
Because when you can have champagne as an ingredient in your meal, why wouldn't you? I'll cheers my fork to that time and time again.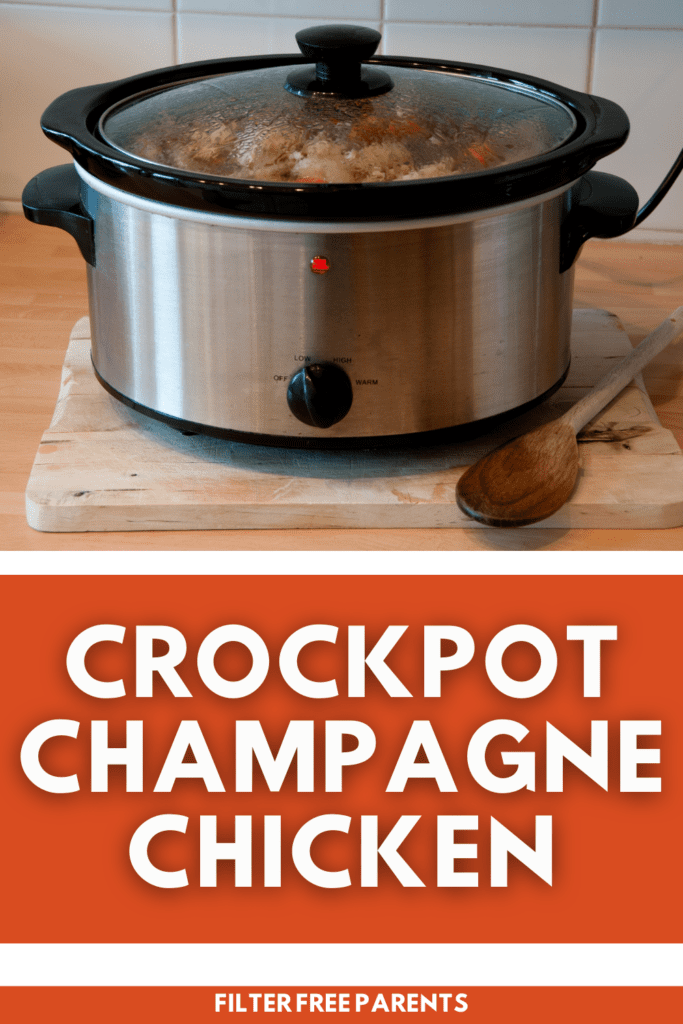 New Year's Champagne Crock Pot Chicken
As the kids have gotten older and we're all a bit busier, the crockpot has become my best friend. It alleviates some of the stress of having to spend hours preparing meals and dishes for celebratory events and family meals.
If you're planning a small get together or just needing a tasty dish for the family to enjoy (with the hope of some leftovers remaining), consider making this New Year's Champagne Crock Pot Chicken. It can be prepared in under a half-hour and is absolutely one of the tastiest crockpot dishes I've ever tried.
Tips for Making Crockpot Champagne Chicken
You can substitute turkey for chicken and also chop or leave the veggies whole, as opposed to slicing. Other herbs can be used, too.
When it comes to the win, you can use dry white wine if you want but it just won't have the same flavor and taste. (and I like to use wine that I can actually drink from the bottle because that's the perk of being the chef in the house) There really is no right or wrong when cooking up this masterpiece.
Adding a little bubbly to the recipe is just a fun idea, but you can leave it out and use another form of liquid if you want. I really do think that you'll love the simplicity and extreme deliciousness of this New Year's Champagne Crock Pot Chicken.
How to Store Leftover Chicken from the Crockpot
If you're asking my husband, he'd just remove the entire crockpot base and place the whole thing in the fridge…men…BUT, I'd have to say although the thought was helpful, it'd be incorrect.
All you need to do is store this leftover chicken in an airtight container and keep it in the fridge. It should last for 2-3 days without issue and be a simple way for the kids to reheat their food and enjoy another meal or two.
More Delicious Recipes
If you're looking for even more simple recipes, check out these as well. Simple, fast, and great for the kids.
New Year's Champagne Crock Pot Chicken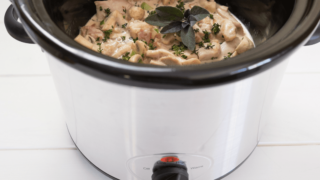 This chicken recipe is simple and delicious.
Ingredients
1 pound boneless chicken breast
1 pint of mushrooms
1 medium onion, chopped
4 potatoes, sliced
4 carrots, sliced
1 medium red pepper, chopped
1 T herbs de Provence
3 cloves of garlic
2 T olive oil
1/2 t salt
1/2 t pepper
2 cups of champagne
Instructions
Place potatoes, onion, garlic, peppers, and carrots into a lined four to five quart crock pot.
Season chicken with herbs de Provence, salt, and pepper. In a large sauté pan over medium-high heat, sear the chicken on all sides until golden brown color. Place chicken into the crock pot.
Add mushrooms to pan and cook five minutes, stirring frequently or until mushrooms have browned.
Pour the champagne into the hot pan with the mushrooms. Simmer for two minutes. Remove from heat and pour into the crock pot over the chicken. Cover and cook on low for four to six hours.