Throughout the years I learned a very important lesson, and this year I vow to remember it. Here it is: if you shower kids with toys, then your house will become filled with toys.
No brainer, right?
Sure, but until I bought my 500th tote to hold all the Little People, Barbie shoes, Lego pieces, and Matchbox cars, I didn't realize what I had gotten myself into.
I found myself organizing and cleaning and reading articles with titles like: "Awesome and Attractive Toy Storage Options!" and "The Joy of Having a Toy Library in Your Basement" and "How to Build Shelves to Hold All Your Fun Stuff!"
The momentary joy we were all getting fulfilling the kids' every passing wish and whim for toys added up to my family living in a sea of crap that needed to be constantly picked up, managed, stored, and sorted through.
My kids had so much stuff that they couldn't possibly play with and enjoy it all. That sea of toys was built on good intentions and love, but still we were drowning in it.
So, like so many things in motherhood, I learned from my mistakes and we regrouped.
We now try hard to minimize what comes into this house, & to teach our kids that stuff isn't what life is all about. It's no fun when your kids turn into greedy little monsters . . . which kids can do when they are constantly given too much.
In that spirit, this list was born. I've dug out from under the mountain of toys and I vow not to let the holiday season bury me again.
As we have worked to put each thing in its place, my kids have started to realize that memories can be the best gift of all.
Instead of buying my kids toys, here are 12 great alternatives: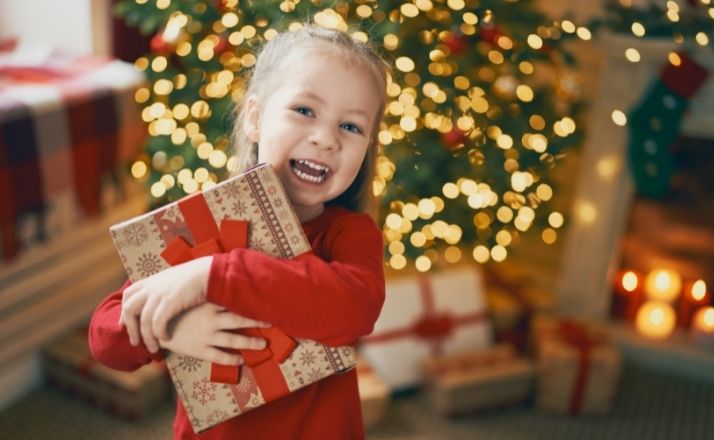 1. Buy them tickets to fun. This could be as simple as buying movie passes that can be used anytime or as elaborate as tickets to "Hamilton" (Mom would love this too!). Bonus points here if you buy them the tickets and take them to the event.
2. Show them some culture. Day passes or memberships to museums or zoos are awesome gifts. These are usually things that can be used right away over the Christmas break. Having a fun place to go can help cut that post-holiday letdown, too.
3. Give the gift of time. Along these same lines, time can be its own gift. Maybe it's a day spent playing laser tag or going to a jump park. Maybe it's a day of shopping. Or it could be a day walking the trails at a special park. One-on-one uninterrupted time is such a gift in this busy world.
4. Give them the world through books. You.Can.Never.Go.Wrong.With.Books. Books open up whole new worlds to our kids. I can remember every single Judy Blume book I received growing up. And if you want to go truly minimalist, buy a Kindle or Amazon gift card, or a subscription to Audible so they can listen to books while out and about.
5. Hand out drive-thru gift cards. Nothing makes my kids as happy as the elusive drive-thru. I am a "Nope" mom when it comes to this unless we are in a bind. What kid would not love to be able to buy their own Happy Meal?? Find out their favorite restaurant. Give gifts cards to each kid.
(Bonus gift: it's a night Mom doesn't have to cook!)
6. Head to a restaurant together. Take that special kid (or the whole gang) out for a special meal someplace fun. Maybe it is the local Japanese Hibachi Grill; kids can watch their food catch fire right in front of them. Pick somewhere they love and enjoy a special meal together.
7. Give the gift of fashion. Letting kids pick their own holiday fashions is a great idea. My kids love getting t-shirts that advertise their favorite show or local sports team. Clothes can be a great gift.
(Although we draw the line at underwear, it's never the right choice.)
8. Bake holiday treats together. If you have awesome recipes to pass down, share away and bake together. If you don't, buy some prebaked sugar cookies and get to decorating. Spending time together making memories around food lets kids feel the pride of creating something. Make cocoa and serve it in a special mug they get to take home.
9. Plan a group trip. Instead of giving individual gifts in a family, let a group trip BE the gift. This one works great for families or friend groups that do big exchanges. We had a blast one year all going to a weekend water park trip. The pressure was off since we didn't have tons of shopping to do, and we made awesome memories.
10. Walk down memory lane with photobooks. One of my kids' favorite gifts every year is a photobook I make that showcases their past year. They spend so much time leafing through the pages, remembering all the fun the year held. This keepsake is something they'll have forever.
11. Family game night or movie night. Plan a night where each family buys a game or movie and everyone participates. Add some snacks, and you have the both time and fun — the perfect gift combo!
12. Shop together for kids who have less. Each year my kids donate a gift. We head to Target to buy a gift for a child their age and pop it in the Toys for Tots store bin. Having kids walk into a store and pick out a gift for someone they don't know is powerful and teaches the gift of giving.
We know there will still be kids toys under the tree, but we will limit the extravagance. And every gift we're given is appreciated. But looking beyond the toy aisle has actually made the holiday even more fun.
We've made more memories and it's felt like Christmas lasted even longer. And of course, I don't have to spend January buying more bins or figuring out how to build some shelves, which is a total win!