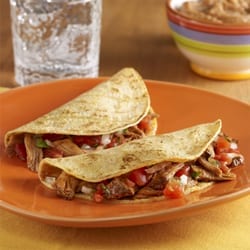 Attention busy parents everywhere! Taco night—one of the easiest meals out there—just got even easier. Taco night represents everything parents typically love about easy weeknight meals: tacos are quick to prepare, familiar enough to appeal to most picky kids and are typically much better for you than a meal at your average takeout place.
Best of all, there's never any complaining when it comes to eating tacos because everyone gets to build his or her own taco to personal taste. Don't like salsa? Pile on tomatoes instead. Not a sour cream fan? Use guacamole for creaminess instead. Cutting down on carbs? Throw your favorite taco toppings on a big pile of lettuce and, voila: taco salad.
But we all have those days when even super easy meals like tacos seem way too difficult to cram into a busy schedule. When this happens to you, reach for your slow-cooker to save the day. Tacos are just one of many atypical slow-cooker recipes that can be a huge timesaver on busy evenings; just throw in the meat in the morning and by the time dinnertime rolls around, all you'll have to do is put bowls of cheese, lettuce and salsa on the table. It doesn't get any easier than that!
This recipe for Carnitas Tacos calls for pork, orange juice, tomato paste and lots of spices for a deliciously unexpected flavor combination. Topped with a fresh salsa, it's a hearty and zesty option for your next summer taco night. Enjoy!
Carnitas Tacos (from Hunt's®)
PAM® Original No-Stick Cooking Spray
2 pounds boneless pork shoulder, excess fat removed, cut into large pieces
1/3 cup orange juice
3 tablespoons Hunt's® Tomato Paste
1 tablespoon ground ancho chile pepper
1 teaspoon adobo seasoning blend
1 can (10 oz. each) Ro*Tel® Original Diced Tomatoes & Green Chilies, drained
1/2 cup finely chopped white onion
1/4 cup chopped fresh cilantro
12 corn tortillas (6 inch), warmed
Spray the inside of a 4-quart slow cooker with cooking spray. Place pork in slow cooker. Stir together orange juice, tomato paste, chile pepper and adobo seasoning in a small bowl. Pour mixture over pork. Cover and cook on low for 8 hours or high for 4 hours, or until pork is tender.
Meanwhile, combine drained tomatoes, onion and cilantro in a small bowl; cover and refrigerate. Remove pork from the slow cooker and pull into shreds with two forks. Return to slow cooker and stir to combine with sauce.
Divide pork evenly between tortillas. Top each with tomato mixture.
Author Bio: This is a guest post by Meredith K. on behalf of Hunt's®. Visit hunts.com for dozens of delicious tomato recipes and find the perfect pasta, pizza or easy meatloaf recipe to cook for dinner tonight.