I'm going to say it. Sometimes being a mom is miserable.
WAIT A MINUTE. Hear me out.
I had another woman say in response to something I wrote that she never wanted to be a mom because "it sounds miserable." It's true; you can look around at social media and blogs and see a lot of venting, real talk, and hot mess moms claiming that they never get a hot shower, or hot food.
It DOES sound miserable sometimes. That's because it is.
Real talk is good for my soul. For some reason, I've always been drawn to it. Online and in person. If you are a close friend of mine, that means you will let me vent, and you won't judge. You won't tell me to "look on the bright side!" or "enjoy every moment because it goes so fast!"
You'll get it because sometimes you are miserable too.
There are long days where no one appreciates you. There are hard things that we don't know how to deal with. Our kids suffer bullying, heartbreak, and say I hate you.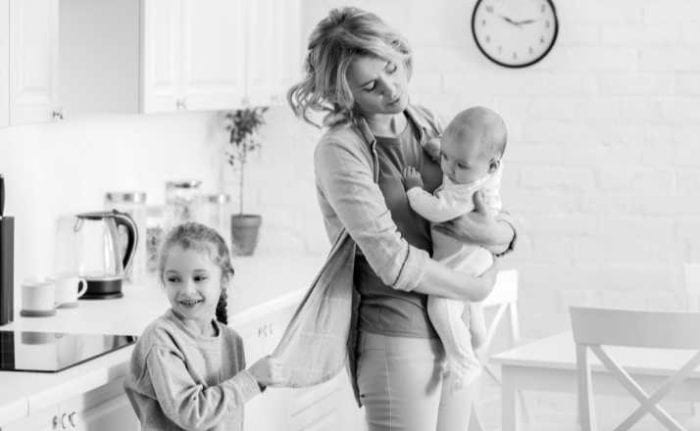 We serve and give and try to be positive, and sometimes kids crap all over it (literally and figuratively!)
Husbands can be unappreciative on days when you've put your heart and soul into mothering. Kids can talk back. Stomach bugs can hit the whole house at the worst possible time.
Kids remember book reports at the last minute and you stay up until midnight when you just want to sleep, and babies become crazy sleepless monsters just when they started sleeping five hours straight.
You start to think three hours of sleep in a row is a "good night" and you accept holes in your leggings, and stains on your favorite piece of furniture.
But, beyond that there are harder things like when your daughter brings home someone you know will break her heart, or when your son struggles with debilitating school anxiety.
There are times when you feel like you don't know what you're doing – because you don't.
And, there are times that you just know you're failing everything and everyone – You aren't.
There's a lot that can be miserable about mothering.
But, the weirdest part about the fact that it can be miserable is that you also love it, too.
You wonder why you did this to yourself, but are reminded when you get an unsolicited thank you from your teenager.
You wonder if you were cut out for any of it but then you realize you were when your first grader does something kinder than you would have done in the same situation.
You get snuggles and hugs, and a fierce unconditional love that lasts forever.
And, you get laughs and inside jokes with little people that when you think about it really are your best friends.
You get companionship for life, and the satisfaction of watching another human discover things in the world that excite them.
You see yourself in them – both the good and the bad, and you are proud that they are yours.
Yes, motherhood can be miserable, but in the best possible way.
It's the kind of misery that fosters growth, patience, love, and charity – all things that make up a good human being.
It's the kind of misery that brings inexplicable joy with it.
It's the kind of misery that brings you the unexpected gifts you didn't know you needed.
It's the kind of misery that you never knew you needed to become a better person.
And, the truth is – it can be miserable. But, it's a misery worth walking through. Because what you get in return can't be summed up in a blog post, or Instagram snapshot.
It's the kind of gift that you needed all along. And, the misery has nothing on the joy.