Get creative with your crockpot this summer! These colorfully sweet summer fruit skewers have always been a backyard barbecue favorite. Dunk and drizzle them in a rich chocolate fondue made in a crockpot for convenience.
I'm always looking for healthier options for the kids so fruit skewers seem like the obvious choice. The great part about this tasty treat is that it takes minimal effort on my party to make! (The chocolate sauce recipe does have added alcohol as a fun twist but this isn't for the kids – this is a sweet treat for the adults so you can easily make the kids their own version alcohol-free!)
Perfect for a simple snack, a birthday party, or just an easy way to eat some delicious in-season fruit. I also make this sweet treat without any chocolate syrup for the kids and they gobble it up every time!
Pair this up with my Crock Pot Country Spare Ribs and you'll be having quite the feast at home!
Summer Fruit Skewers & Crock Pot Chocolate Fondue
You can easily follow the recipe below or just pick the fruits that your family loves and likes. It's easy to alter this recipe so do as you please.
The kids can even join in on the fun and create this simple treat. They'll love being able to help make their snacks for the day and this recipe couldn't be easier.
Tips for making Crockpot Chocolate Fondue
Do not add water. There's no need to create a water bath for melting chocolate in the crockpot. It melts nice and slow.
Tip: While keeping the fondue warm, water will collect on the inside of the lid of the crockpot; when you remove the lid to stir the fondue, wipe the excess water off as too much water dripping into the chocolate will eventually cause it to seize or separate.
Summer Fruit Skewers & Crock Pot Chocolate Fondue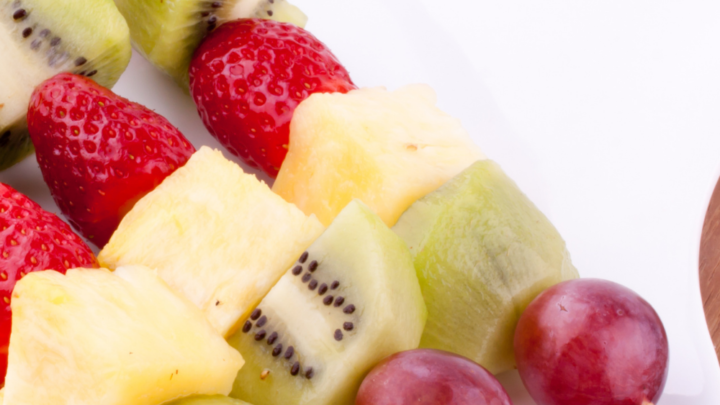 Simple and easy snack recipe!
Ingredients
3 cups chocolate chips, semi-sweet, dark, milk, or white
1 cup heavy cream
1 T Grand Marnier, Bailey's Irish Cream, or Peppermint Schnapps (optional)
Strawberry halves; pineapple, apple, watermelon, cantaloupe or kiwi chunks; and/or raspberries, blackberries, etc.
Instructions
Put chocolate chips in a 3 to 4 quart crock pot. Add the heavy cream and vanilla.
Cover. Cook on Low for about an hour or until chocolate is melted, stirring once or twice during cooking.
Meanwhile, for fruit, thread assorted fruit onto twenty-four 6-inch wooden skewers.
To serve, keep fondue warm on warm- or low-heat setting. Serve with fruit skewers.