School's out for the summer, and all around the country moms are busy coming up with activities to keep their kids happy and active. One great way to do this? Get everyone outside in the backyard for some family fun time.
Although there are plenty of traditional games from which to choose like bocce ball, badminton, and Marco Polo, you can also add your own twist to liven things up.
You and your kids will all love these backyard activities:
Grass Twister
Most kids adore playing Twister. To play the game outside, take some water-based paints and enlist the kids' help painting large circles in a grid right on your grass. You can also use ground-marking spray. The water-based paint won't hurt your grass, and it will eventually wash away.
Use the traditional red/blue/green/yellow color scheme or have everybody select a favorite color. To be sure the lines of dots are straight, lay some string across the grass as a guide. Once the dots are dry, grab your spinner from the game and get ready for some serious "right foot red" and "left hand blue" fun on the backyard lawn.
Swimming Pool Games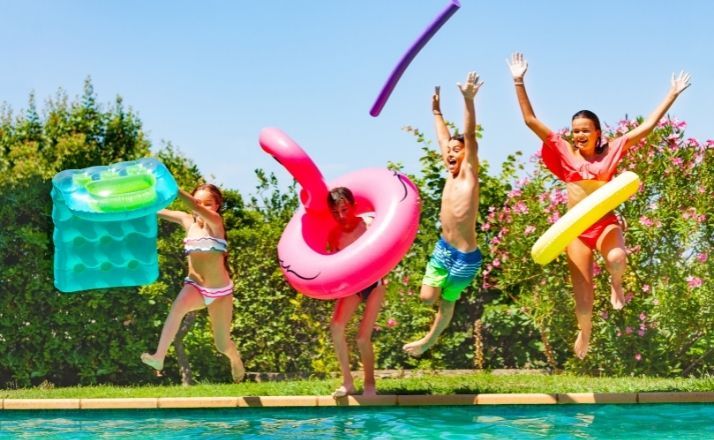 If you are fortunate enough to have a pool, you can really up your outdoor game ante with the kiddos. If you and your kids love golfing, surprise them with the Pro-Chip Island from In The Swim. You can take turns chipping golf balls from the side of the pool onto the floating green, while one of you holds the floating target in place in the water.
Another fun pool game is Pool Noodle Jousting. Head to the dollar store and stock up on those ubiquitous pool noodles. To play, one or more kid can ride on inflatable rafts and use the noodles to try to knock the other kids into the water.
Badminton With A Twist
Head to your local store and pick up a badminton game. Once they tire of the traditional game, make it a bit more challenging by covering the net with a sheet. This way, players aren't able to see the other players, and it's more difficult to predict where the birdie will fall.
Also try playing sitting down or facing backward. If you have tennis racquets and balls on hand, you could also try volleying tennis balls over the net. Set up a friendly competition with your kids and reward everyone with popsicles and a movie (maybe projected onto the side of your house to add more backyard time).
Cornhole With Water Balloons
Instead of using bean bags, play cornhole with water balloons. You can either purchase a cornhole board from a local sporting goods store, or you can make one yourself by following these directions from the DIY Network.
Although a regulation cornhole board must be a certain size, you can certainly customize it with paint colors. Then, instead of the regular beanbags, fill up some water balloons and see who can toss them into the hole.
Younger kids can stand closer to the board and the older kids can try it from across the yard. When you are done playing, have an old-fashioned water balloon battle.
Hope these ideas get you thinking about more backyard games you and your family can invent.
Get creative and be flexible. Happy Summer!