Moms have a complicated relationship with summer. We both love it and hate it. We have high hopes for fun family vacations, RELAXING BY THE POOL, and best of all, not having to fill out any reading logs.
But sooner than later, reality sets in. We may not always give voice to our profound, enigmatic feelings about summer, but there are nine stages of summer we all have to survive at some point during those nine long weeks.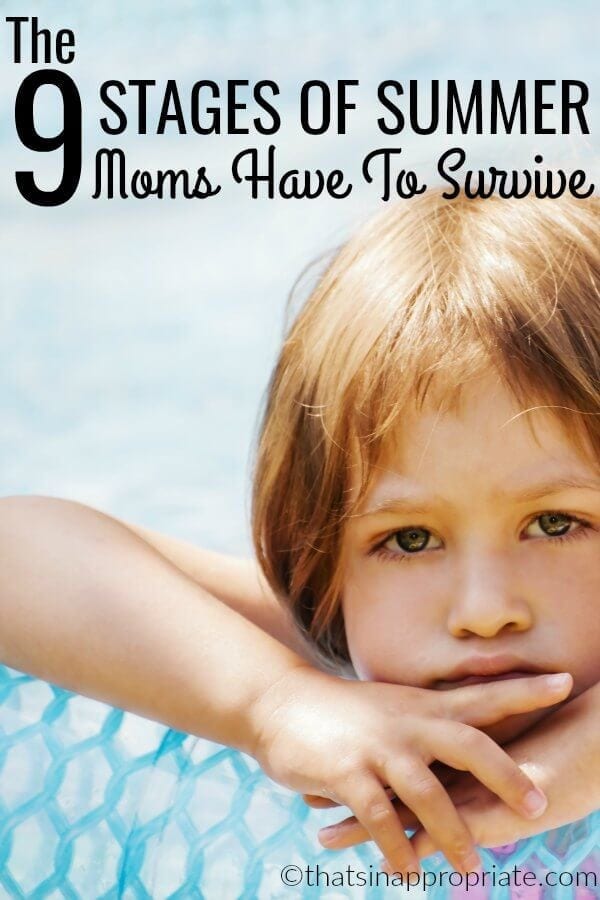 Week 1: "Woohoo, they're out of school! Freedom!"
Oh, sure. We start out with plenty of enthusiasm. No matter what horrors summer has brought to us in the past, when our kids come home on that last day of school, we are just as excited as they are.
But optimism quickly gives way to disillusionment when they start demanding we actually feed them breakfast AND lunch in addition to dinner every day. Plus snacks. Also, more snacks. And guess what? MORE SNACKS. Who knows how they were surviving every day at school with only a bagged lunch and a granola bar at recess, because now they're constantly ravenous.
But still, there's nothing better than going to bed at night and not having to set your alarm, knowing you won't have to spend your morning yelling at little people to brush their teeth and find their shoes and remember the mediocre lunch you frantically packed in your mad dash out the door.
That is, until they consistently wake up at 5:30 (much earlier than you ever had to drag them out of bed for school) ready and waiting for non-stop summer fun planned by you.
Week 2: 
"Summer Bucket List, here we come! Starting next week."
Procrastination is understandable this early in the summer. I mean, we're still getting over those last school projects so there's no way we have the energy to plan a craft or heaven forbid, an outing.
Instead we say, "Here kids, eat a generic ice pop and go outside. What do you mean, it's too hot to play outside? Please take a nap. At least sit quietly and watch an endless stream of YouTube Videos. We'll go to the pool later. We'll go to the beach one of these days. We'll go school clothes shopping when it's closer to school starting. What, do you want school to start already? You and me both, kid."
Week 3: 
"Time to get this party started!"
After the guilt of procrastination comes over-zealous entertainment.
"Surprise! Art Camp!"
Surprise! We still have to get up early to pack mediocre lunches and fight the kids to brush their teeth and find their shoes.
"Surprise! Swimming lessons!"
Why on earth did we schedule so many things that require us to be on time? If it wasn't possible for school, what makes us think it would be possible on a weekday when the kids were up until 11 the previous night (because mom, it's summer!) and we have to get everyone changed into bathing suits still wet from the previous day and lather them all in sunscreen?
"Surprise! Water park day!"
Surprise! Credit card bill! Dang, summer is getting expensive.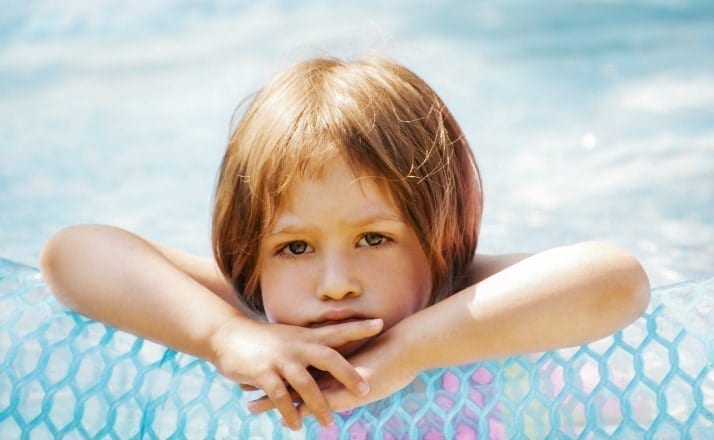 Week 4: 
"It's only been a month?!"
Now we're just in shock. It's so hot. We're so tired. And why all the fighting? Are they always this loud? And clingy? And needy? And whiny? We're not quite half way, but they've already worn us down. We may never make it.
Week 5: 
"Summer is so long."
Now we're despondent. We can't possibly entertain these kids another minute. We thought we were running ragged during the school year, but it wasn't 100 degrees then and we didn't have to reapply sunscreen 10 times a day. When will this end? Never.
There is no end. There is no joy. Only summer.
Week 6: 
"Summer is so short!"
Panic mode. Summer is almost over and we didn't even finish half of our bucket list. How are we going to cram it all in when we still have family reunion and FAMILY VACATION to worry about?
At some point we finally comprehend that summer does indeed have an end date and won't actually go on forever. Suddenly all the fun things we imagined doing seem impossible.
Week 7: 
"Who cares?"
Here is when apathy sets in. So we didn't get our bucket list done, so what? The kids would have complained about everything anyway. Besides, we didn't get to do half the fun stuff these kids do when we were kids.
We come to terms with the fact that our lofty plans were unrealistic. We haven't even done our back-to-school shopping yet but of course all the sale items will be gone already so we might as well wait until school starts. It's fine. We're all fine.
Week 8: 
"Woohoo, they're going back to school! Freedom!"
We finally have hope in a bright future of no more summer. We can't wait for structure, schedules, a reasonable bedtime, and alone time during the day. Finally. We made it through summer. We've got this.
Week 9: 
"Oh Crap."
Suddenly we remember we're just one week away from helping with homework, packing lunches, doing school projects, signing off reading logs, driving the carpool and shuttling to extra-curricular activities. Just when we think we've made it through the HARDEST PART OF THE YEAR we're left thinking, "Dang, I miss summer."
Oh how quickly we forget, am I right?