Going back to school means the return of crazy schedules for parents. Hours of work in the office ends with weekday evenings packed tight with helping kids with schoolwork, logging reading minutes, preparing a healthy dinner, and then bath and bedtime routines.
Busy weekdays blend into the weekend that's equally packed with back-to-back sports games, school projects and maybe, maybe some downtime. For parents, the work never really ends.
Whether Mom or Dad stays at home or works in the office, all parents have their hands full. There are moments when it feels like there aren't enough hours in the day.
On top of all the responsibilities, the mounting list of housework chores adds to the already packed-to-the-brim schedule. Laundry, dishes, smelly bathrooms, the list goes on and on.
Most families today can't afford a housekeeper to keep the house spotless, a nanny to help with daily kid activities, or a chauffeur to make the many drop-offs for activities, but there are ways to ease the craziness and manage the ever-growing list of obligations.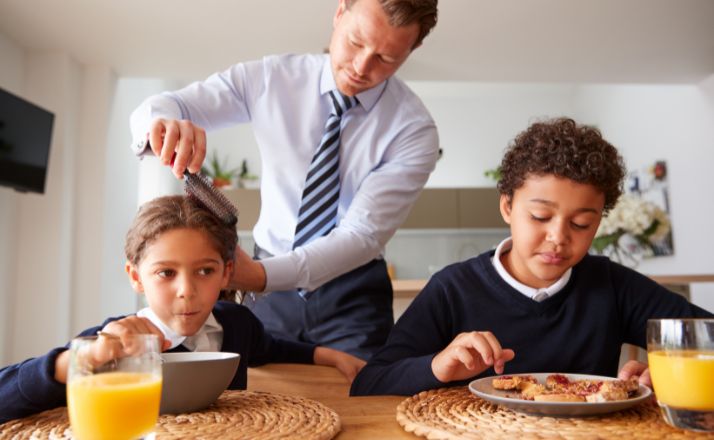 Get ready to free up some extra minutes to relax, because these life hacks will make everyday tasks a bit easier when the kids go back to school.
Healthy breakfast in minutes
June Cleaver may have had scrambled eggs and pancakes on the table for Wally and the Beave, but who has time for that? Everyone! Today's busy parents can be the Cleavers of the new generation, serving up a healthy, wholesome, and restaurant-worthy breakfast in mere minutes.
The secret: a microwave! Serve up delicious peanut butter chocolate chip protein pancakes, and make scrambled egg omelets without standing over the hot stove. Use the toaster and microwave for all your hot breakfasts for a quicker start to the day.
Bento lunch boxes are the new trend in school lunch. Bento is a Japanese boxed lunch and it focuses on an artistic presentation of foods. Lunch foods are sectioned off by creating pictures or color blocks with food to entice the senses.
Unfortunately, a good Bento lunch box can cost about $20. Make a DIY Bento box using a square lunch box and sectioning off food portions with colorful silicone cupcake liners. Fill the liners with meats, cheeses, fruit, and veggies.
Use the liners to make a design or create fun pops of color. Sectioning off food through Bento boxes also helps save packing and prepping time — and no more fumbling with sandwich bags!
Hand sanitizer for stains
Back to school means art classes . . . and paint. Red splatters, blue blobs, and green goo might leave new shirts with more than a few marks. Don't retire items that have been splattered, sanitize them!
Hand sanitizer contains alcohol, which helps remove tough paint stains and permanent marker. Use sanitizer to rub out the stains. Then blot with a paper towel or clean cloth. Repeat as necessary, and then wash. Disaster averted!
Lay out shoes/socks/outfit
When you or your child picks out their outfit for the next day, go ahead and choose (and find!) the socks and shoes that will go along with the clothes. Tuck the socks in the shoes and then set them by the front door, or wherever your child puts on their shoes each morning.
Revamp hand-me-downs that look a bit faded with fabric dye. Easier on the budget than buying new items, fabric dye comes in all colors, and some varieties may even be used on polyester fabrics (like dry fit) to give older shirts or pants a whole new look for another year of wear.
Lemons aren't just for lemonade
The power of the lemon is luminous! Lemon juice and the rind have many household DIY uses that provide quick cleaning fixes. According to the Old Farmer's Almanac, add a few drops of lemon juice to the vacuum filter bag before vacuuming. The juice acts as an air freshener and the house will smell like summer.
If the garbage disposal is a little stinky, drop a small rind of lemon down the disposal and turn it on (orange works, too). Lemon also acts as a natural bleaching agent and can help brighten dingy laundry whites.
With the school year comes additional responsibilities and hectic schedule adjustments for busy and overwhelmed parents. Simple shortcuts on everyday tasks can help save time for parents to savor more time to breathe and enjoy a little extra downtime.