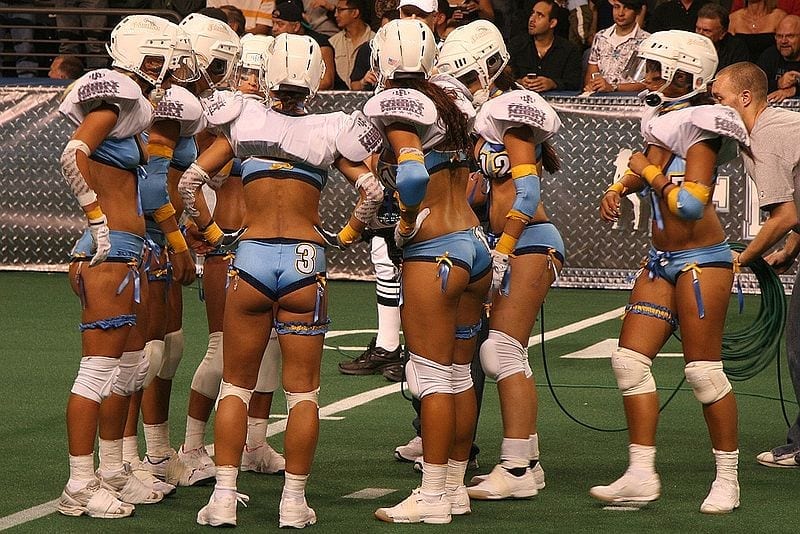 I didn't realize until today that we have an entire realm of football being desecrated by foolish antics and women running around in thongs and push-up bras. I'm a BIG fan of college and NFL football, and take the game probably way too seriously. It's a tough sport with a lot of injuries and to see a mockery being made of it by a bunch of women who failed to make the cut for the Dallas Cowboy cheerleaders, well, I'm not impressed. Introducing the Lingerie Football League.
What they really need is to get their asses handed to them by a bunch of women who could probably put a few NFL guards and QBs to shame. I'm talking about moms. Moms already have the moves down. We know how to block, tackle, run, snap, throw and catch. Quarterback sneak? Bitch, please. Children invented the word sneak. Moms have eyes in the back of their heads and have a sixth sense that even Bruce Willis would question. Hold the line? Piece of cake. Ever try dressing a two-year-old in the middle of a temper tantrum? Snap? Really? Have you ever lied to your mom? Now, that's what I call snapping.
Moms – we're already pros. Sure, we might not fill out the D-cups like they do on the Lingerie Football League or have the flowing hair extensions that make us look like Goldilocks, but we don't mess around. We'd go in for the kill, get the job done and get home in time to help daddy tuck the little ones into bed. That's how we roll. No drama. No tears. And still a whole lot of sex appeal if you ask me.
Wouldn't you love to see the MOM League take on the Lingerie League in an action-packed game of football?
Photo Source: Gordaen