I am a mom, and don't claim to know everything about what it's like to be a dad. I know I have an amazing husband that's a great dad, a really good example in my own dad of being a very present father, and I'm lucky enough to have a good Father-in-law that I totally consider my second dad.
But, I have witnessed another type of dad that often gets overlooked – the single dads that do it all, too.
You see, a few years ago, I watched my brother go through a divorce. He and I weren't that close when it happened, but our relationship has morphed ever since he reached out and told us (his three sisters) he needed support now more than ever.
So often after divorce, we hear the awful stories of deadbeat dads that don't pay child support, or have weekend custody only. We rarely hear about the single dads that do it all, too.
My brother is one of those single dads that does it all.
After his divorce I watched him rearrange his work schedule so that when he has his kids (50% of the time) he isn't focused on work, he's focused on them.
I've watched as he's struggled to still coordinate playdates and sleepovers even though sometimes there's a stigma attached to being the single dad and having his kids' friends over at his house.
I've watched as he parents. And, he's a really, really good parent.
He's patient, and loving, and his kids talk to him about their problems. He is 100% doing it all when his kids are with him.
He's doing the laundry, the cooking, the extra-curricular activities, the gift buying, the life lessons, the play date coordinating, the comforting, the homework after school, and the referee-ing that parenting requires.
He's one of those single dads that does it all.
Needless to say, as I've gotten a closer look at what he goes through trying to provide for his kids and step up as the primary parent on his days with them, I've been amazed at the kind of father he is.
And, I doubt he's the only single father out there that does it all. He's one of many that often gets overlooked. Especially on Father's Day.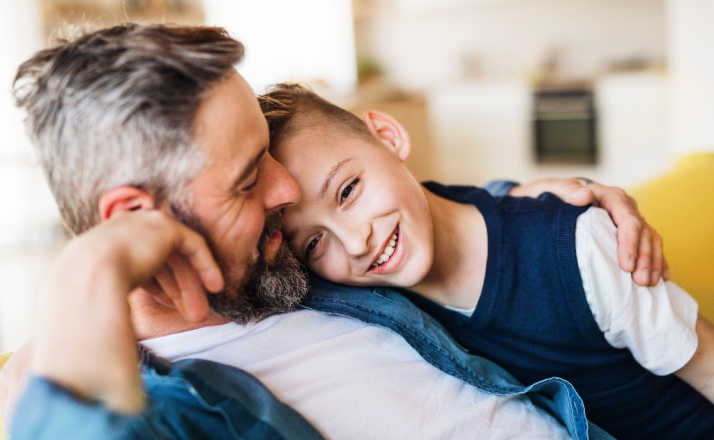 I imagine it can't be easy to be a single dad.
Single dads are often undervalued, and seen as the secondary parent. They often aren't called by the school when there's a problem even though they very much want to be involved. The school calls the mom.
They often are portrayed in the media as deadbeats that don't have to do much because they only have their kids a couple of days a week.
They are often seen as absent, un-emotional, un-involved, and clueless.
And, I'm here to say – after witnessing one single dad doing it all in my own family, Happy Father's Day to those single dads that are very much stepping up and doing it all. I see you being a parent in every imaginable way.
Single dads often do all the work that moms do, with not as much of the credit.
This isn't even about who does more – single moms or single dads. Because let's face it, being a single parent is hard for everyone.
But, it's about recognizing that the stereo-type of the single dad is just that – a stereotype. And there are plenty of single dads out there who deserve to be recognized this Father's Day for all they do.
They are very much the parent, and are just as involved as the moms.
They work hard to provide stability, but also love and comfort and all the non-material things that kids need.
Single dads don't often get the recognition they deserve, either.
So, to all the single dads stepping up and doing it all – Happy Father's Day. We know you love your kids. We know that you worry, and lose sleep as much as the moms do. We know that you work hard to be a good example and teach your kids those life lessons.
We know that maybe no one is recognizing your hard work that you do every day all year long.
We know you're deserving of all the praise for breaking cycles in your own family, or being the dad you never had but always wanted.
We know you're a great Father, but also a great DAD.
So, Happy Father's Day to all the single fathers. We see you.