When I married my husband, I knew he would be a loving role model for my daughter from my previous marriage. But it was when we had a child together that I saw how incredible he was at being a stepparent.
Because the truth is, you never actually know how anyone will handle the role until they are in it, treading water with you, side-by-side, in the minutiae of parenthood.
You can have a million conversations about it, but you have to be living it to truly know how everyone will adapt.
My daughter was four when I started dating him.
He did all the right things – engaged with her, fully accepted that she is my number one priority, showed grace when coparenting schedules had to be switched and we had to cancel plans.
He molded himself to fit our life instead of trying to make any changes to our organized chaos.
He always jumped on opportunities to bond with her and make her feel welcome and loved instead of a child tagging along.
As a mother, it put my mind at ease and reinforced that I chose the right partner to do life with.
When we all moved into together it got even better and we built a home based on mutual love, patience and family first.
Then, we had a baby together and I panicked.
I struggled with two extreme sets of feelings. While the elation of giving my first child a sibling and growing our family was pouring out of me, I also worried that he might feel different about this baby since she is his biological child.
Would there be a shift? Would there be favoritism on any level? Would he spend more time with the baby?
I was a heaping mess of post baby hormones and mom guilt swirling around in a sleep-deprived shell of myself.
While I was dating as a single mom, I was petrified to bring another man into our dynamic.
My divorce left me hypersensitive to so many things revolving around my first daughter.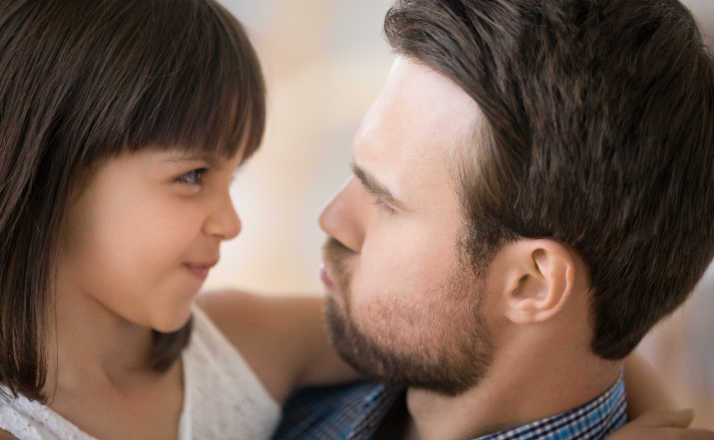 And while her needs and well-being have always been at the top of my short list, I became downright territorial around her thoughts and feelings post-divorce.
When I remarried, I realized I had to reign in that territorialism to make space for my new husband, her stepfather, to be involved.
I didn't want him sitting on the sidelines. I wanted him to have a voice as a parental figure and he wanted the same. Relinquishing that control wasn't easy for me but it was crucial to the cohesiveness of our family.
Then something magical happened.
Not only did he foster such a strong sense of unity between our blended family, but he also started going out of his way to find moments to spend one-on-one time with my older daughter.
He made sure it wasn't all about the baby, which is challenging because anyone who has cared for a newborn knows that it becomes inherently all about the baby.
But he managed to do it and even the smallest gestures made a huge impact.
From quick trips to pick up bagels or ice cream, to taking the dogs for a walk, to designated nights where they watched "their show", The Amazing Race, he proactively and regularly seeks out opportunities to divert all of his attention to her.
To this day, eight years later, this is still the case. And it shows in their bond.
He is not just a stepparent who acts like a silent participant along for the ride.
He's a mainstay in her life and a cornerstone in ours as a blended family. And he drives the unity just as much as I do.
There is no division because he would never allow it.
We are not perfect. We stumble just like any family – blended or not.
We are always juggling our own schedules and needs right alongside the ones that accompany coparenting. We don't always see eye to eye on all things parenting all the time. We argue. We get annoyed with each other.
But we love hard. We protect fiercely. And it's evident that our kids feel it.