These Traditional Easy Candied Yams are the perfect side dish for your Thanksgiving dinner, or a delicious and sweet side dish you can serve anytime you have a big family gathering or party.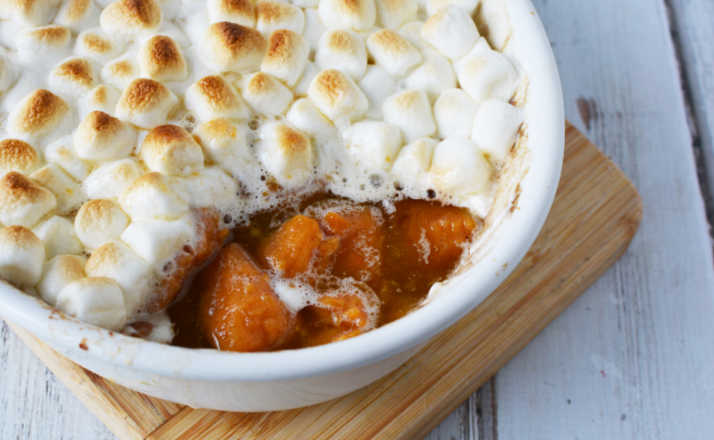 I am a huge fan of Thanksgiving. When I was a kid, we would go to my grandparents house and watch football, eat turkey, and graze on delicious food all day long. That's why I'm pretty much obsessed with any Thanksgiving recipes. I pretty much love them all.
Stuffing, and turkey, and green bean casserole. My mouth is literally watering as I think about all of these yummy foods. And, really – you don't have to make these for Thanksgiving. You can make these yams whenever you want. Mind blowing, I know.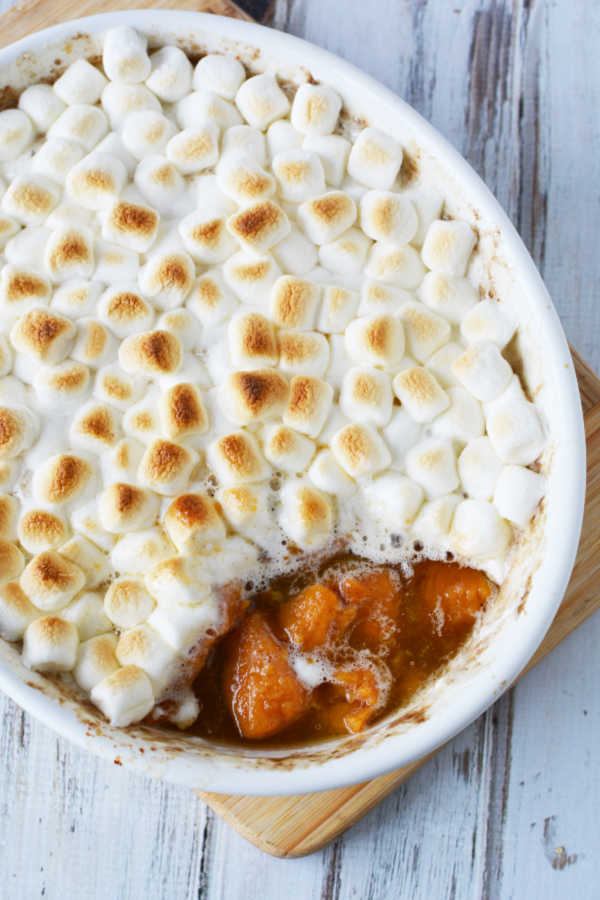 Thanksgiving would not be complete though without candied yams am I right? They make the perfect side dish to complete your thanksgiving meal, and it's really a classic Thanksgiving recipe that you'll use over and over again, I promise.
The best part its that this candied yams recipe really is easier than you might think!
So, be the first to volunteer in your family to bring the candied yams, because this go-to Thanksgiving dish will have your family asking you to bring it every year after this. I promise.
Ingredients for Traditional Thanksgiving Candied Yams
1 can, 40 oz, yams
1/2 cup, 1 stick, butter
2/3 cup brown sugar
1 teaspoon vanilla
1/2 teaspoon cinnamon
1/8 teaspoon nutmeg
1 bag, 10 oz, mini marshmallows
Directions for Traditional Thanksgiving Candied Yams
Preheat oven to 350 and grease a baking dish with nonstick cooking spray.
Drain yams, but reserve 2/3 cup liquid. Pour (drained) yams into prepared casserole dish. Set aside.
In a saucepan, combine butter, sugar, 2/3 cup of reserve liquid, vanilla, cinnamon and nutmeg. Heat on medium heat, stirring frequently until sugar is dissolved and it begins to boil. Reduce heat and continue to cook for 3-5 minutes or until it begins to thicken. Pour over yams.
Note: You might want to cook the liquid a bit more so that your yams aren't as runny. Mine were a little runny, but SO delicious. But if you are worried about that – just cook a little bit longer until the liquid starts to evaporate a bit.
Bake for 25-30 minutes. Remove from oven and let set for 5 minutes. Add mini marshmallows and return to oven. Broil for 1-2 minutes or until marshmallows being to brown. Serves 8
That's it. So easy right? I love this recipe so much – and I hope you'll become obsessed with it too!
And no Thanksgiving dinner would be complete without the turkey! So check out my Classic Thanksgiving Turkey Recipe too.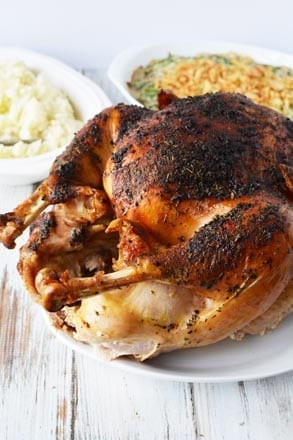 Or a family favorite – green bean casserole for a savory side dish!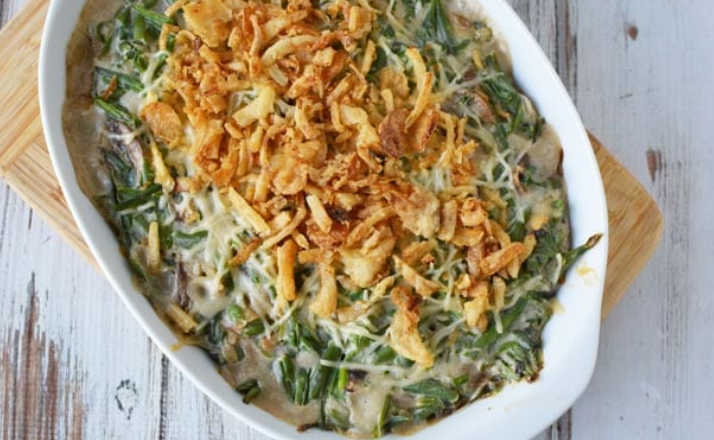 And MY Personal favorite- classic mashed potatoes.