Calling all biological fathers, if you live in Utah, your wallets are about to get a little bit lighter.
Utah has just passed a law mandating paternal prenatal child support.
In other words, mothers no longer have to shoulder the financial responsibility of pregnancy and childbirth alone.
According to the state's Planned Parenthood Association and the bill's sponsor, Utah is the first state in the country to do so. And hopefully, others will soon follow suit.
The bill, known as HB113, was recently signed by Gov. Spencer Cox and scheduled to take effect on May 5.
Costs include out-of-pocket expenses for doctor's visits, procedures, hospital bills, and insurance premiums.
It doesn't, however, include the cost of abortion received without a father's consent, unless the pregnancy was the result of rape or incest. Or the abortion was necessary to preserve the life of the mother.
The new law reads in part:
"This bill requires a biological father to pay 50% of a mother's insurance premiums while she is pregnant; and pregnancy-related medical costs, including the hospital birth of the child, that are not paid by another person."
Which seems more than fair, considering that men play an equal role in conception. And should, therefore, be held equally accountable, regardless of whether the pregnancy was planned or not.
The bill's sponsor, Republican Rep. Brady Brammer, hopes the law will "decrease the burden of pregnancy on women and increase responsibility for men who have children."
In an interview with the New York Times, Brammer says the bill is meant to be seen as a type of "pro-life" measure (and not anti-abortion):
"I wanted to try to do something that may help the situation, which is people in a really tough spot, making a really tough decision. This was not necessarily intended to be about abortion. It was the idea that abortion is happening because people are put in a really difficult situation."
He hopes the measure will help reduce the economic pressure on women whose partners would otherwise shirk their responsibility.
According to Fair Health, the cost of birth alone in Utah can be upwards of $14,000.
Vaginal birth with insurance: $5,951.76
Vaginal birth without insurance: $10,199.52
C-section with insurance: $8,952.52
C-section without insurance: $14,252.80
No small expense especially for women who are abandoned and left to cope with a pregnancy on their own. Never mind the additional costs incurred during pregnancy.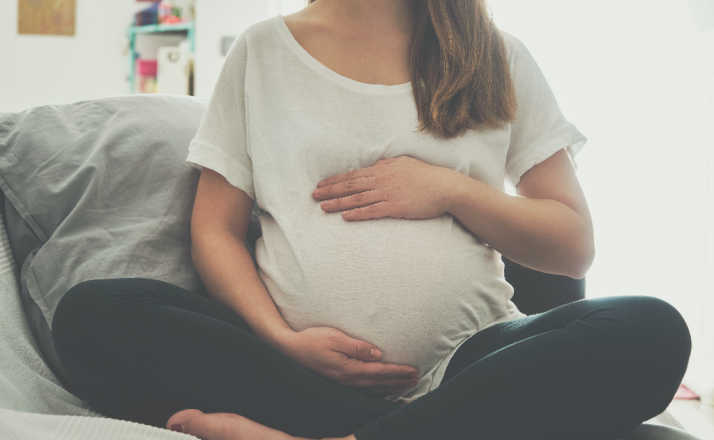 While the new law is considered good news by some, it has its critics.
Even with the new law in place, it might not be so easy to collect the cash.
If parentage is challenged, dads are not required to pay up until paternity is confirmed. This means that in most cases, the mother won't collect any money until after the baby is born. And she will have to go through the court system in order to receive payment.
Additionally, there are concerns that pursuing payment during the pregnancy could escalate instances of domestic violence.
Rep. Brian King voted against the bill citing worries that it could tie women financially to abusive partners.
He said:
The legislation "establishes not just the right of an unmarried mother to get 50% of the charges — it establishes the duty on the biological father to pay them. And I worry that an unscrupulous and abusive male may say, 'Hey, I have this duty. You can't escape me. You may not want to collect it but I need to be tied to you in a way that you don't want because I have to discharge my duty.'"
But that's not all.
Karrie Galloway, president, and CEO of the Planned Parenthood Association of Utah believes there are better ways to support women.
She said in a statement that:
"While we appreciate that this bill highlights how expensive it is to be pregnant and that many women struggle to cover the costs of their health care, we feel there are better ways to support pregnant people and families."
She went on to say:
"Expanded Medicaid, better insurance coverage, equitable access to reproductive health care, and paid family leave are just a few ways policymakers could do much more."
She's not wrong.
Whether you agree with the new law or not, the reality is, biological fathers need to step up. They need to accept responsibility for their actions. Just because they don't physically carry the baby, doesn't mean they get to just walk away.
And if it takes a law to hold them accountable, even if only financially? Then so be it.