There's no denying that this year has seen some questionable fashion choices hit the store racks. Target debuted their prairie line of dresses that promised to make us all "look like we just lost the farm after locusts ate our crops" and 2021 is officially the year of the Croc.
So it's really no wonder that when these "leggings" popped up on social media, people thought, "OMG, here we go again." And also what.in.the.fresh.hell.is this?
The leggings first went viral when they were showcased in a now-deleted TikTok by user @fathermarge.
Sharing a picture of the leggings in the background, she said:
Umm… Can someone at Fabletics tell me what this is? Things are getting a little bit crazy.
Before being removed, the video garnered over 3.2 M views and a buttload of comments according to Refinery29. It also inspired a number of stitch videos.
So what is it about these leggings that make them so special?
Well, it's not so much about their ass-ets as their ass-nots. They are without a butt. Or a crotch. They are both buttless and crotchless.
I love Rihanna, but these Fenty gym leggings are trashhhhhhh ???

One two deadlift/squat and people will see what you ate for lunch ??? pic.twitter.com/74br9RMsp1

— ?? (@Badgyalroxy) June 14, 2021
I love a good pair of leggings and admittedly live in them most days but oh, I don't know, I like them to cover more than just my legs. Funny that.
And while it turns out that they are actually part of Rihanna's lingerie line-up (& not Fabletics), it still didn't stop people from talking and gawking. Because let's face it, we all love a good wise"crack."

The leggings are part of the Savage X Fenty collection and are simply known as the "Soft Mesh Open-Back Crotchless Legging." They are available in two color options: black and lavender, range in size from XS to 3X, and retail for $49.95. Sorry, no discount for the dangling derriere.
You do, however, get them for a discounted price if you are a VIP member.
Their product description reads:
For the cozy night in. Our Soft Mesh Open-Back Crotchless Legging features sheer soft mesh fabric that provides a comfortable fit and an open strappy back for a playful surprise.
It's definitely a surprise. Not necessarily a good one.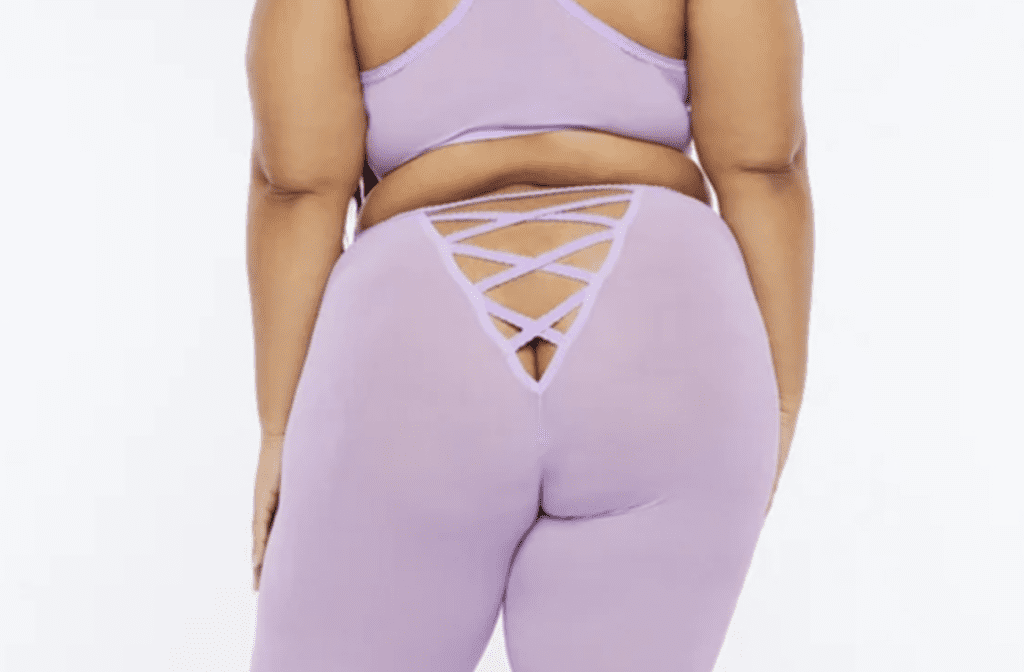 The leggings also feature a metal logo plate at the hip, a lace trim back, and a high waist.
Well, thank god for being high-waisted. I was worried they might slip down and expose more than I wanted people to see.
And can we talk about the lace trim for a sec? Because who DOESN'T want lace fanny floss on their leggings?
This lady on Twitter doesn't. That's who.
These Bum Cleavage Savage X Fenty Leggings Are Making Me Want A Refund On Being Alivehttps://t.co/iBpGVPCrWc pic.twitter.com/i3HxWV6uC8

— Diana DJ (@DianaDJ7) June 15, 2021
It's obvious that not everyone is a fan of the fanniless leggings & they are clearly hoping that these will not be appearing at a gym nearby anytime soon.
Ummmm…
Well, for me – I really don't want this to be my view at the gym, if I'm on a treadmill and the girl on the step machine in front of me, is wearing one of these.
???https://t.co/23JM9Wzx6l

— Heather Jordan? (@HeatherOnAir) June 14, 2021
just saw those new Rihanna leggings and i swear celebrities forget not everyone has a gym in their home ?? who is even supposed to wear those??!

— amber (@amberdrewstyles) June 15, 2021
And people were quick to point out that they are NOT actually meant for working out at the gym. They're meant for another, completely different, kind of workout *wink wink*.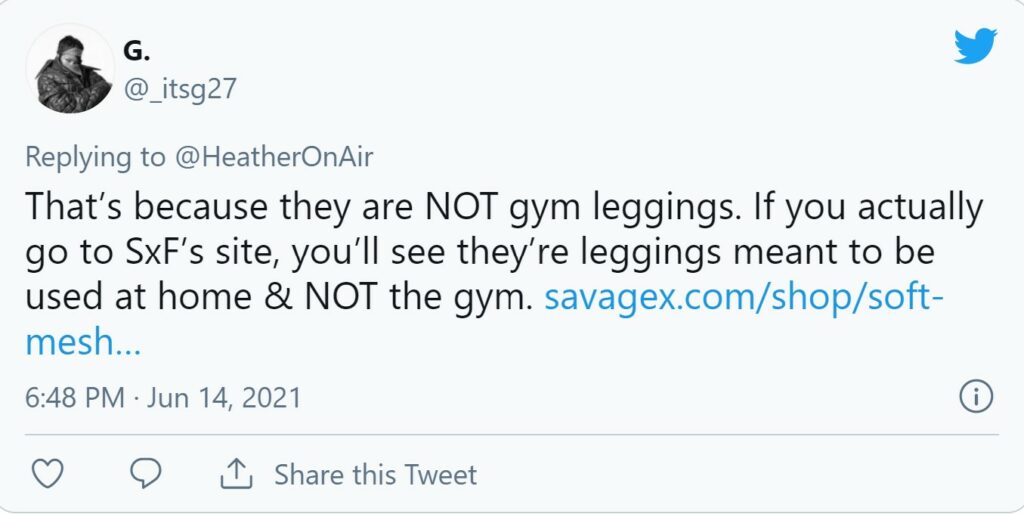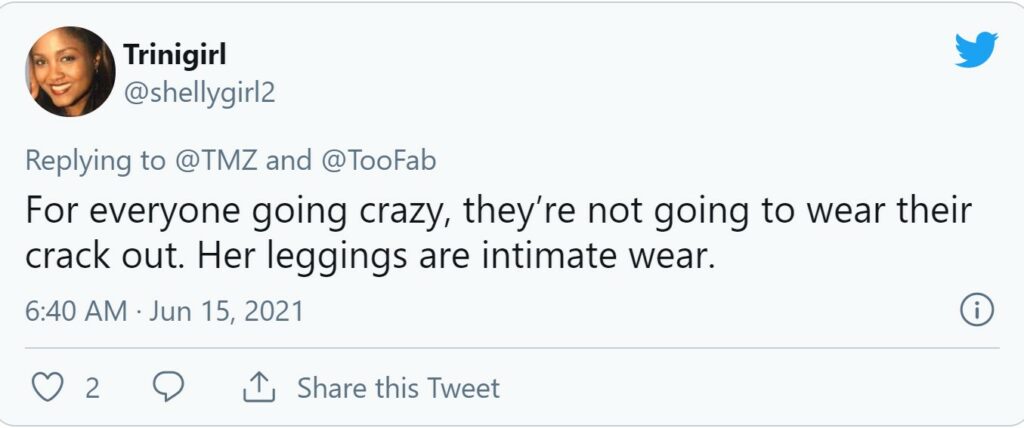 But let's face it, we ALL know someone is going to ruin it for everyone and show up cruising the aisles of Walmart playing peek-a-boo bootie.
Or on airplanes to Florida.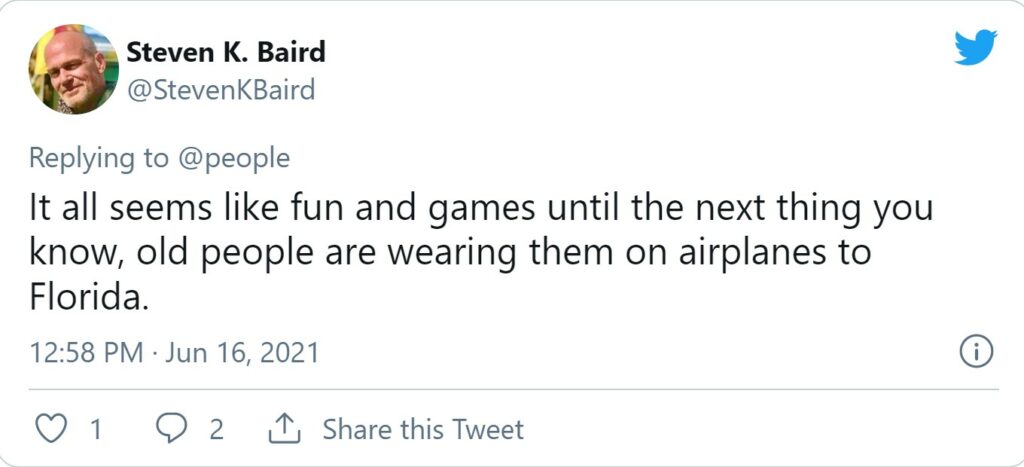 In all seriousness, they definitely have their own fanbase. The leggings hold a solid 4.3-star rating and 90% of reviewers recommend them. Commenters rave about how soft and comfortable they are, not to mention sexy.
One reviewer wrote:
So pretty

It is pretty clear these aren't the type of leggings you are going to wear to the grocery store, but as something sexy and different for around the house or to sleep in? These are unique, flattering, and really pretty!

I love the back detail and even the crotchless design, you can wear panties under them or go commando and both are comfy options.
Another wrote:
Wow!

What can I say – wow! These leggings are super soft and sexy. Definitely a nice way to spice things up for a night in with bae 🙂
One reviewer did warn to size down and maybe consider giving them a pass if you, like her, have "hobbit-like proportions":
Size Down

I love the design – lattice back, crotchless, semisheer. The fabric feels great.

The fit is tricky: semi sheer fabric without the structure (and %lycra?) of usual leggings fabric, expected to fit a variety of body shapes & heights. Me: 5'5″, 160#, usually a us 8-10. MP or SP when buying yoga leggings, depending on brand- usually SP.

Medium: ok on rise, too big on waist (most things are though), ok but looser than maybe I want leggings to be on hips, ok on my big muscly cross country ski thighs, floppy from the knees down to my feet, came down to mid foot.

I do have super short legs. But I do not have scrawny calves. I think these would be terrific on someone with less hobbit like proportions. Or size down & accept that the thighs on up are going to be pretty sheer.
Hobbit or not, love 'em or hate 'em, if you're waffling on whether or not you want to add them to your wardrobe, you may want to hurry, with all the exposure they're getting, they're sure to sell out fast.