Well, it's official. Crocs are the IT shoes of 2021 and what a time to be alive! ***insert eye roll here***
Honestly, nothing even surprises me anymore. Because what adult doesn't want to be seen sporting a pair of giant foam rubber clogs that scream, "clamdiggin' for days."
Me. And Posh Spice. That's who.
Apparently, the shoes have skyrocketed in popularity with the company recently reporting that its revenues had surged by 64 percent in the first quarter compared to last year, reaching a record-breaking $460m.
$460 MILLION. On rubber clogs. OMG. So this is where we're at now.
The fact that we've all been trapped at home for months on end and no longer wear real pants has definitely swung the shoe pendulum in Croc's favor.
Additionally, the sales are in large part thanks to a few select celebrities who have partnered with the brand to create their own unique lines. I have no reasonable explanation for this other than they have gone and lost their damn minds.
Justin Bieber, Post Malone, Priyanka Chopra Jonas, and Latin pop star Bad Bunny among them.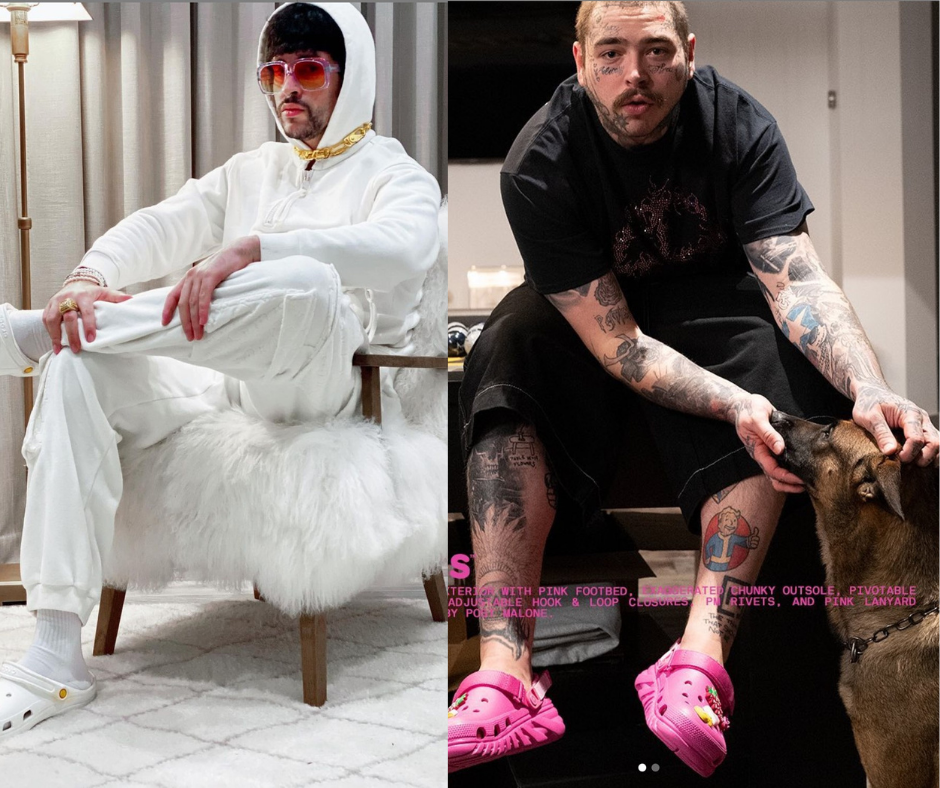 Even celebrities with no apparent skin in the game are wearing them, out in the wild, and nothing in this world makes sense.
Celebrities like Jennifer Garner, Uma Thurman, Jared Leto, Paul Rudd, Mario Batali, Ariana Grande, and Rihanna.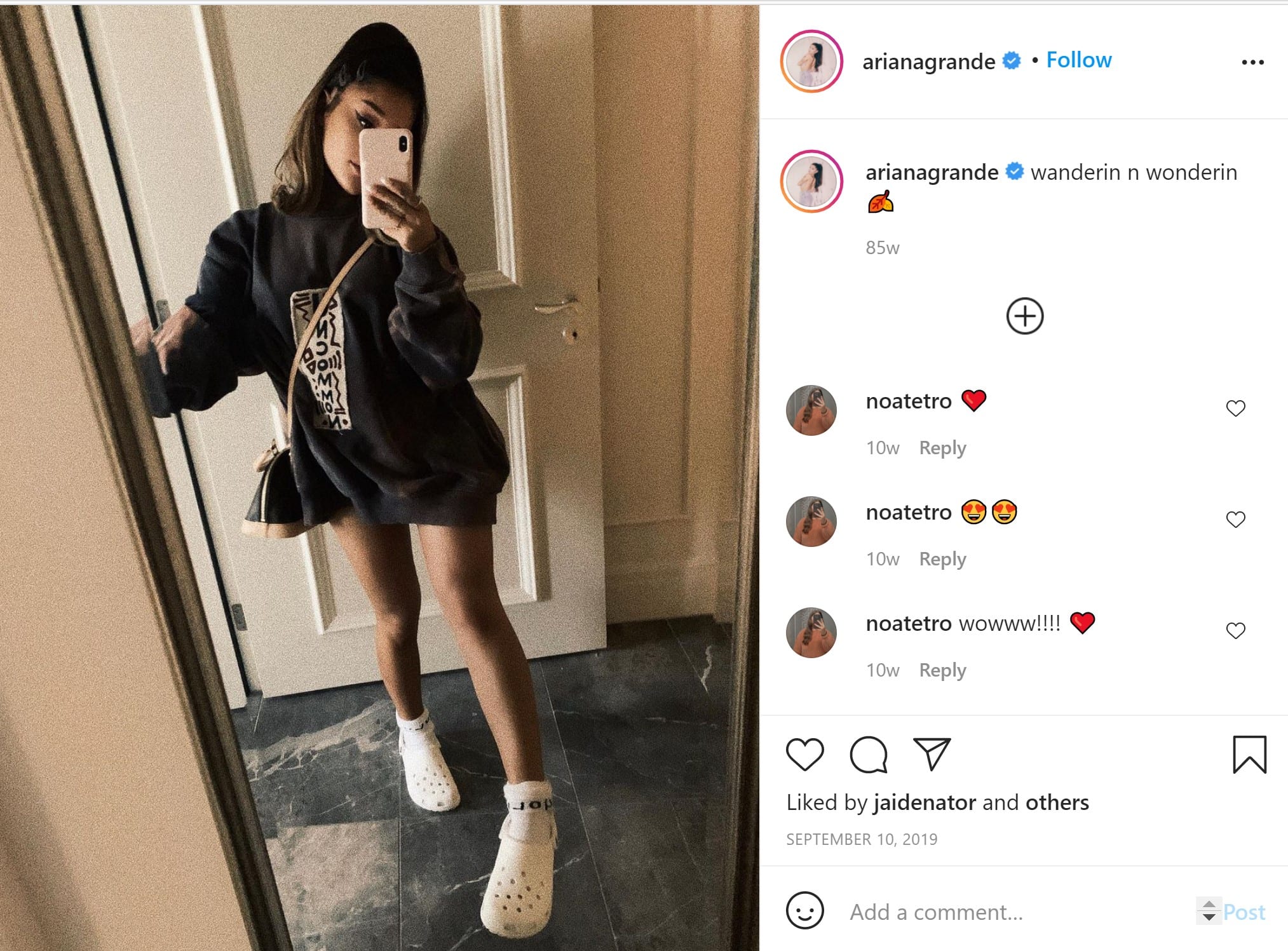 The shoe even made its red carpet debut at this year's Academy Awards.
Because hello, nothing says high fashion like a pair of fugly foamy slippers. Seriously my eyes are going to roll into the back of my head soon.
Questlove, and his gold Crocs, have arrived to the 2021 #Oscars red carpet https://t.co/JxHhTRdpzD pic.twitter.com/Ho7c7FZyJH

— Vogue Magazine (@voguemagazine) April 25, 2021
Victoria Beckham appears to be the lone voice of reason in a sea of Croc-odiles.
The Queen of Posh was recently gifted a pair of lavender Crocs bedazzled in fetching plastic cartoon animal charms by the Belieber himself.
The shoes are part of his Drew House Crocs collection and come with "tall white socks to complete the cozy vibe." It's a whole look.
And have we learned nothing from our previous failings, people?
Apparently not. The shoes (and accompanying socks) sold out just MINUTES after launching. I blame the pandemic.
Beckham took to her (now deleted) Instagram stories to thank Justin for his gift.
"OK this is so kind of Justin to send me some Crocs. Never worn a pair of Crocs. This did make me laugh, I mean, it is the thought that counts. Thank you so much."
She also took it one step further and asked her 29M fans, "Will I be wearing lilac crocs?!"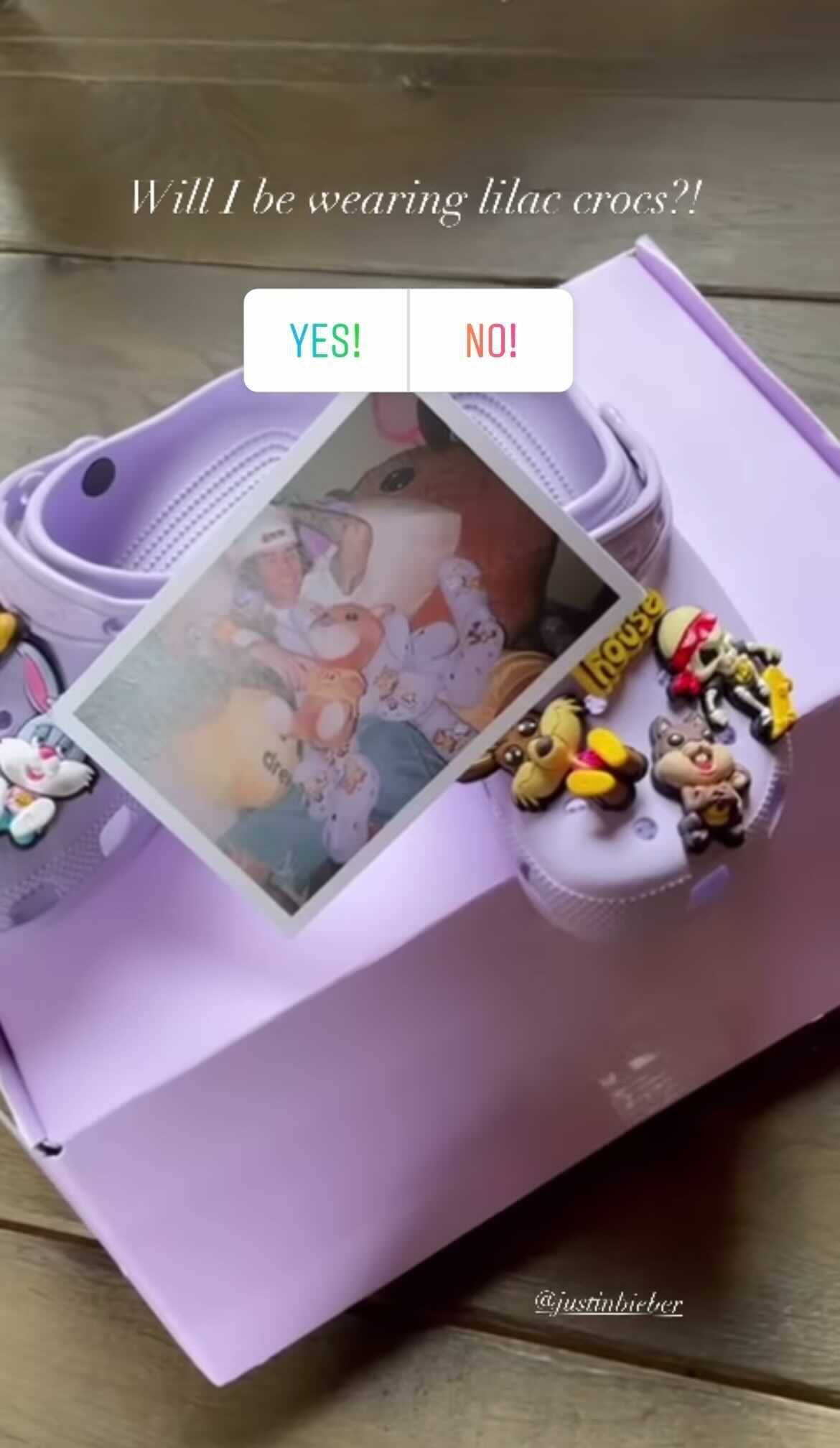 To which an astounding 43% said Yes!
It didn't take long for Beckham to set these poor misguided souls straight, however. She may believe in the Bieber but she doesn't believe in his Crocs.
In a follow-up insta story she wrote:
"Well that was close! I think I'd rather die but thank you @justinbieber."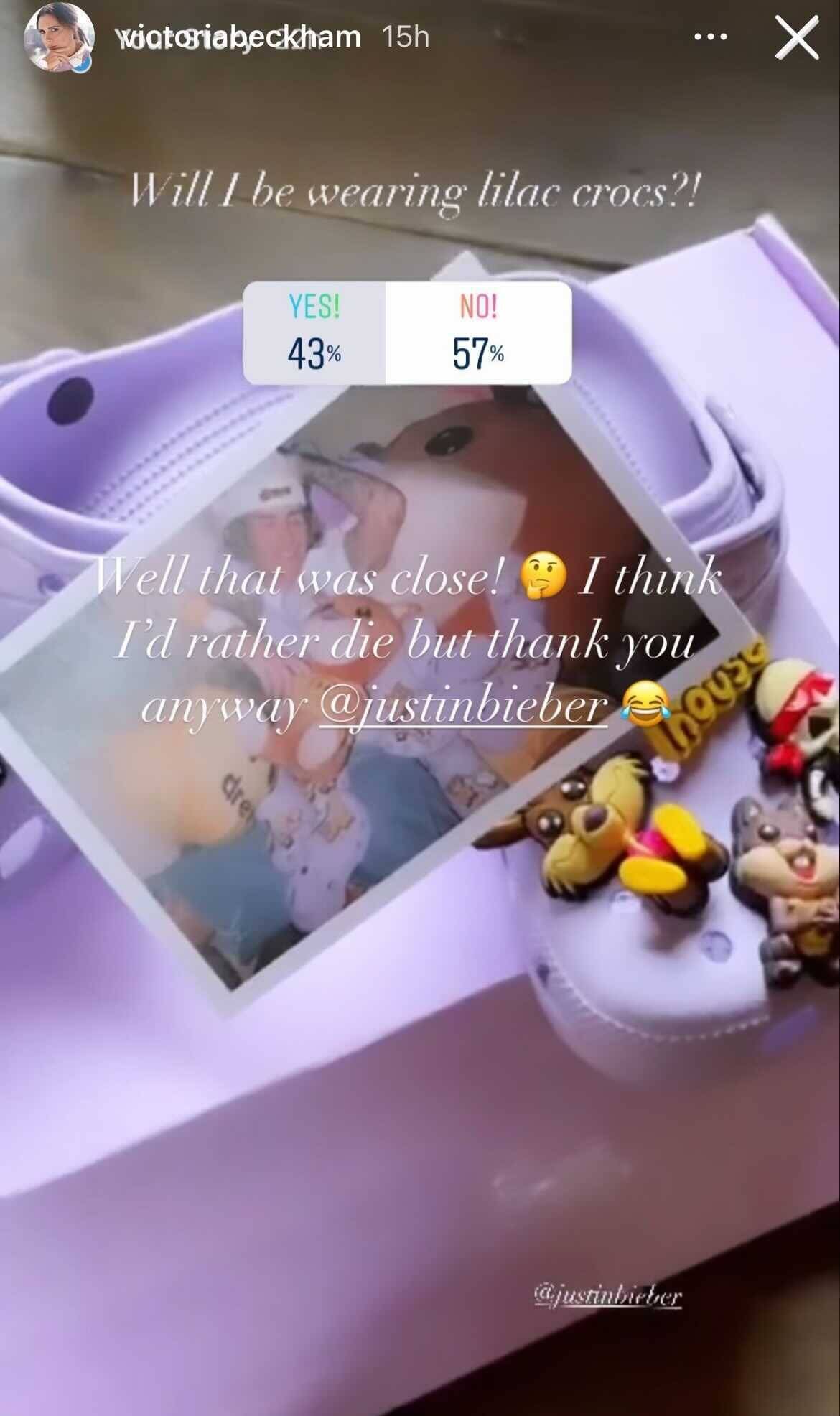 I'm with her.
The only way you're getting a pair of those bad boys on me is to force 'em onto my cold dead feet.
I'm sure there are some of you who disagree. Okay. A LOT of you. You love them. I get it. Well, I don't get it, get it, but whatever.
Don't knock it til you Croc it pic.twitter.com/Xg5kUUJwie

— Crocs Shoes (@Crocs) April 22, 2021
They're comfortable. And colorful. And you can buy little plastic doohickey things to embellish them. You can just slide them on and go. Wear them gardening, camping, fishing, to the beach. Wear them running errands, walking the dog, at work, and out on the town.
They're versatile, breathable, waterproof, lightweight, and did I mention comfortable? They're like walking on pillowy soft clouds and if you listen closely you can hear the faint sound of angels singing with each step. (I'm totally kidding.)
Look, none of it matters. They're still hideous.
Although one Amazon reviewer did go so far as to say they are LIFE CHANGING.
Which, admittedly, did give me pause and make me question all of my life choices.
The once self-professed Croc-hater is now living her best life thanks to these "marvelous shoes."
Perhaps there's hope for me yet. Bahahahahahahaha. No.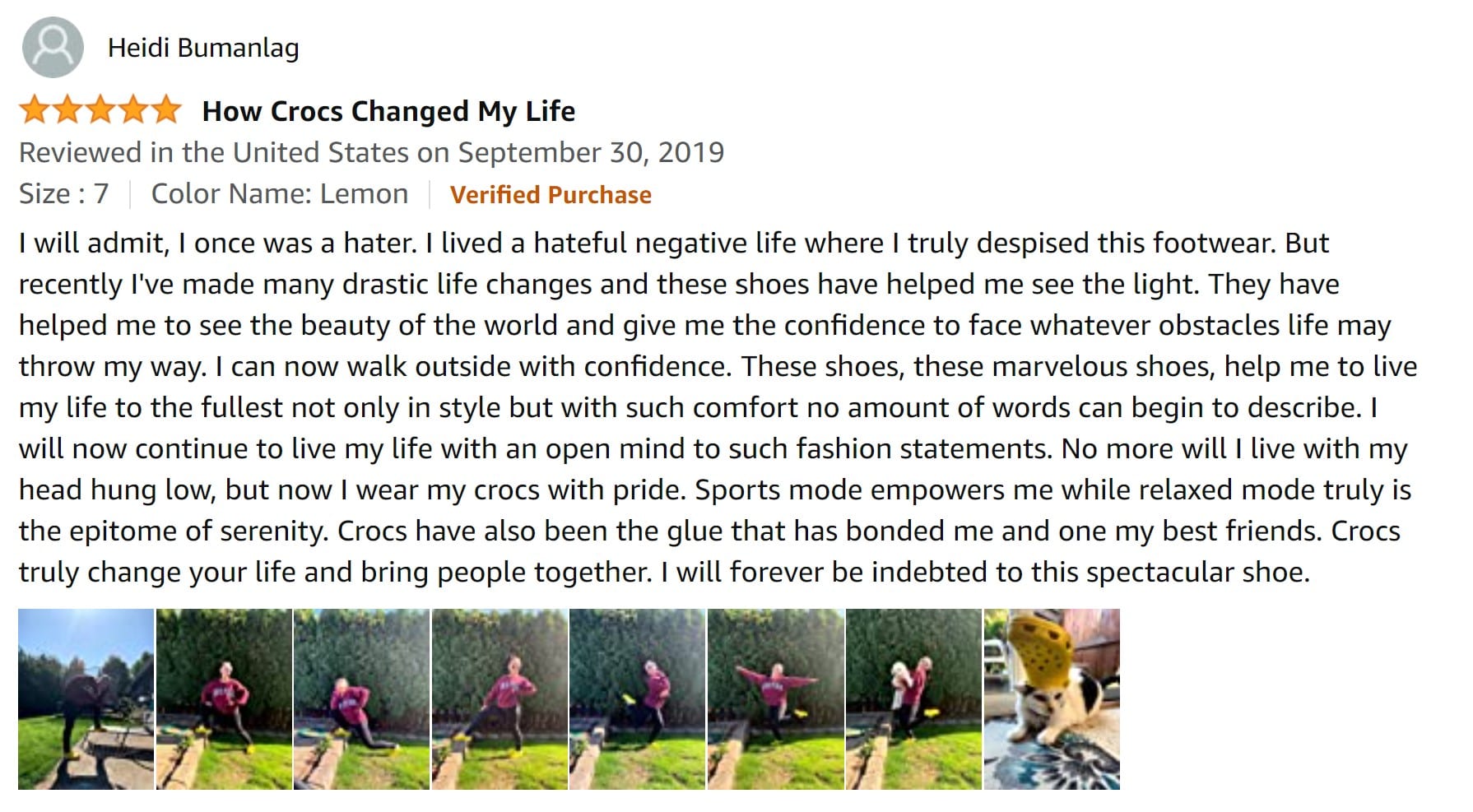 Regardless of how I may feel about them (loathing is the word that comes to mind), it's obvious that the masses love them.
ONCE YOU GET CROCS… IT'S REALLY FUCK SHOES?

— JA MI YA .. ?? (@brattymiya) April 27, 2021
People who hate crocs have never worn a pair

— Jaxisms (@JAX_inUrbox) April 27, 2021
And the reality is that people with foot and ankle problems swear by them.
They're great for people with feet problems! I have plantar fasciitis and crocs have always made me not be in pain.

— Ashlin ? (@ashlinjayne) April 27, 2021
Love 'em or hate 'em one thing's for sure: it's obvious that with record-breaking sales Crocs are here to stay. Lucky us.