The media has long been fascinated with the British royal family, and reports on their everyday doings are instant news fodder. People clamor to know every little detail about their lives, and the youngest generation of the royal family is no exception.
People want the deets on the royal kids. While the media frequently takes shots at the more outlandish behavior of the adult members of the royal family, one American newscaster drew ire when she took a pot-shot at Prince George, the eldest son of Prince William & his wife Kate (formerly Middleton), the Duchess of Cambridge.
Lara Spencer, the co-host of Good Morning America, generated a storm of controversy when she poked fun at the idea of Prince George taking ballet lessons in school in the upcoming school year.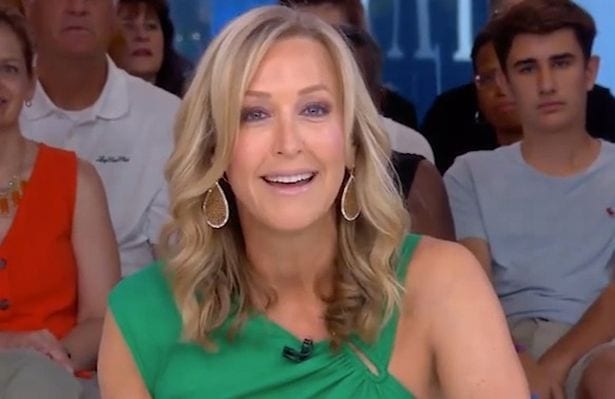 In the brief segment, Spencer explained that the details of Prince George's curriculum for the new school year at St.Thomas's Battersea school have been released publicly.
The 6-year-old is in for a pretty intense academic workload; in addition to the standard school subjects, he's also going to be taking computer programming, poetry, religious studies, and performance dance (ballet).
While a well-rounded education is typically something to be celebrated, Lara Spencer basically ridiculed the idea that Prince George would actually enjoy taking ballet lessons.
Prince William, Prince George's father, commented that thus far George has been enjoying it.
It was Lara Spencer's response to Prince William's remark that has drawn such ire:
Prince William said Prince George absolutely loves ballet…I have news for you Prince William, we'll see how long that lasts.
Spencer chuckled after making the remark, causing the studio audience to laugh along.
While her comment was a brief one, her meaning was clear: it would only be a matter of time before Prince George was old enough to realize that boys shouldn't enjoy ballet.
Public reaction to Spencer's careless comment was swift and fierce; the topic became headline news around the world within hours, & social media went crazy sharing its collective outrage.
Many people expressed disgust at Spencer's mocking comment regarding the Prince, citing that doing so is not only cruel to do to a child, but is also insulting to any males that wish to participate in the performing arts.
Some chalked it up to bullying. While the comment alone might not warrant such a label, it's the idea of making fun of a male who enjoys dance that is essentially bullying, according to those who enraged by Spencer's comment.
Several celebrities took to their social media accounts to defend Prince George's interest in ballet, including comedian Rosie O'Donnell via Twitter:
come on @GMA @LaraSpencer #ballet4boys pic.twitter.com/GuEOTWn7NF

— ROSIE (@Rosie) August 23, 2019
But it's not just Prince George that was ridiculed.
Lara Spencer's comment indicates that ANY boy would not be interested in enjoying and/or pursuing dancing, particularly ballet. Not only is the assumption untrue, but it's a dangerously limiting one.
It's the same demeaning attitude that people have had toward male dance performers for ages, only it has no place in our enlightened (read "woke") society.
Boys that dance grow up to become men that dance- and very well, too. As TV personality Scott Nevins pointed out on Twitter, men that dance are pretty.damn.cool!
A little boy named Patrick once took dance classes from his mother almost every day. He turned out to be a great human being, and one hell of a dancer. @LaraSpencer @GMA @ABCNetwork pic.twitter.com/8Q1wxw6UKQ

— Scott Nevins (@ScottNevins) August 23, 2019
Celebrity dancer Brian Friedman, who has choreographed numbers for Beyonce & Britney Spears, took to his Instagram account to passionately defend Prince George from being "shamed" on national television:
Note the most meaningful part of Friedman's description:
Growing up as a dancer I was bullied horribly which is exactly what this is.

She is teaching the world that it is ok to laugh at boys for dancing and that is so sad.
Famed choreographer Debbie Allen also weighed in, addressing Lara Spencer personally in a short video clip that she posted to her Twitter account:
Dear @LaraSpencer… #boysdancetoo #menwhodance #princegeorge pic.twitter.com/jpuOMYlfUL

— Debbie Allen (@msdebbieallen) August 23, 2019
A boy with a passion or a talent for dance could easily be discouraged from pursuing it when faced with the same demeaning teasing that Spencer used- or even worse.
Sometimes, far worse.
When Spencer made her comment, it was on a national news channel (ABC). She was representing mainstream media in that moment. Her teasing was broadcast to millions of people, making a mockery of the very idea that any boy -in this case, a specific CHILD- could actually love ballet.
Spencer did apologize, though some critics felt that an on-camera statement would have been more appropriate given the massive audience scope. Spencer instead took to her Instagram account to issue the following words:
My sincere apologies for an insensitive comment I made in pop news yesterday. From ballet to anything one wants to explore in life, I say GO FOR IT. I fully believe we should all be free to pursue our passions.
While some people perceive Lara Spencer's comment as "no big deal", the reality is that it's not merely the words, but the attitude behind it, that is a huge problem.
It's a perpetuation of the toxic masculinity argument: men should be "manly" men, period. A "real" man wouldn't be caught dead dancing in a ballet class. Dancing is for girls.
But men are a vital part of the performing arts industry, as well they should be. Male ballet dancers are just as integral a part of a performance as female, and should not be teased for doing so. It's important to build up children that are exploring their talents & passions, not tear them down with ridicule.
Whether Prince George pursues ballet in the future remains to be seen, but the choice should be one made based on his interest in the subject, not overbearing public opinion. Because after all, #boyscandancetoo. And they should, without fear of being mocked.