Most of us have been there. It's been a DAY, and you're settling into your evening with a glass (or bottle) of wine and your phone. You get lost in the time-suck of TikTok, or fall down that weird rabbit hole on YouTube.
It's all good… unless you pop your garbled, alcohol-drenched thoughts into the comment box and hit SEND. Sometimes even autocorrect doesn't have a clue what your drunk brain is trying to say, & it just gives up trying, letting your drunk flag fly freely.
While a hangover may be short, screenshots of drunk comments can last forever, folks.
Friends don't let friends drunk-text, and maybe Martha should've checked in with her BFF Snoop Dogg before commenting -or trying to, anyway- on Instagram while getting her drink on.
Martha Stewart is our latest quarantine hero after sharing her tipsy thoughts on a baby chick Instagram video, & it's amusing the heck out of social media right now.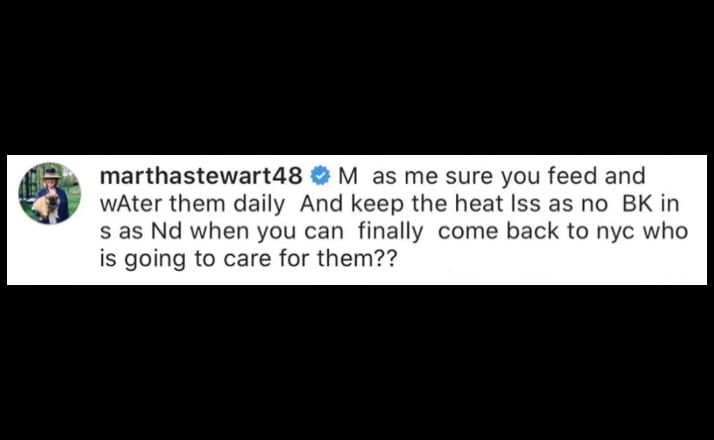 Not that Martha is JUST like us, mind you; instead of sipping on gin & juice like her bestie, she was tucking into a $383 bottle of wine because Martha does things in style, people!
She was killing time on Instagram on a recent Saturday night, & she apparently followed that crooked path of Internet video oddity. It's ok, Martha- we've all been there. I've spent many a night watching videos of wild turkeys chase mailmen into the wee hours of the morning.
…Or baby goats jumping on trampolines. Or monkeys speeding in on mini-motorcycles to try & snatch small children by the hair (yes, it's a thing. Seriously).
Late-night Internet video-watching can get weird, people.
So Martha Stewart was chilling at home, like the rest of us, and drinking some wine while scrolling Instagram, like the rest of us.
And Martha landed on THIS Instagram video of baby chicks:
Baby chicks might seem random, but Martha Stewart knows exactly how to handle them. Or she might have the skills, anyway- we're not entirely sure because although she seems to be offering advice on some best baby chick practices, her words weren't all actually WORDS:
M as me sure you feed and wAter them daily And keep the heat Iss as no BK in s as Nd when you can finally come back to nyc who is going to care for them??
Wait… what??
The words are confusing enough to decipher, but Martha's also got some secret lettering code going on:
Feed and wAter them daily? Sure- makes sense. Emphasis on the wAter, apparently.
Keep the heat… ISS… ON? Keep it on? Do we want heat on the chicks? Iss on in this video, no?
no BK in s as Nd: no Burger King? Brooklyn? What is BK, and is it or ISN'T IT the same as Nd? What is this dark magic, Martha??
Clearly drunk Martha's still got sober Martha's sass, because despite her inebriated state, she's still throwing shade on the amateur would-be urban chick farmers:
when you can finally come back to nyc who is going to care for them??
Note the double question marks for emphasis. Drunk Martha's primary concern is for the chicks. WHO WILL TAKE CARE OF THE CHICKS WHEN YOU LEAVE SUBURBIA AND RETURN TO NYC, DAMMIT???
But soused Martha hasn't lost her sense of humor; she immediately won the hearts of everyone on the comment thread by totally owning that she was getting her drink on.
Immediately following her confusing comment, she fired off one that was a lot more, well, comprehensible:

Been there, Martha girl. Many of us have been there.
Martha's drunk comments thoroughly amused her fellow chick-watchers, & the Instagram thread conversation began to flow as freely as, well, WINE.

Here's to quarantine drinks- cheers!

That's true- sometimes autocorrect can't even suss out sober writing.

He's not wrong… quarantine life is weird, isn't it??

She's definitely the real deal!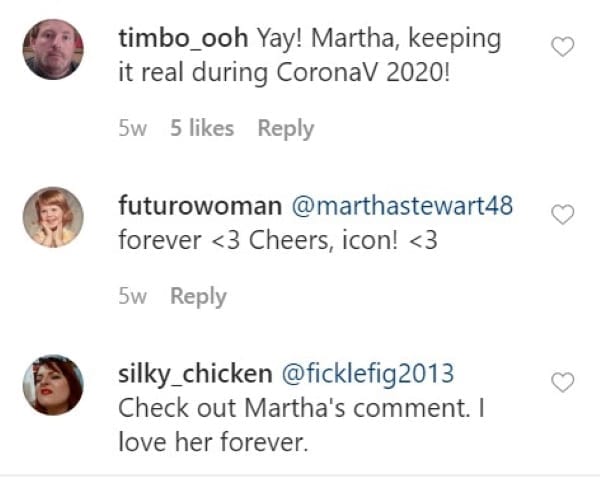 And just like that, an impromptu meeting of the Martha Stewart Fan Club was instantly in full effect!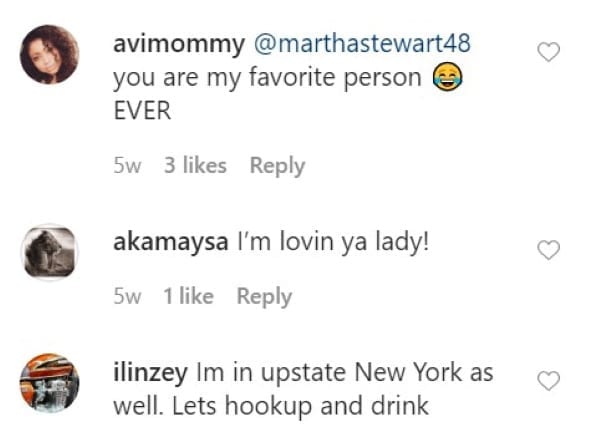 Watch out, Snoop- you've got some serious competition. Many peeps are now vying for the honored role of Martha's #1 BFF!

And HERE'S the sole comment on the baby chick thread that is actually about the baby chicks. But maybe this woman is meant to be Martha's BFF, because what.about.the.chicks?? Drunk or not, Martha was ALL.ABOUT.THE.CHICKS.
Martha's tipsy thoughts illustrate that some celebs really ARE just like us.
Instead of giving us a perky celebrity pep talk about getting your quarantine glow-up on, Martha fully admits that quarantine life has rendered her a hot mess just like the rest of us. And we LOVE her for it.
So raise your glass as we toast to America's newest Quarantine Queen, Ms. Martha Stewart!