There are two types of people in the world – those who love Hallmark Christmas movies and those who clearly don't know what they're missing.
And this year, Hallmark has given us the greatest gift of them all – 41 gloriously cheesy original holiday flicks that are sure to melt even the grinchiest of hearts.
Ahhhh, it really is the most wonderful time of the year.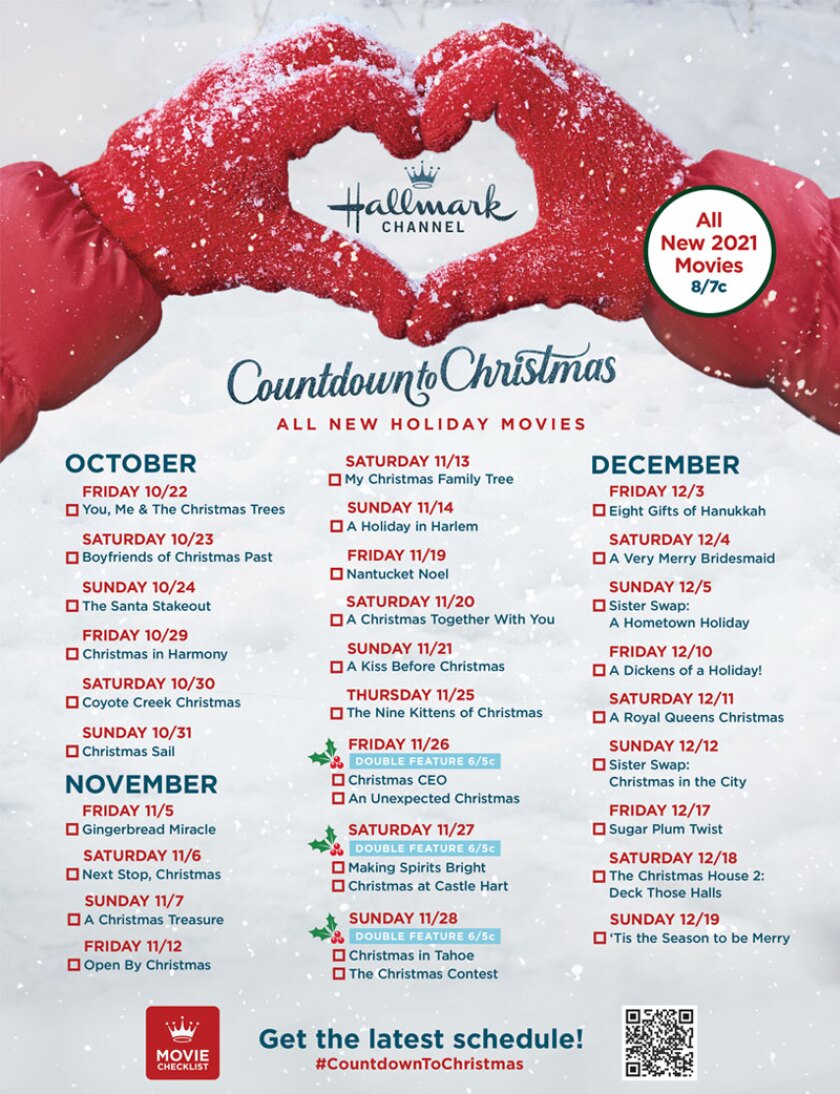 Honestly, what's not to love? I mean, sure, they all have the same plot – big-city career-driven woman (usually engaged) ends up in Smalltown, USA, falls in love with plaid-wearing *insert any of the following*:
Christmas tree farmer
Baker
Chef
Secret Prince
Single dad
Former flame
Innkeeper
Bookstore owner
Dog owner
writer
AND saves the family business from ruin.
Does every Hallmark Christmas movie have the same plot?

Yes.

Am I still going to watch them and act surprised when Susan falls in love with the small town baker who only wears sweaters instead of falling for the big city CEO?

Yes.

— Alli Moore (@AlliMichalMoore) November 22, 2017
The plot of every Hallmark movie is about a career woman who is too busy for love but she has to move to a small town where a handsome local bachelor teaches her about the true spirit of the holiday. It starts snowing and they kiss. There is also a dog.

— Joel Doubleyou (@JoelDoubleyou) November 19, 2018
And they all have the same actors we know and love from such '90s & '00s hits as Party of Five, Full House, and Desperate Housewives.
(Here's looking at you Candace Cameron Bure, Lacey Chabert, Danica McKellar, Dean Cain and Jesse Metcalfe).
What has 15 actors, 4 settings, 2 writers and 1 plot line?
632 Hallmark Christmas movies.

— A Ho-Ho-Hoing Dog????? (@DogGoing) November 24, 2019
Does Hallmark use the same actors for their Christmas movies? Yes.

Do all the movies have the same story? Yes.

Am I going to continue watching them till I can't hold my eyes open? Yes.

And when I watched them all am I going to watch them again? Yes.

— Kendall (@pollard_kendall) November 7, 2018
And they all take place in the same small town complete with a gazebo, town square, charming Christmas competition/festival, ice skating rink, and where it always snows on Christmas.
Has a Christmas ball/gala ever existed outside the confines of a Hallmark or Lifetime holiday movie ?

— Emma Gray (@emmaladyrose) December 24, 2019
Not to mention they all end the exact same way. Kiss…and scene.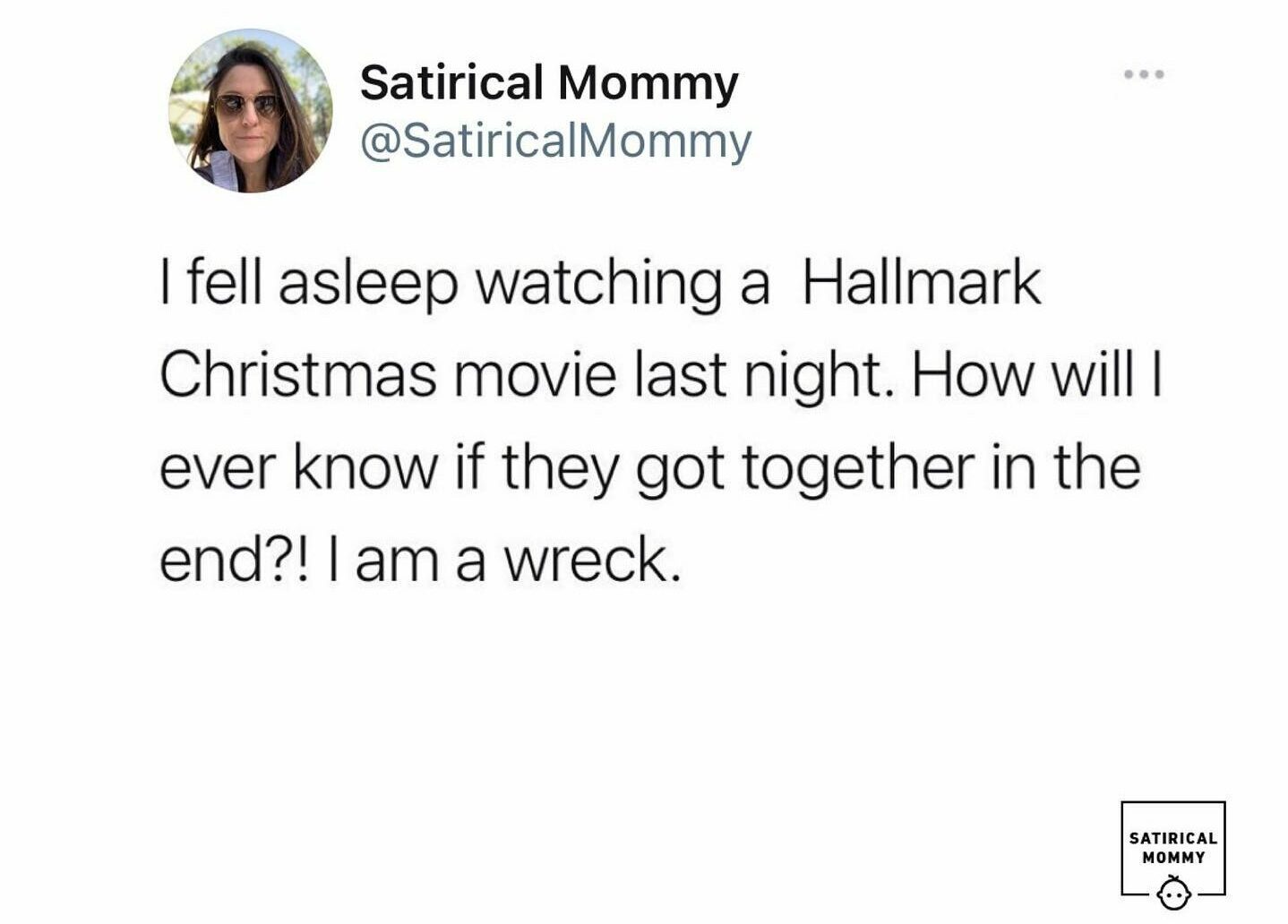 But are we still going to watch every.single.one.of.them? Fa lalalala freaking yes.
Look, we know they're completely unrealistic and predictable and sit on a throne of lies. That's why we LOVE them.
I am a 30-something single, professional woman living in a picturesque small town. Hallmark Christmas movies have given me unrealistic expectations for how this month should unfold for me.

— Shannon Sevigny (@ShannonSevigny) December 3, 2021
Just so you all know, I have come to the conclusion that Hallmark Christmas movies lie and set unrealistic expectations. I just got back from visiting my hometown and not one former crush came up to me while shopping in Christmas decorated stores ????

— Cody A Lindsey ???? (@Codyl419) December 23, 2020
According to Hallmark Christmas movies, the only way I'll find my soulmate is if I inherit a cozy fixer-upper of an inn from a wealthy aunt, in a small town with just one sexy, conveniently single-for-no-toxic-reason handyman.

— Abby (@abbythetweet) December 8, 2021
It's also why people love to parody them. Like comedian, Elizabeth Kemp, whose TikTok entitled "Hallmark Movies Lied To Me," has over 3M views.
"I am over the age of 30. I have multiple graduate degrees, I've definitely prioritized my career.

I'm single, but I have been in Vermont for five days now, and not once has anyone approached me about saving an inn or planning a fall festival or even just asked me to reconsider my priorities."
She followed it up with an entire series of trying to find love the Hallmark way, including such classics as visiting a Christmas tree farm, walking around corners with a cup full of coffee, & sitting in the gazebo.
Spoiler alert: she fails miserably.
And who is surprised by this? Literally no one. It still doesn't matter. Keep feeding us lies Hallmark!
Things that seem to be true if you watch enough Hallmark christmas movies:
– Party planner is a very common occupation
– Royals in disguise routinely mingle with common folk
– Every small town has a fancy dress gala
– Hot cocoa is the most popular drink adults consume

— Silke (@silkebres) December 6, 2021
Want to know what else is true according to Hallmark Christmas movies?
We've polled a few diehard fans to give you this handy dandy list:
You will fall in love with anyone you're forced to work with.
If your boyfriend/fiance is a jerk, leave the big city and you will fall in love with a country boy. He drives an old truck.
Even if you're in a relationship, if you go back to your small hometown, you'll meet up with your ex. Who cares why you broke up. You're in love now.
If you have lost your mojo go home and you'll fall in love and all will be good again. Oh, and you'll also rediscover the magic of Christmas while you're at it.
Throwing away the career and abandoning the life that you have spent years establishing will lead to love and happiness.
If you try to travel home for the holidays you'll get waylaid and find love.
Walk around a corner very quickly holding a coffee and you'll bump into your one true love.
If you're going to join an ice carving competition be sure to join with your high school sweetheart that is hotter than July.
If you're in love you don't have to wear heavy clothes in the bitter cold of winter. Love will keep you warm.
You always fall in love within a week.
Bakers always find love at Christmas time.
Every small town has a festival and tree lighting. Also a ball, Christmas caroling, and a baking contest.
Land developers don't care about profit around the holidays.
Someone with no experience can reopen a family bakery at Christmas and be successful. Or a lodge.
Cider is way more popular than coffee makers would have you believe.
If you tell some random street-corner Santa your Christmas wish, be ready for some weird Christmas magic to screw with your life.
You will obviously lose your memory and when you do you will meet a handsome widower bookstore owner who you've dated before but he didn't have your number.
You will get amnesia and wake up as a princess.
You're wearing a scarf. And a red or white peacoat.
It always softly snows on Christmas Eve no matter where you are because you live in a snowglobe now.
What other Hallmark movie "truths" would you add to the list?
The reason Hallmark Christmas movies are so perfect is because they're so ridiculously corny. For two glorious hours, we get to live in a world of happy endings. And who doesn't need happily ever after in their life right about now?
So excuse me while I go grab my hot chocolate, cozy up on the couch, and get my holiday jingle on…the Hallmark way.