I line the four pairs of running shoes up side-by-side in my mud room, and I am shocked to see how close in size they are.
I take a step back and look again. My sneakers aren't even the biggest anymore.
How did that happen?
A few seconds later, I snap back into reality. My kitchen fills with tween and teen girls who can all look me in the eye. My three daughters rush around making their lunches for the next day and stuffing papers in their backpacks. They pause in their chores to show each other a video from YouTube that a teacher shared or to shove a permission slip across the granite countertop for me to sign.
And then they are gone, sequestered in their rooms to study or catch up on some reading or text a friend to find out if they are wearing shorts or jeans the next day.
I miss the time when my girls were young. I miss looking deep into their eyes as I rocked them to sleep and the touch of a little hand wrapped so tightly around my index finger that I felt it in my heart. I miss taking photos of my daughter wearing only her father's work boots or passed out in the high chair with spaghetti all over her round face. I miss the invitations to drink tea out of pink plastic china cups and buying frilly tutus and tiaras and magic wands that made dinosaurs dance. I even miss the sticky hands pulling on my sheets to climb into bed with me at dawn with both of us knowing that going back to sleep was not an option.
Those days are gone for our family, replaced with carpools and orchestra concerts and texts that say, "Mrs. H said I could sleep over…k?"
My heart often feels soggy with the weight that it all flew by so fast, and the time I have left is so short.
But as in all things parenting, there are always surprises. While I still beg for the hands of time to stop moving so quickly, I find that there are aspects about my kids growing up I didn't expect. And while I am in no rush to push my girls into adulthood, I do know that treating them like a child does not help them either.
While living in a House of Hormones can be challenging, I also enjoy this stage more than I thought I would. It is fun to catch a glimpse of the women they are becoming, and there are some perks to having "big kids." So, here are five reasons to love having teens, because they really are pretty great.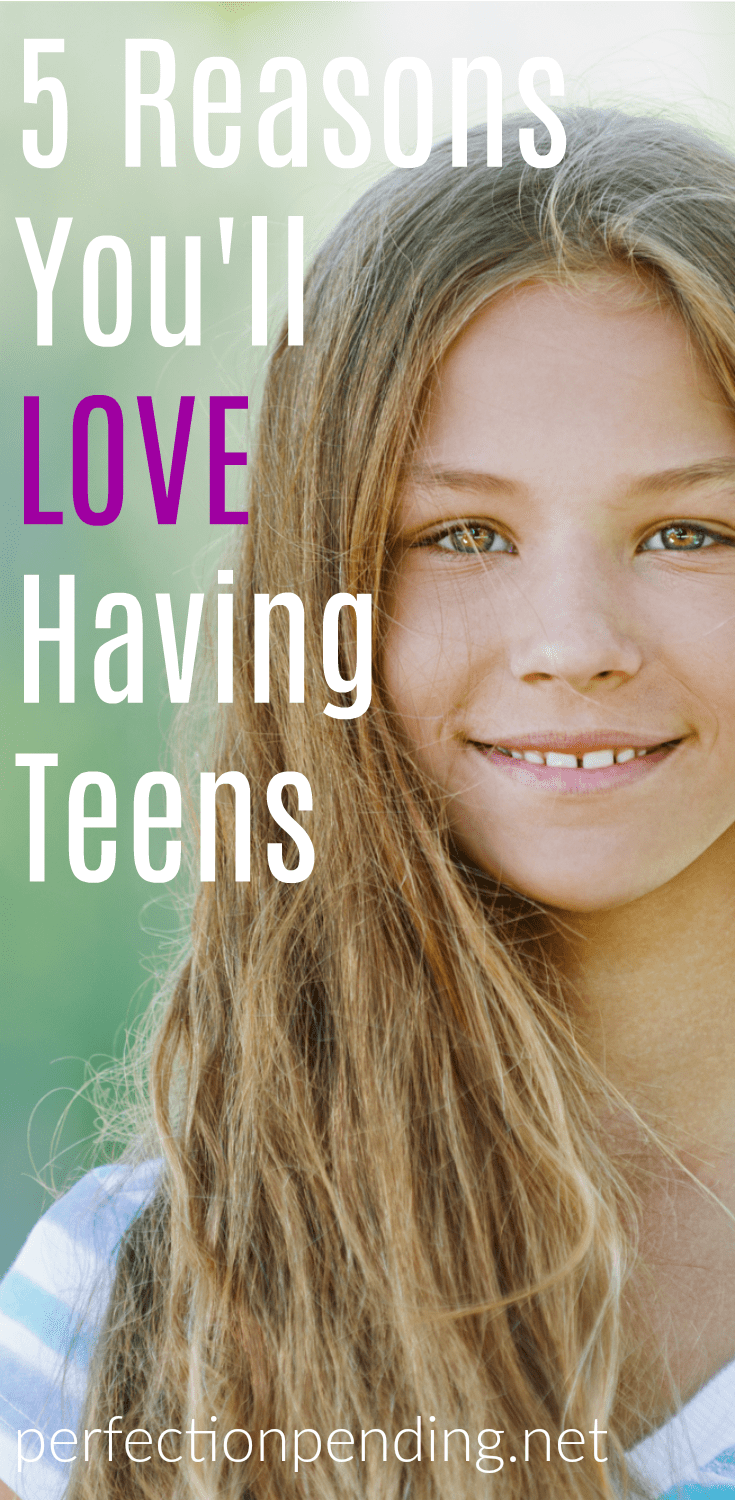 Shared interests.
While the Disney channel still plays incessantly at our house, it is fun to now have someone to watch chick flicks with – or at least a movie without animation. At almost 13, my twin daughters are starting to read some of my favorite novels and, at times, some of the same modern-day fiction. And I love when my girls want to discuss something they learned in history class or current events. Being able to share these experiences allows us to connect and relate on a deeper level, which can be difficult at this age.
No more restaurant wars.
Although Chik-fil-A is still a family favorite, it is fun to go out as a family without worrying about a meltdown or not finding something on a menu. We can just as easily visit a fancy steakhouse for a celebratory meal as we can to a sports bar to watch a game where the adults and kids sit at separate tables. While it would be a stretch to call all of my children "adventurous eaters," they also don't freak out (as much) if the chef accidentally puts the sauce on the noodles instead of the side.
It is also a joy to teach my kids family recipes or basic meals they can prepare on their own. Cooking with little kids used to stress me out, but, turns out, big kids actually can do dishes.
Capable hands.
Although I don't know many tweens/teens that seek out housework or chores, many are much more capable than we give them credit. When pushed or incentivized with a little cash, older kids can do all sorts of tasks ranging from cleaning and organizing to helping with a family business or errands. This past summer, my girls helped sell old collectibles on eBay to fund a new foosball table they wanted for the basement. They managed the entire process from taking photos and listing the items to packing and scheduling the shipping. I got the basement cleaned out, and they spent the profits.
Watching them grow their passions.
Gone are the days when I enrolled my daughters in a different activity each season. Instead, they spend hours practicing or rehearsing the things they love. I never thought at age three that one of my daughters would be passionate about the cello or traveling out of state playing soccer or creating clothing, but seeing them grow in their gifts is a joy I did not anticipate. It is exhausting getting them there, but a pleasure nonetheless.
Freedom.
While I miss the time when we were always under the same roof, the time when I was the center of their universe, I also enjoy some of the freedom I now have to explore my own passions – and I think my kids appreciate that as well. Having the time to chase my dreams inspires them to chase theirs. And on the nights that the house seems quiet because one daughter is at a friend's house and another at a school event and another completing service hours for school, I relish the opportunity to reconnect with my husband, something which was put on the back-burner over the past decade.
The world tells us that tweens and teens are a burden and these years are the worst. Yes, the hormonal outbursts and eye-rolls and heads always pointed towards iPhones can be difficult; but I am, surprisingly, also loving this time with my older kids.
While challenging, I'll keep choosing to celebrate their growth, instead of mourning the loss of their childhood.
Because although their shoes are now bigger than mine, I know they're ready to run.
***
Whitney is a freelance writer, social media manager and blogger at Playdates on Fridays, where she discusses family, relationships and w(h)ine. She is an expert in carpool logistics, coffee and making to-go dinners for her family to eat in the minivan. She resides in the suburbs of Chicago with her three tween daughters, husband, and her dog that acts more like a cat, Jax. You can find her on Facebook, Twitter and Instagram.