When I was a kid, I loved all things rainbow. If it had a rainbow on it, I owned it- or wanted it. And a new box of 64 Crayola crayons was instantly used to produce the most glorious rainbows ever.
Instead of picking your favorite color, why not claim them all & love a rainbow??
Rainbows are now often used as a symbol by the LGTBQ community. And that's fine, but rainbows can still be just rainbows, right? Apparently not, in some weird corners of the world, anyway.
A Kentucky Christian school expelled a 15-year-old student after viewing pictures of her "rainbow-themed" birthday cake on social media.
Like any other teen, Kayla Alford was obviously excited to celebrate her 15th birthday by partying with family & friends.
Her mother posted a photo of Kayla and her birthday cake on her Facebook page… and that's when all hell broke loose.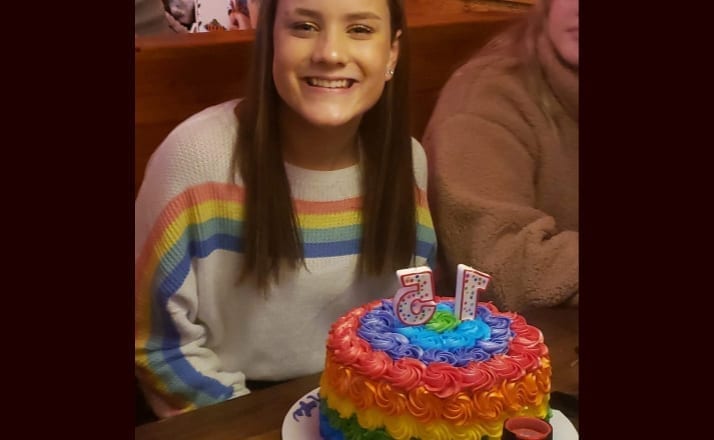 Kayla had been a freshman at Whitefield Academy, a private Christian school for students ranging from Pre-k to 12th grade.
But she's no longer a member of their student body, because when the school spotted the pic of Kayla on social media, they immediately expelled her.
Kayla's mother, Kimberly Alford, received an email from Whitefield principal Bruce Jacobson informing her that Kayla was immediately expelled due to a post on social media.
Now granted, teens can definitely push the limits of what's appropriate with some of their social media posts. But what was deemed so offensive about Kayla's birthday picture?
According to the email, Kayla was expelled because the photo:
demonstrates a posture of morality and cultural acceptance contrary to that of Whitefield Academy's beliefs.
In short, Kayla was expelled because she was wearing a sweater with a rainbow on it, and had a rainbow-colored birthday cake.
And of course, that must mean that Kayla was trying to indicate support or inclusion in the LGBTQ community, which defies the school's moral code of conduct, right?
Um, no?
The school's conduct in this situation was wrong on SO MANY LEVELS that it makes one's brain hurt to try and process this obtuse debacle.
(First of all, the expulsion was delivered by email, which seems like an oddly detached way of disrupting a child's entire life, no?)
Let's talk rainbows. Yes, a rainbow can be a symbol of lesbian, gay, bisexual, transgender and queer pride and support for LGBTQ rights- not a bad thing.
But a rainbow can also be… a rainbow. It's colorful. Some people just love them. Period.
Using Whitefield Academy logic, anyone who loves a rainbow, or wears one, is automatically gay, transgender, or *gasp!* supportive of those that are.
This particular school's morality code condemns students from supporting the LGBTQ community. According to a tenet in Whitefield Academy handbook (that was shared by USA Today):
the atmosphere or conduct within a particular home may be counter or in opposition to the biblical lifestyle the school teaches.

This includes, but is not limited to, sexual immorality, homosexual orientation or the inability to support Biblical standards of right and wrong.
So based on their social media creeping, the school not only made the assumption that Kayla's rainbow sweater and cake must be indicating her support of the LGBTQ community, but they expelled her immediately for it.
The irony? Despite their concern for Kayla's "morality", as the school terms it, Kayla's birthday featured rainbows simply because Kayla loves the colors.
Another ironic point: rainbows are also biblical; the book of Genesis explains that a rainbow is a symbol of the covenant between God and Noah. You would think would be right up Whitefield Academy's alley.
But you'd be wrong.
As her mother explained, Kayla is not a lesbian (which shouldn't be a point of contention to begin with), and the cake was described on the label as "assorted colors".
I just feel like it's a label they have put on her. Just because I'm wearing a rainbow doesn't mean I'm gay.
Kimberly Alford immediately appealed the school's decision, but was told by Jacobson that the cake:
just kind of represents gay pride.
and that Alford:
should have refused the cake.
No colors permitted in the world of Whitefield Academy, apparently!
According to the Jacobson, Kayla's expulsion was not simply for the social media picture, but for a "progression of discipline" over a period of two years.
Kayla had been disciplined in October of last year when Juul pods were found in her backpack, and had since been on probation.
Fair enough- but according to her mother Kimberly, Kayla has has no disciplinary or academic issues since then.
So basically, the cake and sweater were the final straw for Whitefield Academy with Kayla.
Thankfully, the Alford family has received tremendous support from the community, the majority of whom are appalled by the school's actions. Kayla has since transferred to a local public school, where her mother said she is adapting well.
While that's of course a good thing, it's tragic that the very institution that was supposed to model grace and wisdom seemed to contradict their OWN beliefs in such an ignorant, narrow-minded manner.
Students at Whitefield Academy are being encouraged to be a light in the world, but it seems like the school board needs to be enlightened as to their own judgmental assumptions.