Welcome back to our Ladies Only Blog Share Link Party! This week we are celebrating the arrival of fall – relishing in the scents, sounds, and colors of the season. From orange and burgundy hues to the aroma of pumpkin and gingerbread lingering in the air, we couldn't be happier that autumn is here. Link up those fabulous fall posts and then go enjoy the crisp, cool air while savoring a warm mug of spiced latte. I'm right behind you!
Once again, here are my talented and dedicated co-hosts:




This week we are also welcoming a very special co-host, Amber from City Girl on Hicks Farm. Please make sure to bookmark or RSS feed their blogs and visit them on Facebook, Twitter and so on. They faithfully return the favor! In addition to the link share, three really cool bloggers are also being featured. This week they are (in no particular order):
The Noise of Boys – With four of my own (almost), I can attest to the amplified sound of the male population. The Noise of Boys is a fun, whimsical journey through the everyday joys and chaos of raising little men (and husbands, too?). You'll love her weekly feature True Tales from the Pink and Blue Trenches and frequent posts to Terrible Twos and Beyond. Make sure to visit and show your support!
The Jenny Evolution – The Jenny Evolution is about evolving as a parent and as a person – which is awesome, because most of us never stop growing, changing, and, yes, evolving. I particularly love her forum area for Confessions! Have something you want to get off your chest? This is the place to let it all spill out!
Prowess and Pearls – This is a beautiful blog that radiates with encouragement and a love for life! Need some relationship, parenting, life advice? Be sure to check out Michell's weekly column, Michell's Weekly Pearl.
Bling Out Your Sidebar! Grab Our Button!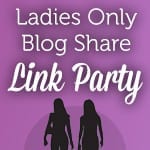 >
Let's get started! Have fun and visit the links below. We ask that you try to visit at least three. Remember to leave a thoughtful comment on the new blogs you've discovered and let them know you're visiting from the Ladies Only Blog Share Link Party! Feel free to pin your blog post to the Ladies Only Blog Share Pinterest board, too! In the URL field, place the link to your post. The name field should contain the title of your post. And if you'd like to co-host a future link party, give me a shout at mommifried @ gmail.com (no spaces).
Use the hashtag #LOBS when tweeting!