Welcome back to our Ladies Only Blog Share Link Party! This week we are celebrating Sonny and Cher style with a very special I Got You Babe(y) theme! Last week, I gave birth to a beautiful baby boy so we are paying homage to all things baby (and kid) related.
Please take a moment to linkup your favorite baby (or kiddo) stories, foods they love to eat, songs you sing, books you read, etc. And thanks for stopping by!
Once again, here are my talented and dedicated co-hosts:




This week we are also welcoming back a very special co-host, Amber from City Girl on Hicks Farm. Please make sure to bookmark or RSS feed their blogs and visit them on Facebook, Twitter and so on. They faithfully return the favor! In addition to the link share, three really cool bloggers are also being featured. This week they are (in no particular order):
Cropped Stories – The absolutely stunning voice behind Cropped Stories is Elena, a stay-at-home mom who blogs about photography, motherhood, product recommendations, and more. Her entire blog is a beautiful story and visual eye candy for those who love exceptional design. Check it out!
The Cherry Mama – I adore The Cherry Mama! Not only because she recently posted this pumpkin recipe (BE STILL MY HEART!), but because she is a blogger who cares about her community and is willing to lend a helping hand. Please stop by her blog and show her some LOBS love!
When the Kids are Bored – A Southern gem, Heather of When the Kids are Bored is a fun, insightful blogger who writes about motherhood and everything DIY. If you're looking for some crafting ideas, bookmark this blog. You will not be disappointed!
Bling Out Your Sidebar! Grab Our Button!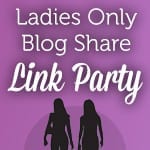 Let's get started! Have fun and visit the links below. We ask that you try to visit at least three. Remember to leave a thoughtful comment on the new blogs you've discovered and let them know you're visiting from the Ladies Only Blog Share Link Party! Feel free to pin your blog post to the Ladies Only Blog Share Pinterest board, too! In the URL field, place the link to your post. The name field should contain the title of your post. And if you'd like to co-host a future link party, give me a shout at mommifried @ gmail.com (no spaces).
Use the hashtag #LOBS when tweeting!