Welcome to Take It or Leave It, an advice-ish podcast for parents brought to you by Grove Collaborative.
Take it or Leave it is brought to you by Grove Collaborative. Visit http://grove.co/takeit and grab your "Free" gift with order.
Live at Legoland, Florida Enjoying the New Lego Movie World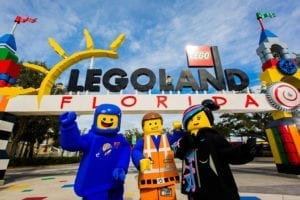 THE LEGO MOVIE WORLD at LEGOLAND Florida Resort is the only place in the world that you can experience the pure wonder and imagination inspired by THE LEGO MOVIE universe. We've been hard at work, building brick-by-brick, to create state-of-the-art experiences that bring THE LEGO MOVIE to life.
The fun doesn't stop in the park. Enjoy the ultimate vacation (or slumber party) just steps away at LEGOLAND Hotel in a new THE LEGO MOVIE WORLD themed room. Designed with familiar scenery and beloved characters from the movie, no detail is left untouched. Adults can relax in a room inspired by Emmet's bedroom, while kids dream of spaceship adventures in the children's room, modeled after Benny's Spaceship. No matter where you stay or how you choose to spend your day, awesome awaits at THE LEGO MOVIE WORLD.
Trending News – Teacher Appreciation week! Show those teachers some love!
Section Intro
Teacher appreciation week is Monday May6-Friday May 10th. It is so important that we show teachers how much we appreciate them.
Section Notes
Basic is best.
Gifts should not be too unique or crazy. Trying to guess teachers' personal style or interests often makes for a gift that misses the mark. A leopard-print scarf for the teacher who hates accessories? No, thank you. (While some whimsy is OK, you should also keep it professional: Columnist Carrie Bauer explains why cutesy has no place when it comes to teacher gifts.)
Stock them up.
You may think this sounds boring, but your kid's teacher will treasure classroom supplies more than any other gift. By the end of the school year, teachers' stockpiles of everything are low. And if you've ever been surrounded by a class of kids incubating a stomach virus, one of whom just vomited next to your desk, you know how heavenly it is to have a replenished supply of Clorox wipes.
Write something.
A personal note or handmade card is always appreciated.
High school teachers don't get as much Teacher Appreciation love as elementary school teachers, but I understand. Most of my students are in eight different classes, and the majority have siblings who are also still in school. That's a lot of gift-buying. I am lucky to work at a school with a very generous PTA that works hard to make teachers feel special. I very much appreciate what they do for us. But if I were writing a list to Santa, here's what I would ask for.
Germ combatants
At the top of the list, I need bulk tissues, a vat of hand sanitizer, and loads of Clorox wipes. Because your kids are gross. I live in central Texas, where everyone seems to suffer from crippling allergies. I must go through a box of tissues a week. I realize hand sanitizer is frowned upon in some circles, but those people are not surrounded by coughing, sneezing kids during cold and flu season. I have two young children. Ain't nobody got time for that. The Clorox wipes are not just for staving off disease; they are for cleaning up gross puddles after someone's lunchbox leaked, or an energy drink tipped over, or a glue stick rolled off the desk and was then stepped on and tracked all over the floor.
Teachers also want to have fun. Going to the movies is fun! Especially when someone else is paying. Fandango gift cards can be used to buy tickets online for movie theaters all over the US. We all love Netflix, but it's fun to see the movie when it's new. It's also fun to sit in a dark, cold theater in the middle of the summer when everyone else is at work.
Parenting Crap – Summer Vacation Survival Tips
Section Intro
We all know that we only get 18 summers with our kids and we do want summer to be magical. But, let's be realistic here, no summer is going to be magical ALL the time. In order to survive summer and make it wonderful, it's all about being prepared for the amazing times and the…ahem…not so amazing times.
Section Notes
Create a Kids Calendar
The key to any successful block of time is having a schedule for it. The difference between our work schedules, tidily maintained in Outlook or Gmail, and the schedule of our kids is that our kids schedule is usually kept in the mind of Mom or Dad — change this.
Get three pieces of big poster board and create a homemade calendar for the next 10 weeks with a ruler and a felt pen on the first two pages. Allow the blocks to be big enough so that your 6-year-old can draw in activities if he/she can not write them in yet. Let them work with you as you put things onto each day. On the third page, make a list of activities which are optional and can be fit in if you hear, "I'm bored." Then you can refer them to the list!
Book Em' – Fully
As counterintuitive as it is to fully book a summer schedule, do it — with one caveat: also book in down time. Call it chill time, or hangin' out, but book it in, too.
When the kids see every day of the calendar has something planned, they will begin to feel comfortable with the fact that things are happening this summer.
When Mom and Dad see long blocks of hanging out, you can re-visit the schedule and come up with some things to do.
Every Week a Theme
Decide on a theme for each week of the summer. Then, base at least one meal and one activity or craft around that theme. This helps to fill in time slots in the schedule and makes summer fun easier for kids who will get into the themes even outside of the subscribed calendar activity and meal.
Some examples: A certain nationality or cuisine, colors or soccer (the meal could be from the country of your favorite team or else you have orange popsicles for dessert to represent oranges at half time).
Share Responsibility
Don't be shy with this one. Call up the parents of your child's two best friends or an auntie/uncle/grandparent and book in at least two sleepover nights per month. Reciprocate for the friend. This will give your child something to look forward to and will give you at least two nights off.
Bonus points for negotiating a full day with the best friend so that you take the best friend from 10 a.m. to 10 a.m. and the other family will do the same for you. Now you have two full days and nights off.
Go Old School
Make the kids play outside. Send them out with minimal toys and see what they come up with. Kids of all ages like bubbles, running through sprinklers and body paints. Have an old-fashioned water balloon fight or watermelon eating contest.
Follow With New School
Give them some control — ask what they would like to do. Plan a movie night or games night and let the kids pick the movie or video games you see or play. Let them laugh at your skills or at jokes in a kids movie.
Engage
Remember what summer was like for you when you were a kid. Sure, you wanted to hang with your parents, but above all else, I am willing to bet that the memories you have are from the time you tried something new, bent a rule, had big laughs, stayed up late, slept under the stars. Most of these things do not require a lot of planning, money or time… they require you as the parent to allow your child to explore what being a kid is all about in the freedom of summer.
Let your kids be kids.
Love and Marriage – Too much Netflix, not enough 'chill'
Section Intro
Streaming services such as Netflix could be contributing to falling fertility rates in the U.S., the Wall Street Journal reports.
Section Notes
According to a survey conducted for the story, 25 percent of respondents said they declined sex in favor of binge-watching an online show within the last six months. When focused specifically on those between the ages of 18 to 38, that number jumped up to 36 percent.
The survey follows a 2017 paper on sexual behavior that found that streaming may be partly to blame for Americans having less sex than they did three decades ago.
The paper's lead author, Dr. Jean Twenge, a psychology professor at San Diego State University, told the Journal that the massive increase in content and lack of commercial interruptions could be making it harder to make a move than in previous years.
"Now, if you're watching something streaming, the next episode is immediately available, and there are no commercials where you could look over and say, 'Honey, you look cute tonight,' " Twenge said.
Dr. Megan Fleming, a clinical psychologist in New York, says the problem isn't simply Netflix or even streaming, but all technology that demands our undivided attention.
"There has never been a time you could feel more alone with your partner right next to you," Fleming said.
Even the phrase "Netflix and chill," a slang term used when one invites another over for sex, has lost much of its prominence. Google Trends, which tracks the popularity of online searches, notes that the term began to die out as far back as 2015.
Some, including New York sex therapist Danica Mitchell, speculate that the growing number of high-quality series and movies has made looking away from the screen even more difficult.
A Netflix spokesperson, however, refuted the allegation that it was contributing to the falling fertility rate.
"We take pride in being part of the cultural zeitgeist, but getting credit for a decadeslong decline in sex is beyond even our programming abilities," the spokesperson said.
Aside from Netflix, everything from economic worries to the widespread use of long-term birth control products are believed to potentially be contributing to American's fertility slump.