Dustin Diamond has died and our collective 1990s hearts are broken. Forever known as "Screech" by every 90s kid ever, the actor lost his battle with cancer early this morning. He was 44 years old.
A representative confirmed his death to TMZ. The entertainment site reported:
A rep for Dustin tells us he died Monday morning. His condition had greatly declined since last week, and he was taken off of breathing machines in an attempt to get him to hospice care. His GF was by his side when he passed away, and we're told he did not suffer.
Diamond was diagnosed with stage 4 small cell carcinoma (commonly referred to as lung cancer) near the beginning of January.
He was hospitalized in Florida after feeling "pain all over his body," and started chemotherapy a couple of weeks ago.
In a statement provided to the press, the actor's agent, Roger Paul, revealed:
"He was diagnosed with this brutal, relentless form of malignant cancer only three weeks ago. In that time, it managed to spread rapidly throughout his system; the only mercy it exhibited was its sharp and swift execution.
While Diamond appeared in a number of different television shows including a slew of celebrity reality shows and an infamous 2006 sex tape entitled "Screeched – Saved by the Smell," he was most famous for his role as Samuel "Screech" Powers in 1990s "Saved By The Bell."
He may not have had his poster slathered over every tween and teenage girl's bedroom (hellooooo Mario Lopez and Mark-Paul Gosselaar) however his goofy loveable character was an audience favorite.
Known for being the resident "dork" and Zack Morris's ever-faithful sidekick, he brought on the laughs with his crazy antics and hair-brained schemes week-after-week throughout the show's entirety.
While he might not have won over his mega-crush, Lisa Turtle (played by Lark Voorhies), I think it's safe to say he definitely won over the rest of us.
One of the first characters I remember watching growing up!! Laughed so many times watching saved by the bell RIP Dustin ??#dustindiamond #screech #savedbythebell pic.twitter.com/R1ve7SkIgz

— Carl Robinson (@carlrobinson180) February 1, 2021
Saved By The Bell originally premiered on August 20, 1989, and ended on May 22, 1993. It may not have been the longest standing teen show, yet it still managed to become a pop culture hit. And Diamond was there for all of it.
He also went on to appear in the sequel "The College Years," and as Principal Belding's assistant in the "New Class."
While there are rumors that he had fallen out with his Saved By The Bell co-stars amidst his non-reprisal of his character in the reboot, fellow castmate Mario Lopez posted a tribute to Instagram with the following words:
Dustin, you will be missed my man. The fragility of this life is something never to be taken for granted. Prayers for your family will continue on…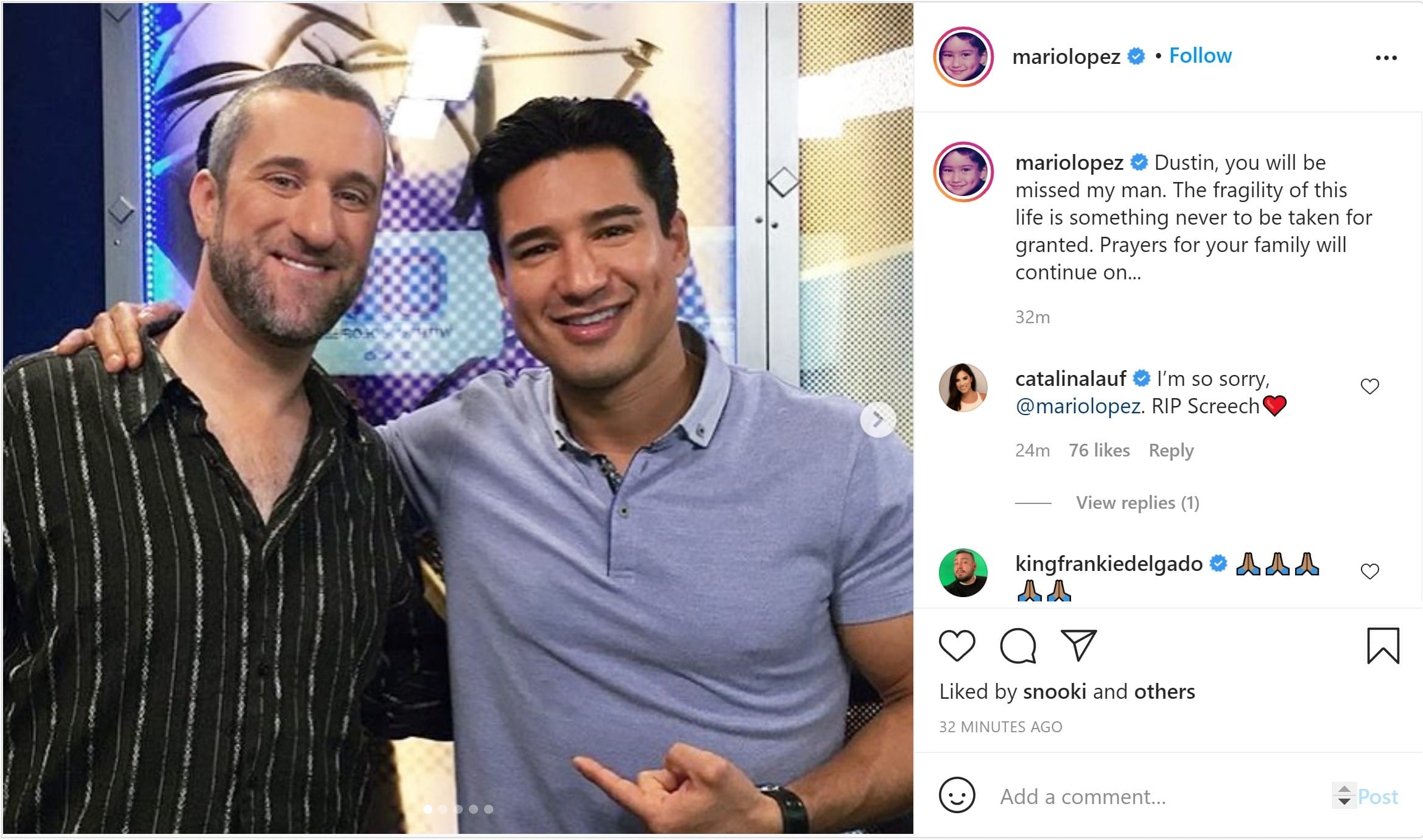 In addition, Mark-Paul Gosselaar posted this to Twitter:
Deeply saddened to hear of the passing of Dustin Diamond, a true comedic genius. My sincere condolences to his family and friends. Looking back at our time working together, I will miss those raw, brilliant sparks that only he was able to produce. A pie in your face, my comrade.

— Mark-Paul Gosselaar (@MPG) February 1, 2021
Tiffani Thiessen also said farewell to her former co-star.
I am deeply saddened by I the news of my old co-star @realdustindiamond passing. Life is extremely fragile and it's something we should never take for granted. God speed Dustin. ? https://t.co/r3NVsWK2K4

— Tiffani Thiessen (@TiffaniThiessen) February 1, 2021
Regardless of the difficulties Diamond may have experienced and the controversies he may have been embroiled in in recent years, fans are taking to social media to grieve the loss and pay their respects.
For all of us who grew up with him, there is no doubt that he IS an unforgettable piece of our childhoods.
Rest In Peace #DustinDiamond ? 'Screech' will always be a part of my childhood memories ? pic.twitter.com/lHmkSmZwaU

— ? Leanne ? (@L_Eliz1) February 1, 2021
Dustin Diamond may have had his share of controversy when it came to life post Saved by the Bell.

But NOBODY deserves to suffer through a devastating cancer diagnosis.

Screech was a school morning staple in my life. And I'm so sad to hear of his death.

Prayers to his family pic.twitter.com/9f7tdyN0rS

— ?Ashley? (@TeachItAsh) February 1, 2021
Saved By The Bell was a big part of a lot of our lives. From JFK to Bayside. Dustin Diamond made Screech an icon. RIP Legend pic.twitter.com/EMsClyJtd8

— Josiah Johnson (@KingJosiah54) February 1, 2021
And let's face it, out of all of the characters, most of us were Screech.
Everyone wanted to be Zach.

But most of us were Screech.

RIP Dustin Diamond

— Ryan Parker (@TheRyanParker) February 1, 2021
And while he may have had "geek" status, he definitely brought his A-game when it came to fashion.
RIP (Screech) Dustin Diamond ? thanks for all the smiles, laughs, and iconic outfits pic.twitter.com/QmlswqNiBt

— Hannah VW Pickett (@hannahvdubs) February 1, 2021
Screech had the best wardrobe!
RIP Dustin Diamond ? pic.twitter.com/aFCL5rnROr

— Georgie Beerman (@GeorgieBeerman) February 1, 2021
He also just so happened to have the best one-liners. Ones like:
"Who're you calling a cantaloupe, you melon head?"
"Wow, my first Hollywood party. I wonder if the Simpsons are gonna be there?"
"Wow. A building with two Beldings, one of whom is balding."
"When morning comes, I raise my head, shut off the alarm and get out of bed, I brush my teeth like mother said, and I always feed my spider, Ted."
And taught us some valuable lessons. Important things, like the order of the planets…
I just got reminded by @McUglytron that #DustinDiamond taught me the order of the planets (MVEMJSUNP!) on SbtB. RIP Screech.

— That's a Bit Rich – Moe Biden (@atarijenkins) February 1, 2021
He was, arguably, one of the most iconic characters of a generation.
And I don't know of any other actor that could have played him as well as Dustin Diamond did.
Dustin Diamond ?. Feel like a bit of my childhood has just died. RIP Screech ? pic.twitter.com/dWwet1pBfF

— Ames ?? (@UnitedAmyW) February 1, 2021
Same Ames, same. RIP Screech. You will be a part of our 1990s hearts forever.