Disney just released the first teaser trailer for its latest live-action reboot, The Little Mermaid and it's fair to say, it's made a HUGE splash.
Since its release, it's been viewed a whopping 100M times across various social channels, in just a few days.
Set to the musical score of "Part of Your World," (am I the only one getting emotional just hearing it?) the clip takes us on a 1-minute and 23-second journey under the sea.
The audience gets peek-a-boo glimpses of Ariel as she swims amongst the fish and turtles and stumbles across a shipwreck.
It culminates in the hauntingly beautiful sound of Bailey's voice singing…
"Out of the sea, wish I could be, part of that world."
…as you finally get a full view of her face.
Check it out here:
Out of the sea, wish I could be… part of that world.

Disney's The Little Mermaid is coming to theaters May 26, 2023. pic.twitter.com/lUw5BmYRK5

— Walt Disney Studios (@DisneyStudios) September 9, 2022
And while the movie itself looks like it's going to be pure Disney magic, it's the reactions of viewers, particularly little black girls, where the true magic lies.
Because representation? IT MATTERS.
The movie stars singer Halle Bailey (not to be confused with Halle Berry – which I may or may not have read the first few times I saw her name, thanks aging brain) as Ariel.
And while her beauty and voice are exquisite, it's the color of her skin that's got little people everywhere so excited.
For so many little girls and boys out there, they are finally seeing what Disney animated classics have largely been missing, except for Tiana & Jasmine, – a non-white protagonist.
And they finally see themselves.
In a recent interview with Variety, Bailey shared just how much being cast in this role means to her:
"I want the little girl in me and the little girls just like me who are watching to know that they're special and that they should be a princess in every single way.

There's no reason that they shouldn't be. That reassurance was something that I needed."
And it's obvious that this reassurance is something millions of other black little girls needed too.
Parents everywhere are grabbing their cameras and filming the moment their black children first see Ariel and realize that she's black.
And the results are priceless.
Not only are their reactions super sweet, but they're also profoundly moving.
Grab the tissues, you're gonna need them.
Bailey posted a compilation of reactions people have been sending her way on her Instagram account.
She captioned the video:
"people have been sending these reactions to me all weekend and i'm in truly in awe seeing these little babies reactions makes me so emotional this means the world to me thank you all for your unwavering support."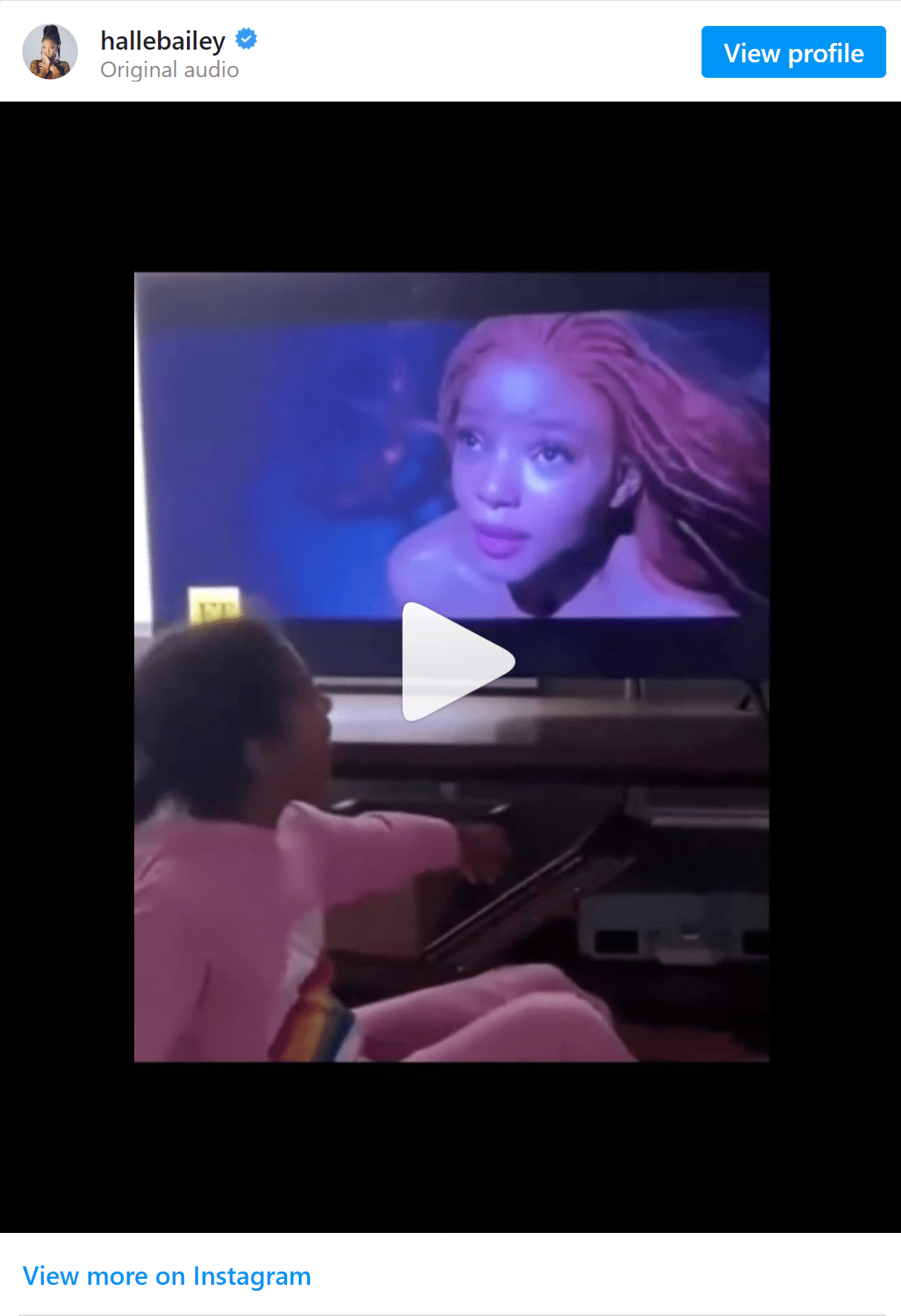 The girls watching respond with shock & awe. And unbridled delight.
"She's black!" One girl exclaims while another one says, "She's brown like me!"
Others respond with, "her skin looks like mine," and "Yayyyyy!!!"
I'm not crying, YOU are. (okay, fiiiiine, I'm totally crying.)
But this was just a snippet of all of the many videos that are taking social media by storm.
Take a look at some of our favorites:
"She's a black girl. They made Ariel into a black girl."
"That is Ariel? That is her. That's the real her."
"It's a black mermaid? This is so cool."
However, it wasn't just little girls that were hyped about Halle. Little boys were too.
And this boy's reaction? Is AMAZING.
But he's not the only one. Tiktok user @alizee shared a video of her son watching the trailer. She subtitled it:
"I know this is for little black girls to be seen…And I don't want to take away from that…But I hope there's space for little black boys too.
With over 2M views, 725K likes, and comments like this one…

…I'd say there's definitely space.
Young or old, littles or bigs, black people everywhere are feeling seen. And it really really matters.
"Why am I so emotional? I'm crying," Melizza Black said as she wiped away tears.
While these reactions are amazing and prove just how important representation in popular media matters, unfortunately not everyone agrees.
Enter the trolls. (And seriously, this is why we can't have nice things.)
Bailey has received a significant amount of backlash for her portrayal of Ariel since it was first announced back in 2019.
And according to various media outlets the trailer has received over 1.5M DISlikes on YouTube prompting YouTube to disable the dislike counter.
Trolls have also taken to Twitter to express their disapproval with the hashtag #NotmyAriel.
Well, she might not be your Ariel, but she's definitely ours. And we can't wait to see Bailey in the signature role.
Little Mermaid hits theatres on May 26, 2023.