You know how sometimes in life you have an idea in your head of what something is going to look like but then the reality is…disappointing?
Like, that romper you ordered from Wish. Or that guy you swiped right on?
Or maybe there's something that's been so hyped up your entire life and you've waited what feels like an eternity to FINALLY see it and it turns out it's all just been one big fat lie?
Surpriiiiiise!!!!!
That's what happened to writer Mary Katherine Backstrom when she discovered the truth about Plymouth Rock.
In a Facebook post that is quickly going viral, Backstrom shares a picture of Plymouth Rock, and it's a harsh lesson in expectation vs. reality for all of us.
The post has people talking because we're all looking at the rock and thinking the exact same thing…what.in.the.actual.french.toast.is.this??
Backstrom writes:
"Tonight, I learned some distressing news. I feel I've been lied to my whole life.
YALL.
This is Plymouth Rock.
THE. PLYMOUTH. ROCK.
What in the gas station gift shop landmark is this?!
Tell me y'all knew this all along.
Am I the only one that imagined something…different? Like a cliff with waves crashing against it and eagles flying overhead?
Womp womp, America."
She accompanied the post with a picture of said rock.
Take a gander…(prepare thyself).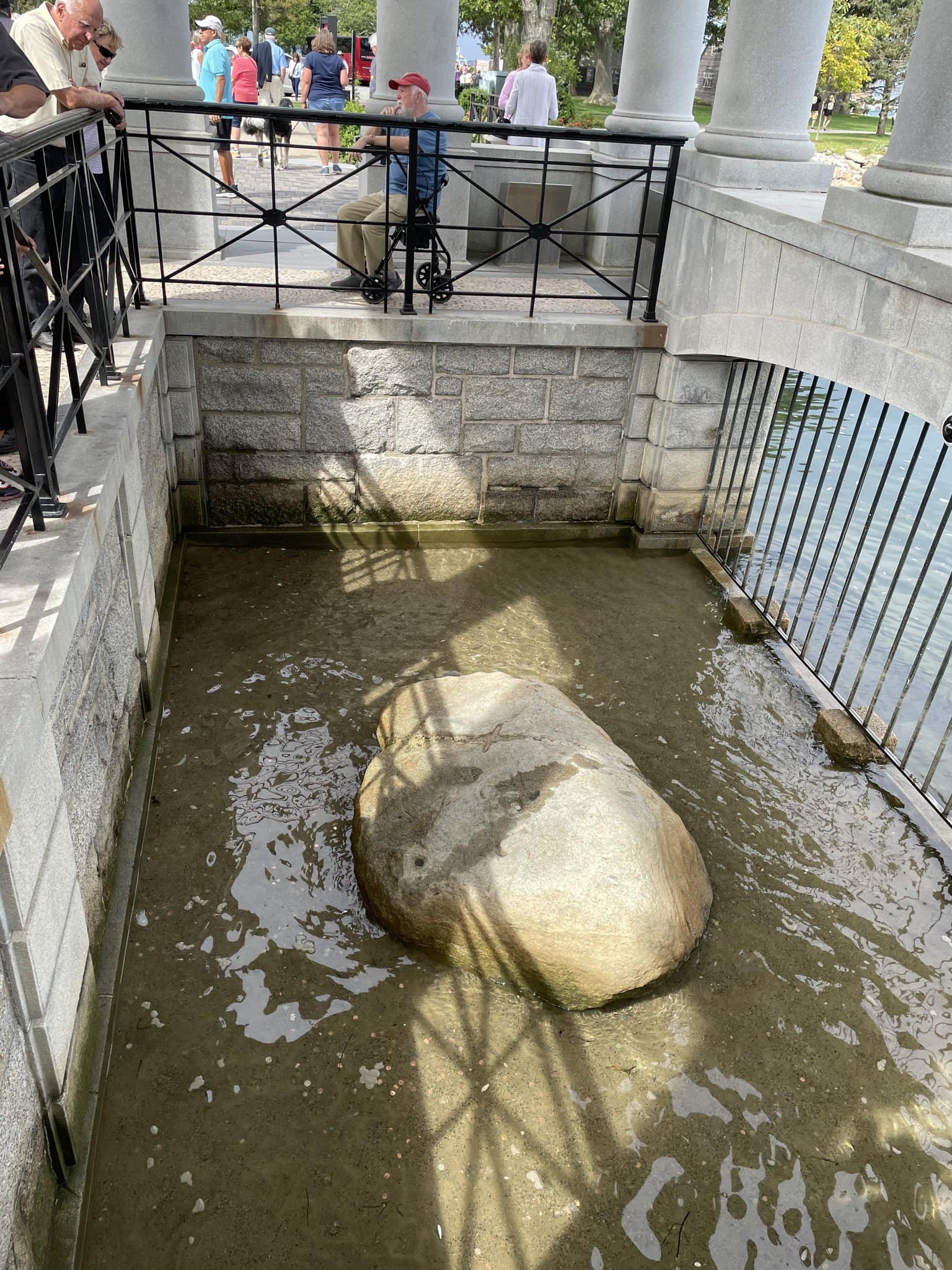 Yup, apparently this is it. THE Plymouth Rock. The birthstone of our country.
Did you guys know this?? I'll give you a minute to let it sink in.
This is undoubtedly the most underwhelming tourist attraction in the world.
For those of you who were sleeping during history class, Plymouth Rock is said to be the landing place of the Mayflower pilgrims back in 1620.
It's the "stepping stone" to the New World. (And when we say "stepping stone," we're not kidding.)

Although no one knows for certain that this is the actual rock upon which the Pilgrim Fathers stood (one at a time, probably) when they disembarked from the ships, it's gone down in history as THE spot.
According to History.com, it wasn't until 1741—121 years after the arrival of the Mayflower—that the boulder (and we use that term very loosely) was identified as "the precise spot where Pilgrim feet first trod."
"The claim was made by 94-year-old Thomas Faunce, a church elder who said his father, who arrived in Plymouth in 1623, and several of the original Mayflower passengers assured him the stone was the specific landing spot."
As far as landing spots go, this one seems rather disappointing, no?

Clearly, Backstrom isn't the only one surprised by this unnerving revelation.

Turns out there are a lot of us that had no idea that Plymouth Rock is not what our social studies teachers and Disney's Pocahontas would have us believe.

You're not kidding. This is most definitely, without a doubt, NOT it.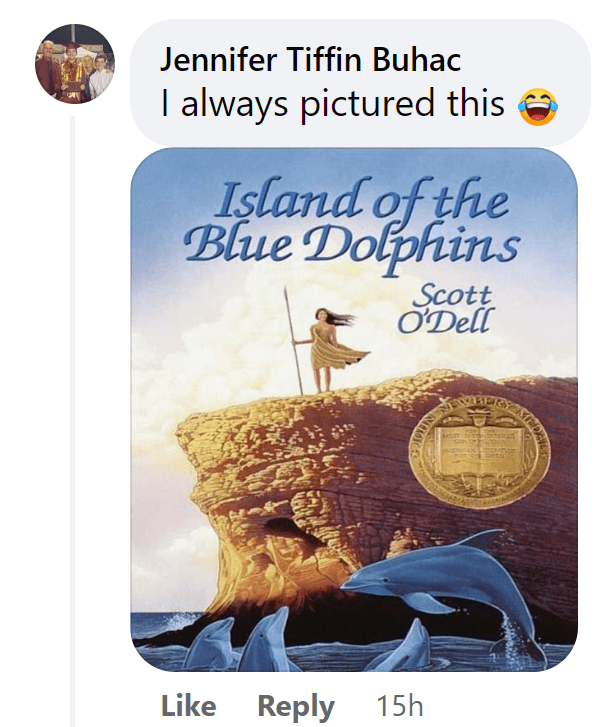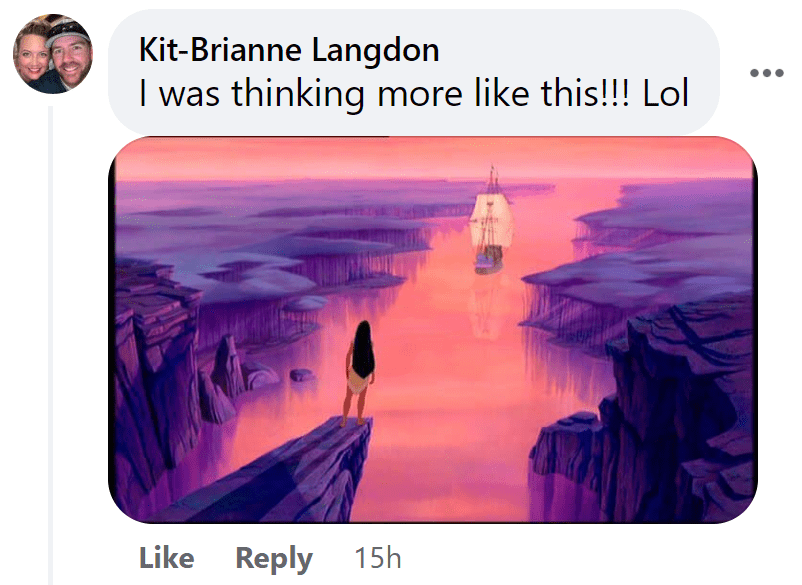 We ALL were.
Honestly, this has made me rethink everything I thought I knew. My whole life is a lie. Nothing is real.

You thought you were buying a car. Turns out, it was just a Hot Wheels toy.

They might want to consider renaming it the "Plymouth Pebble" just to avoid any further confusion or disappointment by the over 1M visitors it receives every year.
(Also, just in case Hollywood is listening, I have a great idea for a new historical movie – The Pilgrim and the Pebble – call me).

Whelp. Now we know. Also, don't let this stop you from visiting Plymouth. It still has a lot to offer despite the "wet disappointment" aka the Plymouth Rock.
Which does bring up another point…

(It's the tide coming in, but I get why you might think this.)
And the fact that the rock doesn't look anything like we've been led to believe, does make you wonder, what else are they hiding?
What other lies are we living?

In the 600 million-year-old rock's defense, it used to be a lot bigger.

According to Brittanica, anyway. Time, damage from being moved, and souvenir seekers chipping off pieces have all taken their toll.
Today only a portion of it remains.
"In its present state, Plymouth Rock weighs approximately 10 tons, including both the upper and lower parts. In 1620 it was much larger: estimates range from 40 to more than 200 tons."
Regardless of its size, it's still a foundational piece of our country's history, even if it is rather puny.
And for some people, size really doesn't matter (yeah, okay):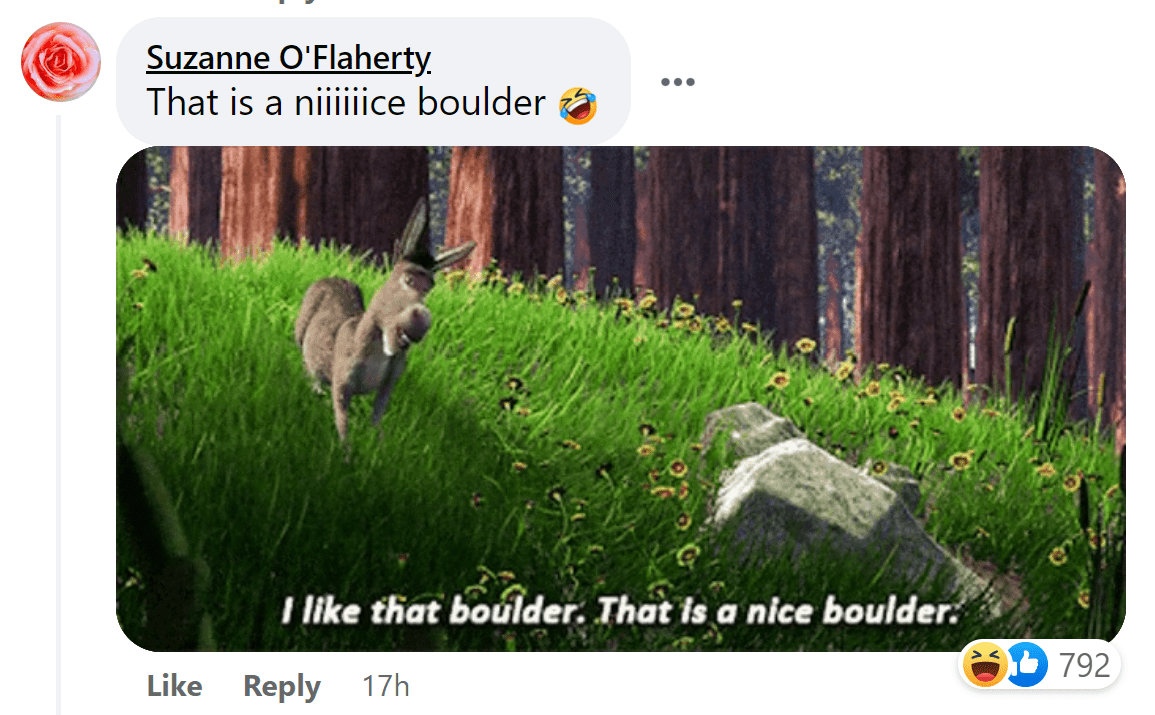 As far as boulders go, it's nice enough I guess. But if it's a ROCK you wanna see? You might want to skip the Plymouth and head to the Rock of Gibraltar instead.
You can check out more of the hilarious comments on the original post here.