A day in the life of many parents of young kids can often feel like a marathon. It can be long, draining, & at some point you hit the wall & aren't sure you have what it takes to make it to the end of the race.
For one mom, a day of parenting her three young children -ages 6,4, and 1- is LITERALLY like running a marathon. That's because she does run actual marathons… with her three kids in tow.
Cynthia Arnold is now a world record holder after running a full marathon while pushing her three young children in a triple jogging stroller for the entire race.
Arnold, a 35-year-old mom of three from Polson, Montana recently broke the Guinness World Record for "fastest marathon ran while pushing a triple-person stroller" at the Missoula Marathon on June 30.
(I'm wondering how much competition this record category has in the first place??)
For those of you unfamiliar with the precise length of a marathon, it's 26.2 miles. As in, people actually run 26.2 miles. And somehow manage to keep breathing, which seems impossible when your body runs for 26.2 MILES.
But it's not just finishing the actual distance that makes Cynthia's feat so amazing:
Arnold ran the entire marathon while pushing a triple jogging stroller with her three kids. The combined weight of the children & the stroller itself was 185 lbs. So she ran for 26.2 miles while pushing 185 pounds.
And she did it in 3 hours, 11 minutes, which equates to roughly 7 minutes per mile.
Let's put that into perspective: As a former athlete, I still enjoying a good workout & often run on a treadmill at my local gym. On my best day, I can run a mile in about 8:30. That's for ONE single mile, no kids for additional weight, & at the end of that one mile, I'm ready to fall off the treadmill & curl up into a panting fetal ball on the floor.
Cynthia Arnold ran 26.2 miles at a superstar pace while pushing the equivalent weight of another adult human for the entire race.
But, it also begs the question, did the kids beg for snacks? Did anyone need to pee? Did no one drop their sippy cup?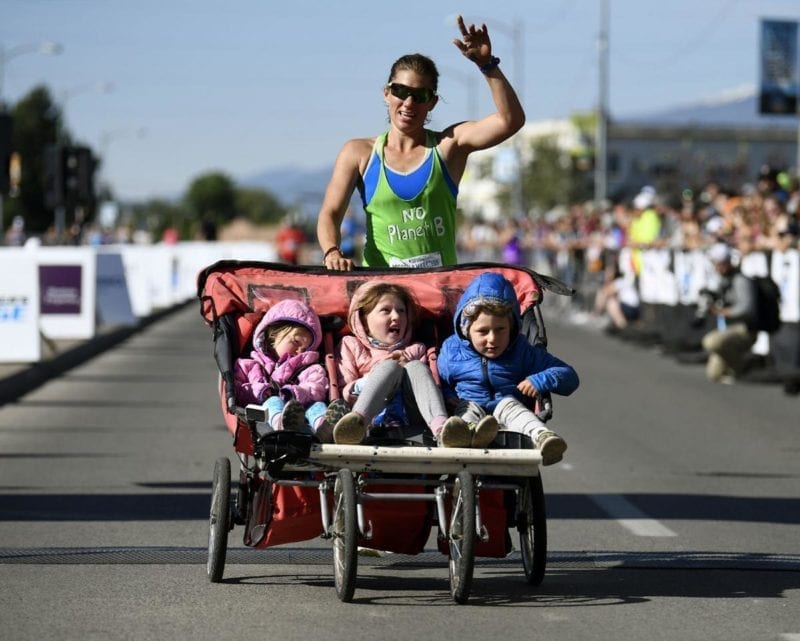 Cynthia Arnold, a former track & cross-country runner from Kentucky, has always had a passion for running. After her children were born, she was determined to continue to maintain her love of the sport, even if it meant making some "adjustments" to her approach.
She purchased a four-wheel BeBeLove Triple Jogging Stroller & began taking her kids on her cross-country treks.
Although I've never owned a triple jogger, I've had a double jogging stroller and a standard triple stroller. Neither are a piece of cake to push, so it's pretty damn amazing to imagine cruising along for extended mileage.
The bottom line is, Arnold has always loved running. And even though motherhood has limited her time to get out alone for long periods of time to train for a long-distance race, she remained determined to get out there & do it any way she could.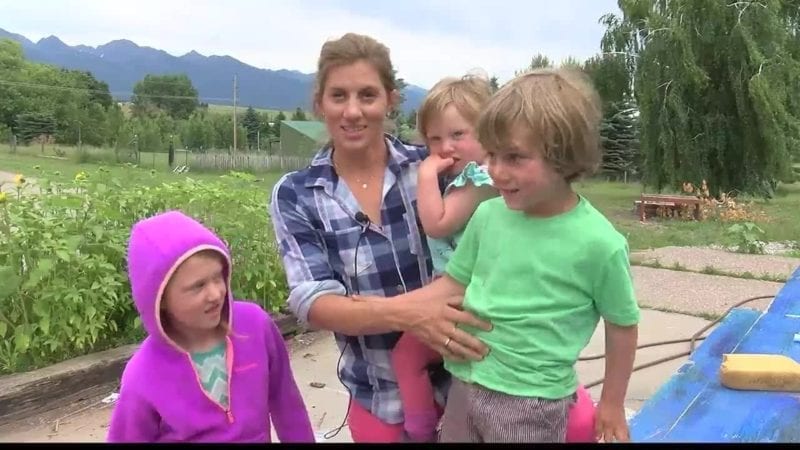 Cynthia's first major success came in the form of smashing the Guinness World Record for the fastest half-marathon while pushing a triple-person stroller (because again, who is even competing for this insane record??) in the Missoula Half-Marathon in June 2018.
She then decided to go big or go home, training for the full marathon last winter with a series of 20-mile training runs. Although some of her training sessions were alone, she began to incorporate her kids & stroller into some 10-mile runs. Eventually she increased the distance before the actual race.
Her accomplishment at the half-marathon the previous year had earned her a lot of support from spectators; Cynthia said a huge source of strength for her efforts came from the enthusiastic crowd:
The crowd was amazingly supportive. I was moved by how many people were cheering for me and knew what my goal was on race day.
In order for Arnold to break the record, she needed to run a time of less than the previous record holder, which was 4:06 for a full marathon. Arnold's time was 3:11, nearly an HOUR less than the original.
When interviewed by Runner's World magazine, Cynthia explained how her perspective on racing has changed since her kids were born:
Running alone in a race is so simple now. It's interesting to me how my perspective has changed as I have grown as a mother.

I used to really stress so much about racing, and now it's sort of the last thing I'm thinking about.
Isn't it funny how motherhood puts these things into perspective? The strength & ability to adapt to our circumstances is what makes moms so damn awesome. We manage to do.all.the.things, no matter how challenging it can be to do so.
Cynthia Arnold's accomplishment may seem impossible or even unnecessary to others, but for HER, it's an essential part of her identity that she was determined to preserve:
Those of us who run know how much it is a part of our identity. You can't just give that up if you become a parent. The stroller gives one the freedom to carry on a lifestyle with new ones in tow.
Where there's a will, there's a way. Cynthia's iron-strong will is an inspiring reminder that we don't have to give up the things we truly love once we become parents.
We don't have to accomplish the same miraculous feat that Cynthia did; running may not be YOUR "thing". But we all have aspects of our identities -our passions, our interests- that don't need to wither away simply because our families require more of us. With determination & creativity, we can still pursue what we love, even if the method we go about it requires some adjustment.
Thanks, Cynthia Arnold, for reminding us that mothers can do ANYTHING they set their minds on!