It has been six months since some of us have worn pants and it's starting to show.
In a Palm Beach County school board meeting last week, elementary school teacher Edith Pride delivered a strong message to parents with children that are learning remotely: clothing is not optional.
And no, she wasn't talking about the students.
As millions of children start off a new school year, many families are adjusting to virtual learning. And some? Are doing a better job of it than others apparently.
In a fiery 3-minute speech, Edith had a few choice words for parents who seem to be clothing-challenged, saying:
"Parents, please make sure that you have on proper clothing when you are walking behind your child's computer because we've seen them in their drawers, their bras, and everything else."
Bahahahahahahahaha. I'm sorry. I realize some of you aren't laughing right now. But you have to admit, it's a little bit funny, amirite?
Look, this has been a year. Parents are juggling about a thousand and one balls right now. Our stress levels are at an all-time high.
We are battling a health crisis, mounting job losses, and working from home.
Throw in remote learning for our kids with its technical difficulties, multiple schedules, zoom meetings, assignments, and constant reminders to "Get to work!" and it's a miracle any of us remember anything. Including pants.
Our lives have completely turned upside down.
Is it any wonder that once in a while someone forgets that we are living out our own reality show in front of our children's classmates?
And like any reality show, sometimes things are said that shouldn't be said. Which brings us to point number 2 in Edith's Proper Parent Etiquette For Zoom speech.
While some parents were called out for indecent exposure others were called out for their potty mouths. According to Edith, it seems that some of us need to come with the warning: May contain coarse language.
During her speech, Edith also reminded parents that computers, in addition to being equipped with cameras, are also equipped with microphones which, unless muted, pick up ev-er-y-thing.
Including that F-bomb you just dropped.
"Remember all children are in the computer and can hear your conversation. Please try to use proper language. No cussing — because if I say just no profanity, they may not know what profanity is — so no cussing."
And lest you think this was it for the atrocities committed by the adult folk, think again. She saved the very best (and by best, I mean worst) for last. Behold point #3:
"When you are helping your children at the computer, please do not appear with big joints in your hand and cigarettes. Those joints be as big as cigars. Oh yeah, We've seen it all."
That's right parents. Some of you need to lay off smoking weed in front of a class full of elementary-aged kids.
You know who you are.
While many people found the humor in her impassioned plea for an end to the debauchery, it did shed light on some of the unforeseen issues that online learning can bring. (Like your child witnessing their very own episode of "Parents Behaving Badly.")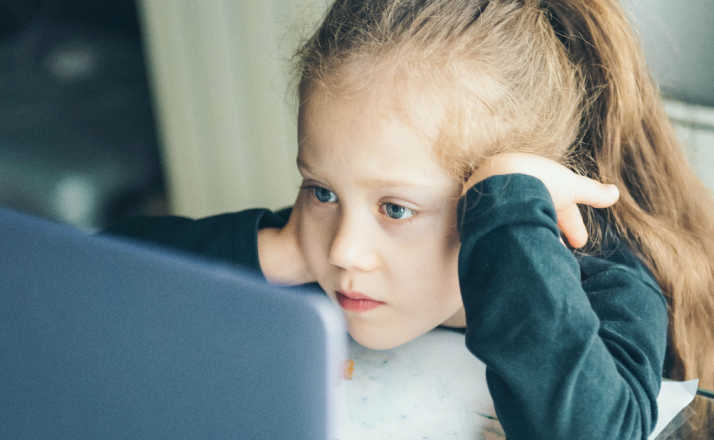 According to CBS12 News, Edith isn't the only teacher that has borne witness to some questionable parental behavior. Several other teachers in the school district reported instances of partial nudity, day drinking, and drug use taking place during video conferences.
One teacher revealed:
"I had a father, no shirt drinking a beer at 11:45 in the morning."
Another said:
"Parents are smoking, parents are smoking marijuana. I mean, I don't really care if people do that, but you shouldn't be in the screen doing that."
It is behavior such as this that is prompting teachers to worry about what some of their students are being exposed to during virtual lessons.
One teacher commented:
"[Students] do see other things that they've probably never seen before so I know that is a challenge."
While it's easy to joke about not wearing pants, day drinking, and someone else's kid picking up the F-bomb from a class zoom, this is cause for concern.
Some of our children are seeing and hearing things they otherwise wouldn't if they were in a normal classroom setting.
They have been given a front-row seat to adults who are struggling to cope right now. Adults who, under the circumstances, may not be modeling the best behavior right now.
The sooner our children can return to safe in-person learning the better it will likely be for all of us. In the meantime, you should probably try to refrain from flashing your kid's zoom class…trust me when I say, the teachers and other parents will thank you.